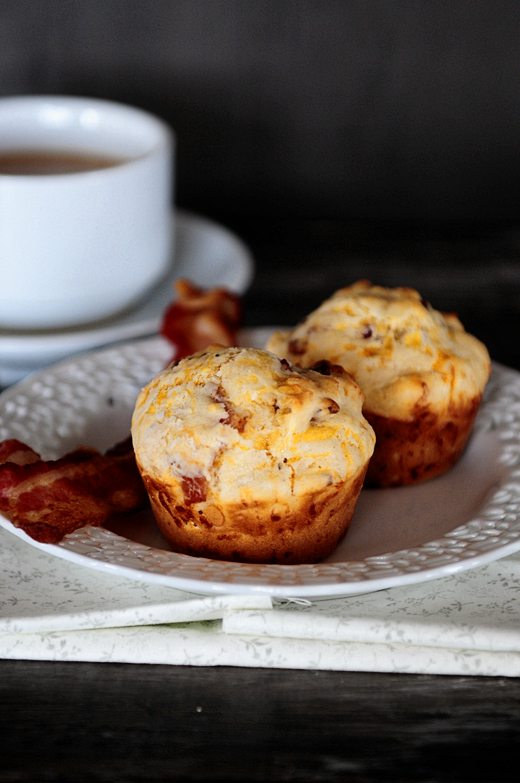 Weekends at our house are a time for more leisurely breakfasts… things that require more effort than the opening of a box and pouring of cereal and milk into a bowl. Weekends are for stirring, sifting, baking… the smell of bacon or sausage wafting up the stairs, rousing the kids enough that they come into the kitchen and eagerly ask "what are you making for breakfast, mom?"
Bacon and Cheese Breakfast Muffins are actually simple enough to make on a weekday, especially because the end result is a handheld package of breakfast-loving goodness, but they are indulgent enough for a savory weekend breakfast as well.
With spring around the corner, our weekends will be changing… baseball and soccer games will interrupt our winter weekend morning rituals of slow and steady. Until then, we'll savor every quiet morning we can, wrapped in the comfort of a leisurely weekend breakfast.
Before I move on to the recipe, I wanted to share how I make bacon. My mother-in-law started doing this years ago and I thought it was so brilliant. Baking bacon in the oven is a technique that many people use. It reduces the mess of bacon splattering all over the cooktop and results in perfectly cooked, tender yet crispy bacon. I usually preheat the oven to 425 degrees and cook the bacon on a foil-lined baking sheet for 15-20 minutes. Once cooked, carefully remove the bacon from the pan using tongs and blot with a paper towel to lessen the amount of bacon grease. Another, and more preferred technique, is to place a wire cooling rack on top of a foil lined cookie sheet. This allows the bacon grease to drip onto the pan, leaving your bacon to be less greasy. My cooling rack is too big which is why I currently use this other method. For complete instructions on cooking bacon in the oven and storing it afterwards, visit my friend Shaina's post!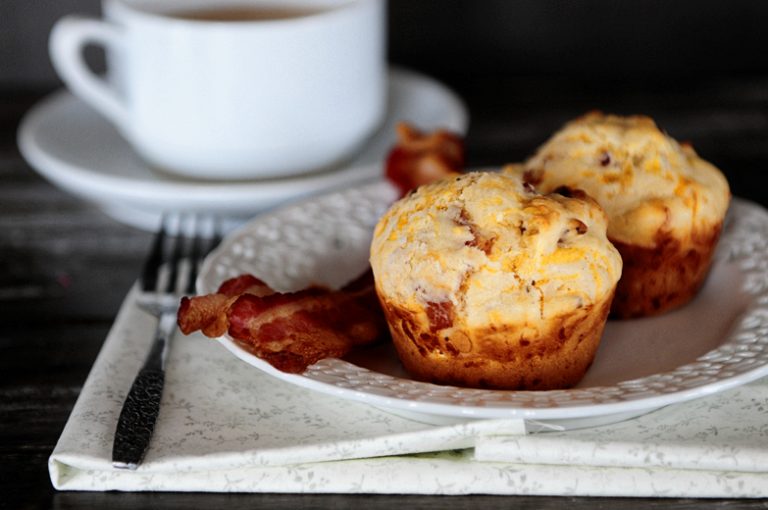 Recipe: Bacon and Cheese Breakfast Muffins with a Kick
Ingredients
1

egg

1

cup

milk

1/4

cup

vegetable oil

1

cup

shredded cheddar cheese

8

bacon strips

cooked and crumbled (use kitchen shears to easily chop bacon)

2

cups

all purpose flour

2

tablespoons

sugar

3

teaspoons

baking powder

1/4

teaspoon

Kosher salt

1/8

teaspoon

garlic powder

1/2

teaspoon

cracked black pepper

1

teaspoon

Zatarain's Creole Seasoning
Instructions
In a large bowl, beat the egg, milk and oil together.  Stir in the bacon crumbles and shredded cheddar cheese.

Add the dry ingredients, stirring as you go, incorporating just until blended.

Fill greased muffin cups 2/3 full. Bake at 400 degrees for 15-20 minutes until cooked all the way through. Cool for 5 minutes and remove from the muffin pan, placing on a wire rack to cool. Best served when warm.
Notes
(recipe adapted from Taste of Home)