Adding California Avocados to Beef and Broccoli Stir Fry may not be traditional, but it certainly is delicious!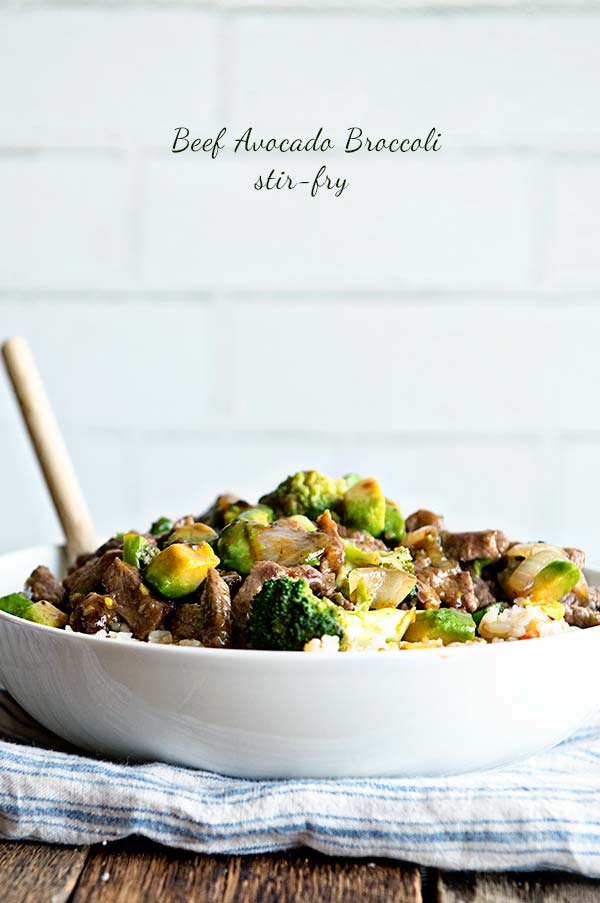 I love stir-fry. Seriously. I could eat a stir fry of some kind every, single day if I think I could get away with it. There is just something about the blend of fresh vegetables, sauces and whatever ingredients you have on hand all melded together to make a delicious meal. Stir-fry is easy, adaptable and just so good!
When my friends at California Avocados challenged me to create a recipe that wouldn't traditionally have avocado in it, but create it with avocado, I knew I wanted to do some sort of stir fry. Since Beef and Broccoli Stir Fry is a favorite, I decided to experiment with that and the results were delicious! Why hasn't beef and broccoli stir fry had avocado in it all along?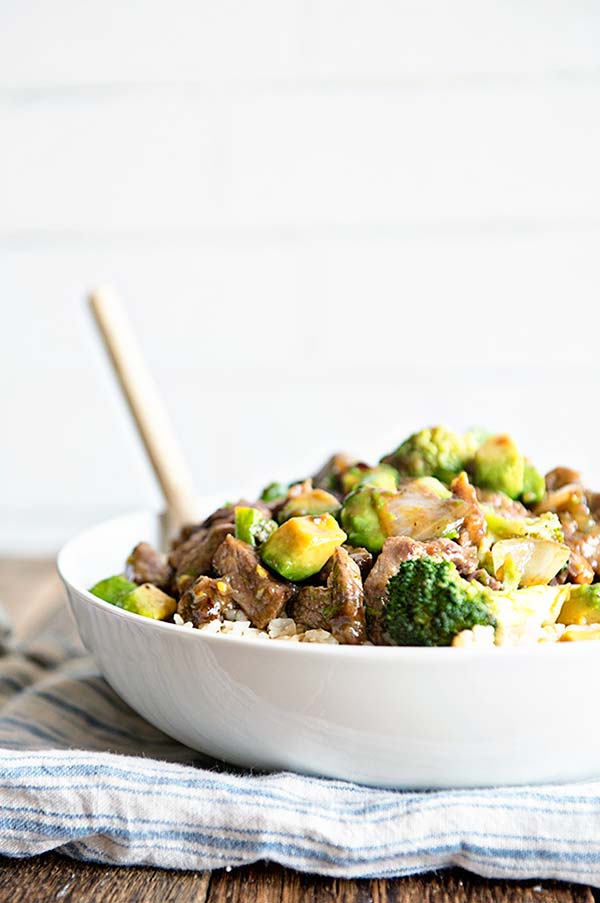 So, I have a couple of tips for you with this recipe. First off, did you know your grocery store butcher will cut your beef to size, for free? Whenever I'm doing a beef stir fry of any kind, I want the pieces of meat to be small and thin. I take my flank steak (or whatever kind of steak you want stir-fried but we prefer Certified Angus Beef brand) and tell the person behind the meat counter what I'll be using it for, and they slice it to size, FOR FREE. This saves me time in the kitchen and ensures that the beef is cut perfectly to remain tender and cook through for the stir fry.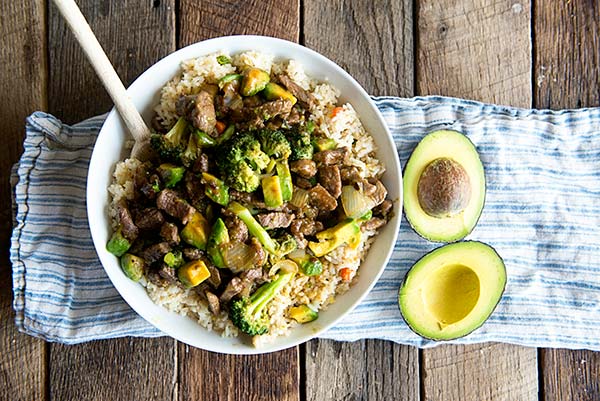 Second tip…when you are adding avocado to your stir-fry dishes, add it at the very end, right before serving. You want it to warm just a little bit, but for best flavor you don't want it cooked all the way through. Make sure you follow the instructions when it comes to adding California Avocados to your stir-fry recipes. Leaving it to cook in the stir-fry for too long will change it's color and texture.
So, what do you think? Are you ready to add some fresh California Avocados to new dishes in your house? If so, give it a try with this simple Beef and Broccoli with Avocado Stir-Fry recipe, then branch out from there (this pepper steak recipe would be another good one to experiment with!). I can't wait to see what you come up with!
Beef Broccoli and Avocado Stir Fry Recipe
Beef and Broccoli Stir Fry with a fresh Avocado twist!
Ingredients
4

tablespoons

cornstarch

divided

3

Tablespoons

water plus

1

⁄2 cup water

2

cloves

garlic

minced

1/4

teaspoon

Kosher salt

1

pound

flank steak

sliced thin (we prefer Certified Angus Beef)

2

tablespoons

vegetable oil

divided

4

cups

fresh broccoli florets

1

yellow onion

chopped

3/4

cup

reduced sodium soy sauce

3

tablespoons

brown sugar

1

teaspoon

ground ginger

2

California Avocados

peeled, seed removed, and coarsely chopped
Instructions
In a bowl, combine 3 tablespoons cornstarch, 3 tablespoons water, minced garlic and salt until smooth. Add the sliced beef and toss.

In a large skillet over medium high heat, stir-fry beef in 1 tablespoon oil until beef reaches desired doneness; remove and keep warm.

Stir-fry broccoli and onion in remaining oil for 4-5 minutes, or until broccoli is tender.

Return beef to pan.

Combine soy sauce, brown sugar, ginger, remaining cornstarch and water until smooth; add to the pan.

Stir fry for 2 minutes. Add chopped avocado. Cook for an additional 1 minute.
Disclosure – This is a sponsored post on behalf of California Avocados. All opinions expressed are my own. Visit their website for more great uses for fresh California Avocados!