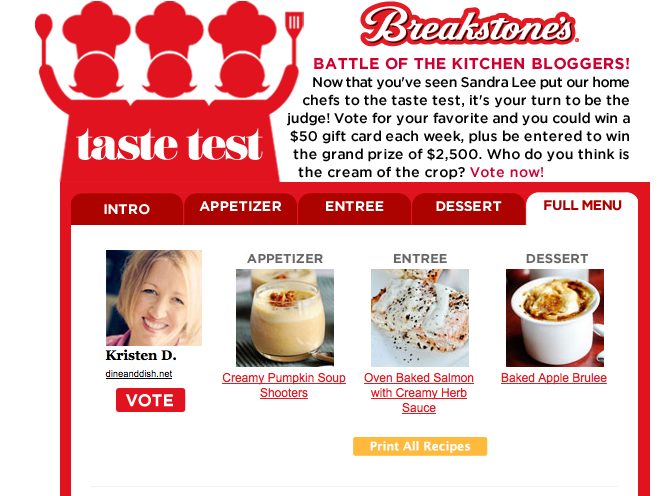 I hope you've enjoyed my take on a holiday meal over the past few weeks.  I started off the Breakstone's Holiday Showdown by sharing an appetizer of Creamy Pumpkin Soup Shooters. For the main dish, we enjoyed a savory salmon with a herb cream sauce. Our dessert was a tasty baked apple brulee.
I enjoy a traditional holiday meal as much as the next person, but I also find that by the time we are done with all the holiday entertaining, I get tired of eating the same thing over and over. By January, I'm definitely turkey'd out!
When we have our annual holiday party with friends, I like to make something different… something our friends aren't going to be tired of by the time they get to our holiday party.
Sweet pumpkin desserts are popular during the holidays, but rarely does pumpkin get the chance to take on the starring role as an appetizer. Creamy Pumpkin Soup Shooters give pumpkin the chance to shine in a non-traditional way during the holidays.
Salmon is an elegant addition to any meal and what better time to treat your friends and family to something unexpected and delicious than during the holidays?
Baked Apple Brulee is a dessert I love. Typically when I am done with the main part of a holiday meal, I am stuffed. Apple brulee is a light, non-heavy dessert with a sweet richness and creamy texture. It's definitely not your traditional way to end a holiday meal, but it certainly is delicious!
This is my last time to remind you all… you still have time to vote for your favorite holiday recipes over on the Better Homes and Gardens website. If you enjoyed my non-traditional take on the holiday meal, I would definitely appreciate your vote!
Head over to the Breakstone's Better Homes & Gardens Holiday Showdown page to cast your vote. Voters will be entered to win a weekly drawing for a $50 gift card. In addition, one lucky voter will win the  $2500 grand prize. Voting on the Holiday Showdown entries on the contest page will immediately enter you into the grand prize drawing. Thanks for voting and good luck!
Thanks so much and happy holidays to you all!
This is a sponsored post on behalf of Breakstone's Sour Cream. I was compensated for my time and ingredients and have the opportunity to win a cash prize if my menu is selected as the winner.