Pulled Pork takes center stage in this Buffalo Pulled Pork Nachos Recipe!
OK before we talk about this recipe, can I get one thing out of the way? I can't think about Nachos without thinking about this joke a man recorded and illustrated after his wife had a little too much wine and told it to him. If you haven't watched it, do it… I crack up every, single time!
Now that we've gotten that out of the way, let's talk Nachos!
So you all know that famous Buffalo Chicken Dip that is the first thing to disappear at book club and football game parties? It's so good, right? Well, I decided that I didn't think it was fair that chicken got to have all the glory in that recipe. How about pork? Why couldn't I use some of that amazing Slow Cooker Pulled Pork (recipe here) I made the other day in the famous Buffalo Chicken Dip? Then, why couldn't I just turn the whole sha-bang into Nachos? Heck yeah!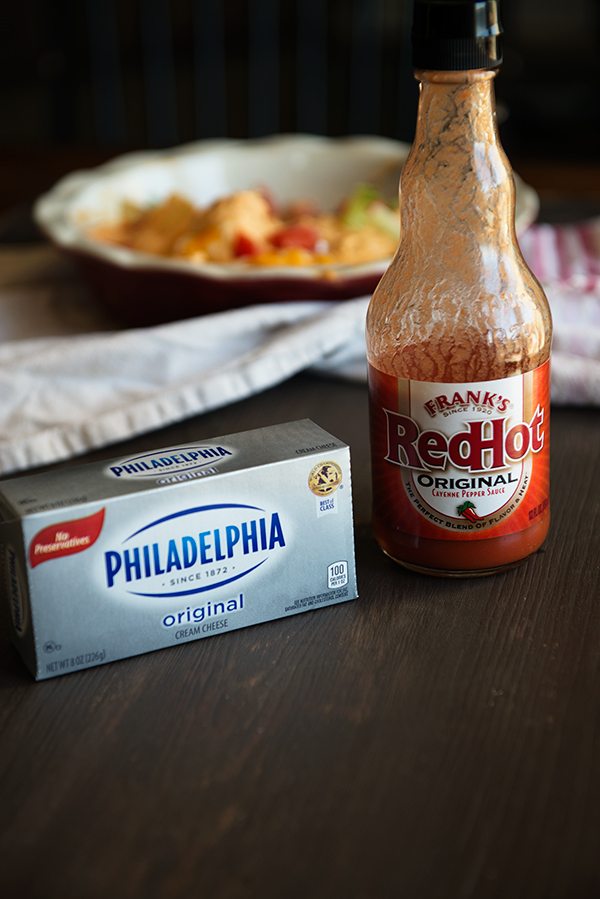 So that's what I did. One thing the original Buffalo Chicken Dip recipe calls for that I absolutely will not allow any substitutes for is PHILADELPHIA Cream Cheese. Since their original PHILADELPHIA Cream Cheese uses fresh local milk and real cream with no preservatives, it pretty much means it is the perfect, creamy consistency to pair with these mouth watering nachos. There's no need to settle for something less when you are making something this good!
The original Frank's Hot Sauce recipe is where it's at… but I think my adapted buffalo pulled pork nachos version is pretty darn good too! In fact, I imagine you might have a hard time figuring out which version to make, so can I make a suggestion? Make both! Frank's Hot Sauce version and the Dine & Dish nachos version. That way you won't run out and risk people being "Nacho friend anymore." That would be terrible. (OK if you didn't watch that joke above, you absolutely won't get what I just said. Watch it!)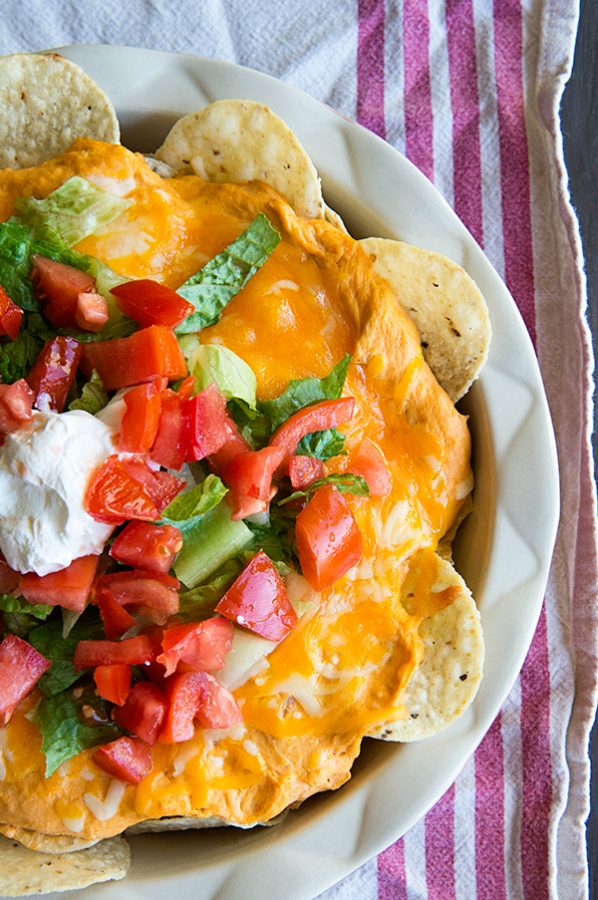 Enjoy!
Disclosure: I am honored to have an ongoing compensated relationship with my friends at PHILADELPHIA Cream Cheese. Make sure to check out their recipe website for tons of great recipe inspiration!
Buffalo Pulled Pork Nachos Recipe
Pulled pork takes center stage in this loaded nachos recipe!
Ingredients
1 8

ounce

package PHILADELPHIA Cream Cheese

1/2

cup

FRANK'S® RedHot® Original Cayenne Pepper Sauce

1

cup

prepared shredded pulled pork

1/4

cup

sour cream

1/4

teaspoon

garlic salt

1/4

teaspoon

onion powder

1

cup

shredded Monterey Jack Cheese

2

cups

round tortilla chips

Tomatoes

lettuce sour cream for garnish
Instructions
Preheat oven to 350°F

Layer 2 cups of chips in a 9 inch deep dish pie plate or small oven safe casserole dish

Place first 6 ingredients in an electric mixer and mix until well combined.

Spread mixture over chips in the pie plate and top with shredded cheese.

Bake for 20 minutes, or until cheese is melted and bubbly.

Top with desired garnish and serve!