These Cake Mix Bar Cookies have a gooey layer of powdered sugar and cream cheese mixture, making this great recipe a delicious, easy dessert for any occasion!
I go in phases where I tend to bake the same thing over and over. Most recently, I was on a jello poke cake kick, resulting in the purchase of lots of box cake mixes and jello of different flavors. I really love poke cakes, but I had purchased a bunch of Betty Crocker white cake mix, yellow cake mix, and strawberry cake mix on sale and lost my interest in poke cake before I ran out of cake mix. Story of my life!
In addition to all the cake mix, I had a significant amount of jello on hand as well. I like having boxed ingredients like that on hand to make simple dessert recipes, but when I say I had bought a ton, I'm not exaggerating.
I decided to start using some of it up to make cake mix bar cookies. I've made cake mix cookies in the past using a chocolate cake mix, but I wanted to try something different. I wanted to somehow incorporate what I had on hand (a bunch of cake mix and boxes of jello) into cookie bar form.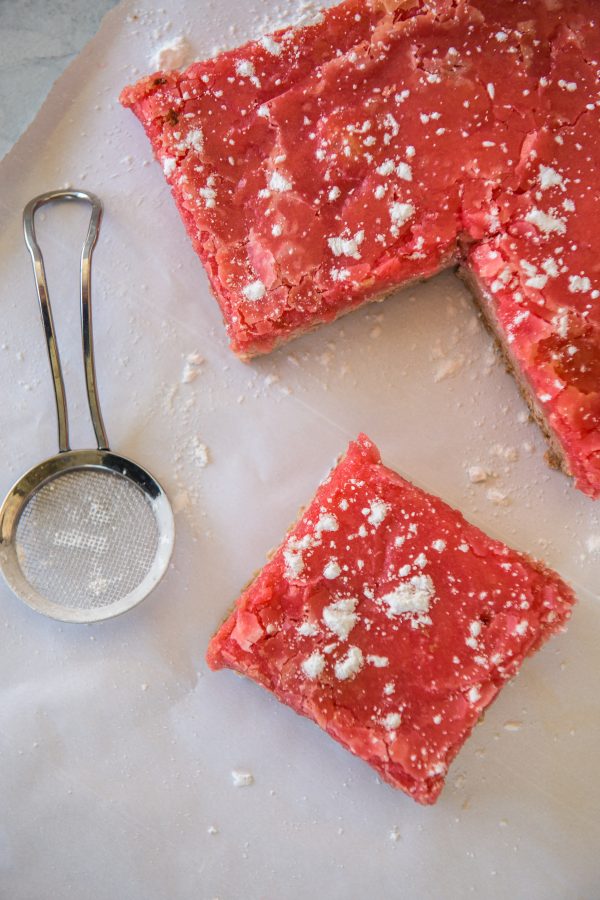 The result of my experiment is this simple recipe with simple ingredients that is a little bit like gooey butter cake and also a bit like cheesecake cookie bars. These gooey cake bars have a shortbread-like bottom layer and a sweet and creamy middle layer with a thin crackle layer on the top. This is the perfect dessert for anyone who wants a quick treat to satisfy their sweet tooth.
For this specific recipe I used a strawberry cake mix and strawberry jello but you could easily use a vanilla cake mix or even a lemon cake mix would be great. Same with the jello…you can use any kind of jello that will complement the box of cake mix you choose. This is such a versatile, easy recipe it doesn't need much explanation. But since this is a food blog, and you came here I'm assuming for the recipe, let me share the recipe and a few tips.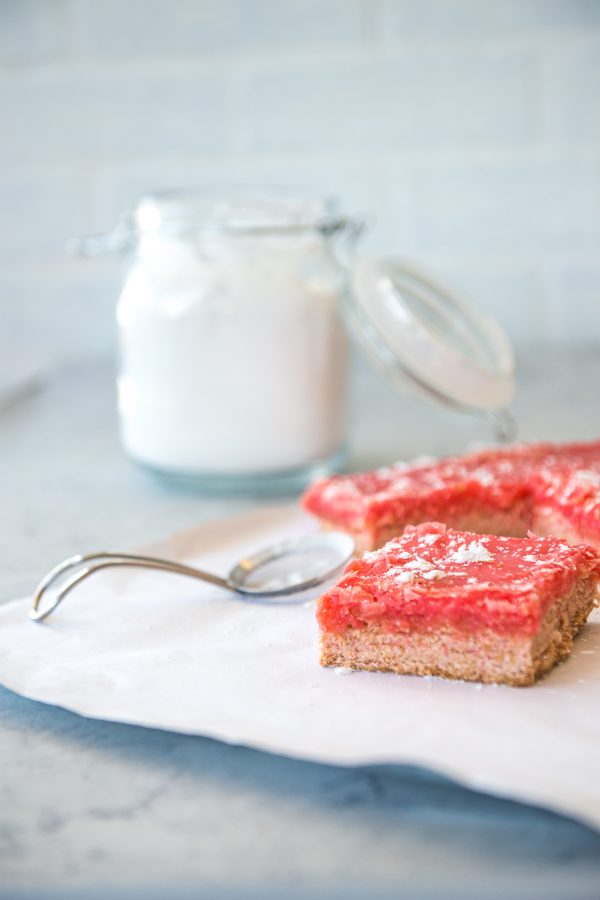 Equipment For Making Cake Mix Bar Cookies with Cream Cheese
As far as equipment goes, you don't need much (which is why I love making these bars …they are simple as can be!). You will need:
Large Mixing Bowl
Rubber spatula
Electric Mixer (stand mixer or a hand mixer – either one will work)
8×8 Square Baking Dish
Cooking Spray or Parchment Paper (I love to have this aluminum foil and parchment paper combo on hand!)
Sharp serrated cake knife

You Only Need These 6 Ingredients to Make Cake Mix Bars
I told you this recipe was simple! Here's the ingredient list for your shopping list (although hopefully, you have most of this on hand!).
Boxed cake mix (I recommend strawberry, white, yellow, vanilla or lemon)
Butter
2 Large Eggs
Cream Cheese
Confectioners' Sugar
Jello – any flavor that complements your cake mix. Keep in mind, the color of your jello will be the color of your dessert. So if you want to make these for valentine's day, strawberry jello would be great. For baby showers or springtime desserts, lemon jello will make really pretty lemon bars. It's totally up to you because this recipe is so versatile.

Tips for Success
These are really easy bars to make. In fact, you probably don't need any tips, but here are a few things to help ensure your bars are successful.
Make sure you use softened cream cheese and room temperature butter. Otherwise, your cream cheese layer will be lumpy.
When you mix the egg, cake mix and softened butter, it's not really going to be a batter or a cookie dough. It'll be like a loose crumble and you'll press the mixture into the pan.
Speaking of pressing into the pan…lining your baking dish with parchment paper with an overhang will make your life so much easier when you take the bars out.
Save a tiny bit of time and use the same bowl to mix together the cake mix layer and the cream cheese layer. No need to mess up a bunch of bowls!
Final tip – cut the bars into small squares after they have cooled. This is a really sweet, rich dessert so a little square goes a long way!
Now that you are all set with what equipment and ingredients you need as well as have some tips for success, I think it's time to share the recipe! Remember, it's versatile, so feel free to play around like I did and use flavor combinations that are your favorite! Enjoy!
Cake Mix Bar Cookies with Cream Cheese
An easy and delicious recipe using boxed cake mix. The bottom layer is a cake mix cookie bar and the top is a flavored cream cheese mixture. It's so versatile! Switch up the recipe by switching up the jello and cake mix flavors.
Ingredients
Base cookie bar layer
9

oz

package strawberry cake mix

or choose any flavor you'd like

3

Tbs

butter

softened to room temperature

1

large egg
Cream cheese layer
3

ounces

cream cheese

softened to room temperature

2

Tbs

strawberry jello mix

or choose any flavor you'd like to complement the cake mix flavor you chose

2

cups

powdered sugar

1

large egg

powdered sugar

optional to dust over top
Instructions
Preheat oven to 350°F. Line an 8x8 baking dish with parchment paper with edges overhanging for easy bar removal.

In the bowl of a stand mixer or a large mixing bowl, combine the dry cake mix, butter and egg until well blended. Note: It will not be a batter. It will be a crumble. Press crumble mixture into the prepared parchment lined baking dish.

In the same mixing bowl, mix together the cream cheese, strawberry jello mix, powdered sugar and egg. Mix until creamy and no lumps appear. Spread evenly over the bottom layer.

Bake at 350° degrees for 30 minutes or until a toothpick inserted in the center comes out clean. Cool for at least 15 minutes. Remove bars by pulling up the parchment paper with the bars on them, and lay flat on a surface. Cut into small squares and dust with powdered sugar if desired.

Bars can be made ahead and once cooled, stored in the refrigerator until ready to cut and serve.
Here are 4 more recipe ideas to use up extra boxed cake mix:
Disclosure: This blog post contains affiliate links. As an Amazon Associate, I earn from qualifying purchases. Please view my privacy policy for further information.