If you are looking for a dessert recipe that is as easy as can be, give this Peach Slow Cooker Dessert recipe a try! It's a great use of the frozen peaches you may have left over from the summer!
I know what you are thinking… peaches in October? Kristen! What's up with that?
I know, I know… peaches are totally not a fall food, but I love them! I love them so much that I over purchased peaches this summer and ended up having to freeze a bunch. If you have peaches you froze and are looking for a nifty way to use some of them up, I'd like to suggest this Peach Slow Cooker Dessert recipe.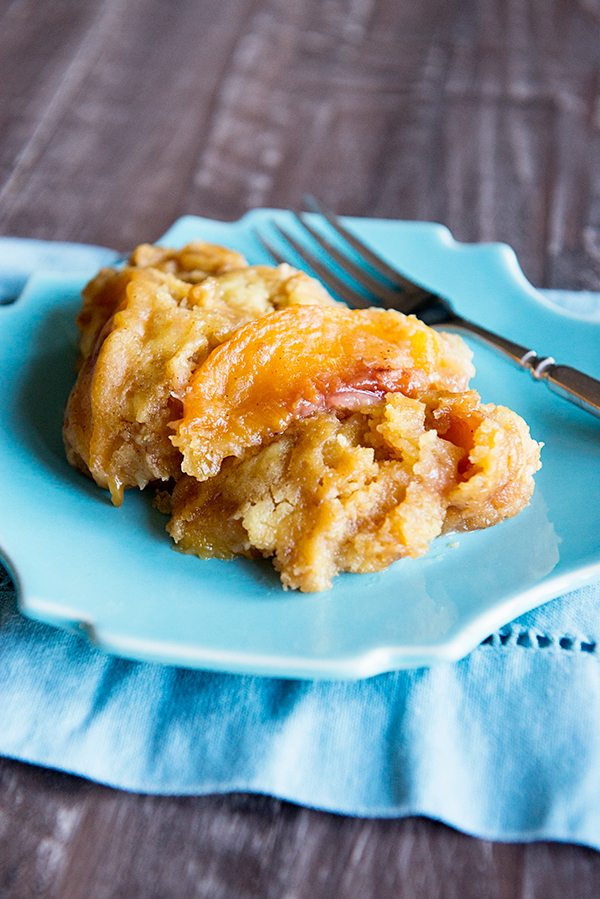 I will tell you up front that this recipe is not going to win any beauty awards. Slow Cooker desserts in general tend to be ugly, but for a dessert that is as simple as dumping in a bunch of ingredients into a slow cooker and letting them cook, this wins. Besides, the smell of your house when the cinnamon and peaches and vanilla simmer together is so so so good. Who cares if it is an ugly dessert… the aroma alone will win you over!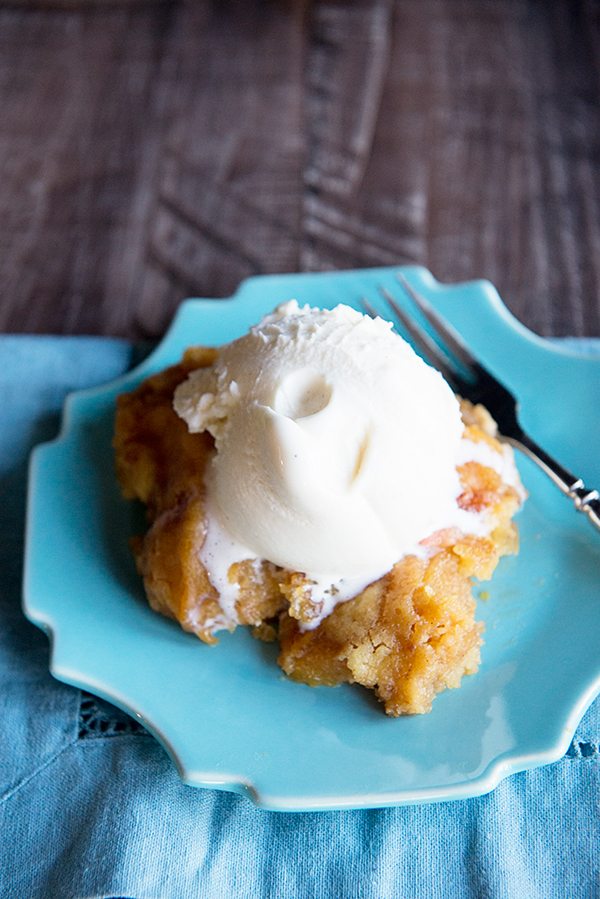 This recipe is so similar to the easy 3 Ingredient Peach Dump Cake I posted on Dine & Dish a few years ago, but unlike that one which is baked in the oven, this Peach Slow Cooker Dessert is cooked in, well, the slow cooker!
So, it may be the middle of October, and the weather might be turning a slight bit chilly where you are, but I still think there is plenty of time to savor the flavor of peaches this fall. Especially when they are cooked in your slow cooker (which to me is totally a fall appliance) they are completely legit.
Enjoy!
Peach Slow Cooker Dessert
Ingredients
2

cups

frozen sliced peaches

1

tablespoon

cornstarch

1/2

tablespoon

vanilla extract

1/2

tablespoon

almond extract

1/4

cup

brown sugar

1

tablespoon

cinnamon

1 9

ounce

box Jiffy yellow cake mix

4

tablespoons

melted butter
Instructions
Spray the crock of your slow cooker with cooking spray.

Place frozen peaches in the bottom of your slow cooker in an even layer. Sprinkle with cornstarch and toss.

Drizzle with vanilla and almond extract.

Next, sprinkle the brown sugar than cinnamon evenly over the peaches, then add the cake mix, sprinkling evenly over the peaches.

Drizzle melted butter evenly over the cake mix, cover and cook on high for 3 hours, or until a nice cake like crust has formed.

(Note, at 2 1/2 hours, I actually stir mine, but this isn't necessary.)
Disclosure: This blog post contains affiliate links. As an Amazon Associate, I earn from qualifying purchases.