This post brought to you by Carapelli Olive Oil. All opinions are 100% mine.
When was the last time you did a taste test with olive oil? You haven't? Really? Well, to be honest with you I hadn't either until Carapelli Olive Oil sent me an Olive Oil tasting kit, complete with three Carapelli Olive Oil flavors… Premium 100% Italian, II Numerato and Organic Olive Oil.
The kit included instructions on how to conduct a proper Olive Oil Tasting. Apparently when you taste olive oil, you'll find the most success when you utilize the four S's… Swirl, Sniff, Slurp and Swallow. Sounds quite lady like, doesn't it?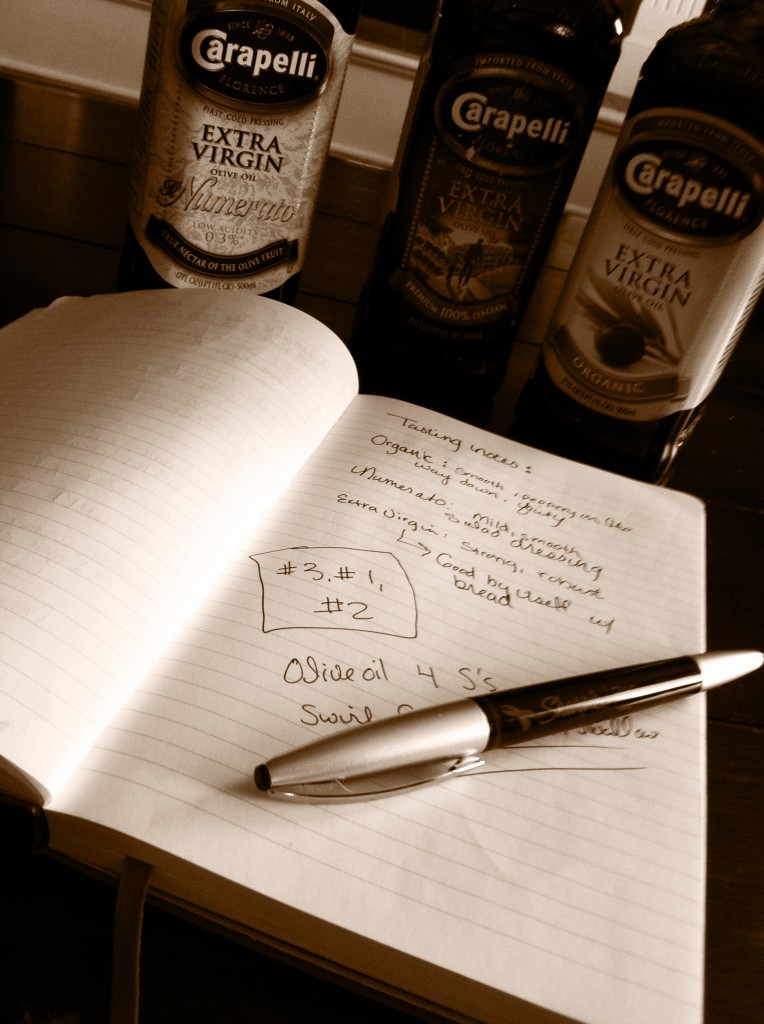 Putting my manners aside, I went on to taste testing the Carapelli Olive Oil. What I discovered was:
The Organic oil went down smooth with a really light peppery undertone
The Numerato was mild and smooth… reminded me of an oil based salad dressing. It didn't have a lot of oomph to it, but was good.
The regular Extra Virgin olive oil was the most robust of them all. I loved the peppery tones and the crisp flavor.
In order, I enjoyed the Extra Virgin Oil the best, Organic second and Numerato third. All in all, each olive oil had a quality, rich flavor. Try Carapelli Olive Oil yourself and discover which one is your favorite. Enjoy this $1.00 OFF coupon at www.CarapelliUSA.com.
If you aren't into slurping olive oil, another way we enjoy the pure and smooth taste of olive oil is by dipping Foccacia Bread into it.  This is our favorite recipe for Foccacia, made especially delicious with a side of Carapelli Olive Oil.
Pin It

Foccacia Bread
2 3/4 cup all purpose flour
1 teaspoon salt
1 teaspoon white sugar
1 packet active dry yeast
1 tablespoon Italian Seasoning
1 teaspoon garlic powder
1 teaspoon cracked black pepper
1 tablespoon vegetable oil
1 cup warm water
2 tablespoons Carapelli Olive Oil
Toppings of your choice (we like a simple Kosher salt / Cracked black pepper topping)
In large bowl, stir together flour, salt, sugar, yeast, Italian seasoning, garlic powder, and black pepper.

Mix in vegetable oil and water.

When dough has pulled together, turn out onto lightly floured surface and knead until smooth and elastic.

Lightly oil a large bowl, place dough in bowl, and turn to coat with oil.

Cover with damp cloth and let rise in warm place 25 minutes.

Preheat oven to 425 degrees.

Punch dough down, place on greased baking sheet.

Pat dough into 1/2-inch thick rectangle (doesn't have to be perfect).

Using your knuckle, make indentations in the dough about 1/2-inch apart, then prick dough with fork.

Brush top with olive oil, then sprinkle with your choice of toppings.

Bake for 13-15 minutes until golden brown.