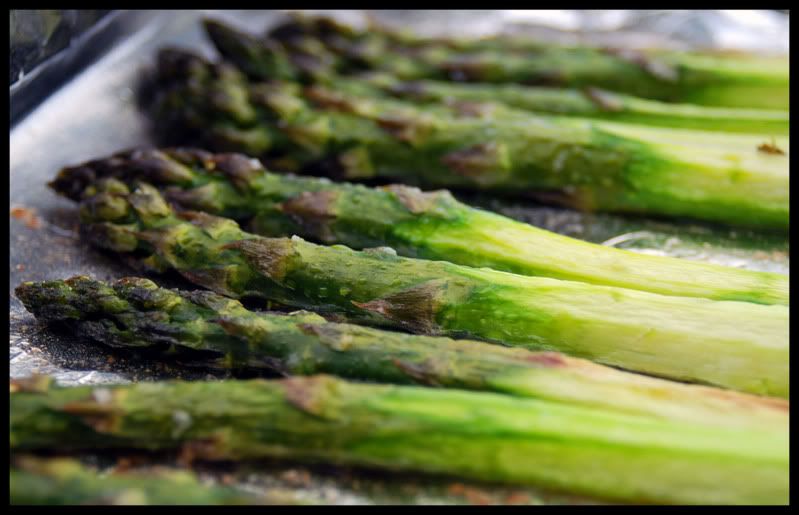 Picture this… dinner was nearing an end. The kids are complaining, fighting, crying, screeching, etc. The entire table was in an uproar. All this comotion was music to my ears. Yes… I was thrilled that all of this craziness was going on. You want to know why, don't you? How could a reasonably sane mom enjoy hearing such disorder at dinner time? What could be causing such a hubbub around our dinner table? The culprit was the asparagus. All of the asparagus was gone and my family was not happy about it. Everyone, including my green veggie shy hubby, was upset because there was no more asapargus. Every last little morsel had been gobbled up and all that was left was the empty serving dish (and the lasting odd asparagus smell when they all went potty!).
What was so special about the asparagus to cause the entire family to revolt against me? Really, nothing at all. This is the easiest way ever to cook asparagus and it is one of the tastiest ways as well. Apparently I have learned my lesson about this recipe… I need to double or triple it to please my family.
Roasted Asparagus

Best way to cook Asparagus and perfect way to get a yummy vegetable into your dinner.

Ingredients

1

lb

fresh asparagus

1 1/2

tablespoon

olive oil

1/2

teaspoon

kosher salt

Instructions

Preheat your oven to 425 degrees.

Cut off the woody part of the asparagus and discard.

With a veggie peeler, peel off the bottom 2" of the asparagus skin. This will help you to avoid having those stringy pieces.

Place the asparagus, olive oil and kosher salt together in a large ziploc bag. Shake until each piece of asparagus has a light coating of oil and salt.

Place the asparagus on a foil lined baking sheet and roast for 15 minutes. The spears should be tender when pierced with a fork or knife.