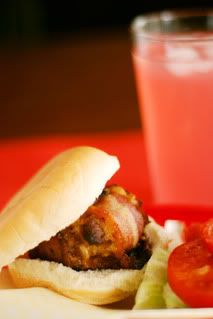 When I was a young girl, I did not like to eat anything messy. Hamburgers were condiment free. I couldn't stand Barbecue because of the mess it made all over your hands, face and clothes. I ate my ice cream only out of bowls… not out of cones because I hated to have melting ice cream dripping on my hands. I always had my mom cut off my corn from the cob because I didn't want pieces of corn on my face and in my teeth. I have never been a "dip things in ketchup" kind of gal, always opting for no dip or sauce of any kind.
I guess I was a bit of an odd kid that way. I didn't mind dirt and mud, but messy food was out of the question. I am still a little bit that way, but have gotten over a lot of it as I have gotten older. Still, if I could keep from getting messy as I ate, that would be my preference.
That is one reason why I love these Cheddar Bacon Wrapped Hamburgers. They are so good and no condiments required. If you aren't into the whole condiment thing, these burgers will be right up your alley. To kick up the flavor without kicking up the mess, replace the pepper with cayenne pepper and the salt for some garlic salt. Just remember to grab a napkin to wipe the drool off your chin as you watch and smell them while they are grilling. You'll need it!
Cheddar Bacon Wrapped Hamburgers
Delicious dinner for a nice summer night.
Ingredients
1/2

cup

shredded cheddar cheese

1

tablespoon

grated parmesan cheese

1

small onion

chopped

1

egg

1

tablespoon

ketchup

1

tablespoon

worcestershire sauce

1/2

teaspoon

salt

1/8

teaspoon

pepper

1

lb

ground beef

12

slices

bacon

6

hamburger buns

split
Instructions
Preheat a grill for high heat.

In a large bowl, mix together the Cheddar cheese, Parmesan cheese, onion, egg, ketchup, Worcestershire sauce, salt and pepper. Crumble in the ground beef, and mix together by hand. Form into 6 patties, and wrap two slices of bacon around each one in both directions. Secure bacon with toothpicks.

Place patties on the grill, and cook for 5 minutes per side, or until well done. Remove toothpicks before serving on hamburger buns.
Notes
So, you love a good Burger? Check out these other recipes from food bloggers around the globe: Brie and Chutney Turkey Burgers, from Cara's Cravings Ultimate Veggie Burger, from 101 Cookbooks Southwest Burgers with Guacamole, from Bird Food Lamb Burgers with Feta, from Kitchenmadge Chipotle Honey BBQ Bacon Burgers, from Keith Prickett's Food Blog