While browsing the enormous Food Blog world this week, I happened upon a great blog with several great recipes and product recommendations. I finally had to stop reading through past posts because my list of recipes I wanted to try kept getting longer and longer! The site is Nosh with Me and it's managed by Hilary, a passionate baker and a very entertaining writer.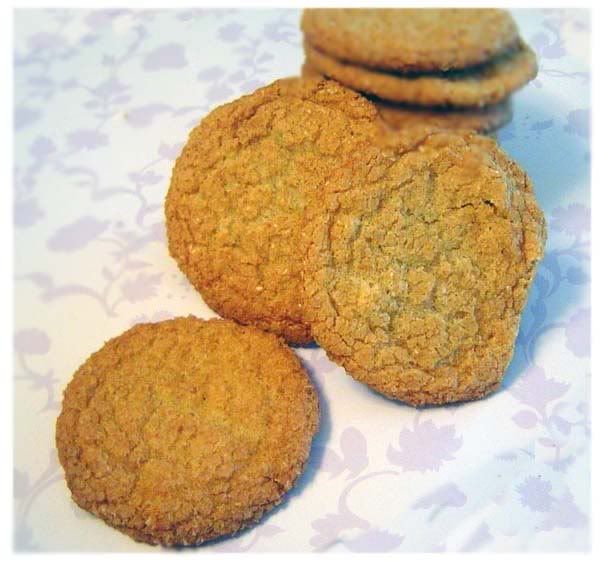 Hilary recently posted a recipe for Cinnamon Sugar Cookies. Reading her description I could practically taste these yummy creations, as well as envision the aroma swarming through my house. I knew I had to give them a try. So, yesterday, my 4 year old and my 3 year old were my big helpers in the kitchen as we made these cookies. Warning to mom's out there wanting to try this recipe with little helpers in the kitchen. The Sugar in the Raw is something my kids couldn't keep their hands out of. They loved rolling the balls in the sugar, as well as piling the sugar up, spilling it all over the place, running their fingers through the large crystals. They had a ball, which is what counts, right?
The end result of this recipe is a cookie with a very unique flavor. I can't quite put my finger on what that flavor is, but I can tell you… they are delicious! They seem like the perfect thing to pair with a hot cup of cocoa. They are slightly chewy, with a perfectly crisp outside.  The only change I made to the recipe was to only bake them for 10 minutes.
If you are selling your house and are looking for that cookie recipe to make your house smell fabulous, this is it. The aroma of these baking is so warm and homey, it's sure to make prospective buyers drop an offer right there on the spot. Once they taste the cookies, they'll raise their offer above your asking price. (OK – I can't guarantee that, but it couldn't hurt 🙂 ).
With Hilary's permission, I'm posting the recipe here for you all to try. But, if you are looking for more wonderful baking recipes, make sure to take a journey over to Nosh With Me. Be prepared to drool!
Cinnamon-Sugar Cookies
Ingredients
1 cup granulated sugar
6 tablespoons butter, softened
1 tablespoon light corn syrup
1 teaspoon vanilla extract
1 large egg
1 cup cake flour (about 4 ounces)
3/4 cup all-purpose flour (about 3 1/3 ounces)
1 teaspoon baking powder
1 teaspoon baking soda
1/4 teaspoon salt
1/4 teaspoon ground cinnamon
1/4 cup turbinado sugar (brand name Sugar in the Raw)
1/2 teaspoon ground cinnamon
Preparation
Place granulated sugar and butter in a bowl; beat with a mixer at medium speed until well blended (about 3 minutes). Add corn syrup, vanilla, and egg; beat 3 minutes or until well blended.
Lightly spoon cake flour and all-purpose flour into dry measuring cups; level with a knife. Combine flours, baking powder, baking soda, salt, and 1/4 teaspoon cinnamon. Add flour mixture to butter mixture; stir until just combined. Wrap in plastic wrap; chill 1 hour.
Preheat oven to 375°.
Combine turbinado sugar and 1/2 teaspoon cinnamon in a small bowl. Shape dough into 48 balls, about 1 teaspoon each. Roll balls in cinnamon-sugar mixture. Place 2 inches apart on ungreased baking sheets. Bake at 375° for 12 minutes or until golden on bottom. Cool on wire racks.
Yield: 48 cookies