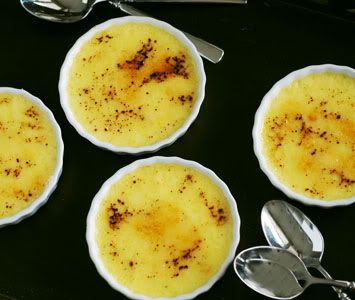 Is it too early to say I am sick of winter and ready for spring? Because, I am. I am sick of winter and am so ready for spring. I already feel like I want to hibernate. Remember how I told you awhile back that we may get transferred to Minneapolis? I now officially know that there is no way I would survive there! Anyone have a good job for a really talented <insert the title of whatever it is my husband does> in, say, my favorite state of North Carolina? I would jump on that opportunity in a heart beat!
Speaking of husbands, do any of the rest of you not know exactly what it is your husband does? I always get a little embarrassed when people ask me because I try to explain it (something along the lines of managing computer programmers for a company in the Mutual Fund Processing Industry) but in all honesty, I really have no idea. I know he works a lot, often comes home crabby from his day, and would love to be independently wealthy, but I have no idea what he actually does. Married to the man for over 9 years now, and I still struggle with explaining his profession.
Anyway… enough blabbering. I'm sure what you are really here for is to find out who won the Taste of Home Cookbooks and the Brother P-Touch Label Maker. I loved all of your organizing tips! I left the decision of the winner up to the Random Number Generator and out of 80 comments, it chose comment number 62. Comment number 62 just happens to be… Carmen from Carmen Cooks! Congratulations, Carmen! I can't wait to hear about all of the great things you do with it.
For the rest of you who didn't win this time, I won't leave you empty handed. My friend Sandie over at Inn Cuisine sent me this recipe for Creme Brulee back in April. I've been meaning to try it for quite some time now, but just haven't gotten around to it. This is a rich and delicious Creme Brulee recipe and I love the little kick that the Grand Mariner ads. I replaced the vanilla extract with beans from a whole vanilla bean (and sliced the palm of my hand open in the process…but that is for another time).
Stay warm and enjoy some delicious Creme Brulee and stay tuned for another great giveaway later this week!
Creme Brulee
1 extra-large egg
4 extra-large egg yolks
1/2 cup sugar, plus 1 tablespoon for each serving
3 cups heavy cream
1 teaspoon pure vanilla extract
1 tablespoon orange liqueur (recommended: Grand Marnier)
Preheat the oven to 300 degrees F.
In the bowl of an electric mixer fitted with the paddle attachment, mix the egg, egg yolks, and 1/2 cup of the sugar together on low speed until just combined. Meanwhile, scald the cream in a small saucepan until it's very hot to the touch but not boiled. With the mixer on low speed, slowly add the cream to the eggs. Add the vanilla and orange liqueur and pour into 6 to 8-ounce ramekins until almost full.
Place the ramekins in a baking pan and carefully pour boiling water into the pan to come halfway up the sides of the ramekins. Bake for 35 to 40 minutes, until the custards are set when gently shaken. Remove the custards from the water bath, cool to room temperature, and refrigerate until firm.
To serve, spread 1 tablespoon of sugar evenly on the top of each ramekin and heat with a kitchen blowtorch until the sugar carmelizes evenly. Allow to sit at room temperature for a minute until the caramelized sugar hardens.
Hungry for more Creme Brulee? These food bloggers are cooking it up with some special twists!