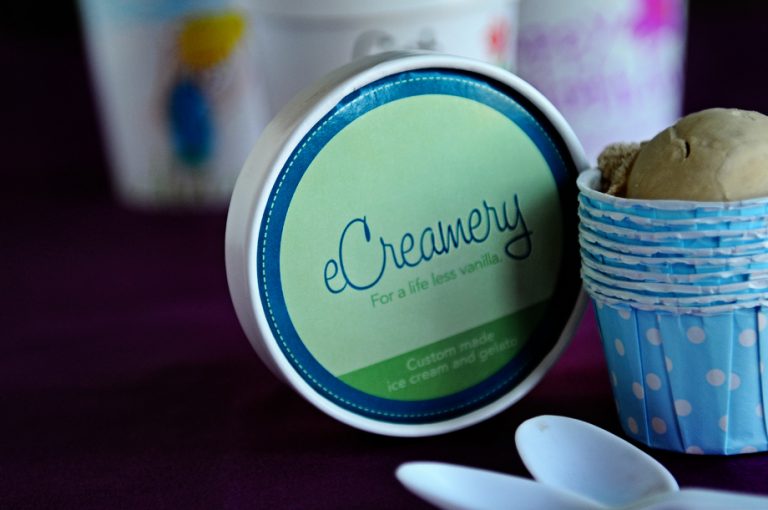 This giveaway is now closed. The winner of the Cuisinart Ice Cream Maker & eCreamery Gourmet Flavorings Pack is Richard H from FoodPhotoNYC.com. Congrats & thank you everyone for entering.
I made homemade ice cream earlier this week and when I tasted it, I immediately thought "I hope this is what heaven tastes like". I'm not even sure if heaven has a taste, but I can tell you that if it does, it will taste a lot like this ice cream.
I had a little bit of help with the ice cream. My friend Abby owns eCreamery, a gourmet ice cream and gelato shop in Dundee, Nebraska where she creates the most amazing tasting ice cream ever. One of the great things is, you don't have to live in Nebraska to enjoy the goodness of eCreamery. They will package up your custom flavors and ship it out to anywhere in the US. Imagine having gourmet ice cream or gelato delivered right to your home. Pretty cool, right?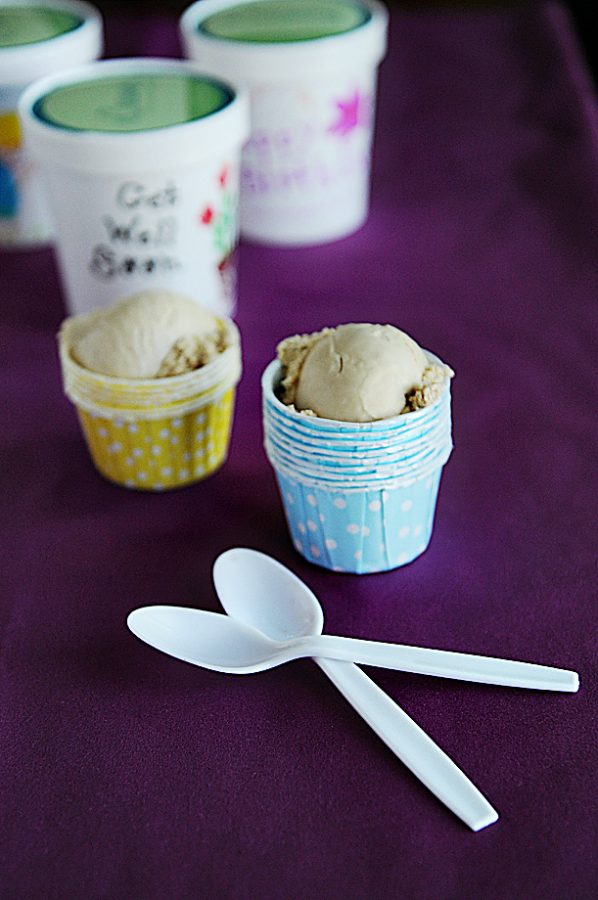 Cute little ice cream cups from the Hey Yo Yo Etsy store.
I'm pretty excited because the ladies at eCreamery have come up with another way for us to enjoy their ice cream. They have packaged up their special gourmet ice cream flavorings, shared their secret recipe and have made it all available so that you and I can make eCreamery ice cream in our own homes. 3 Cocoa Bean Chocolate, Buttered Caramel, Vanilla Bean and Tiramisu Cappuccino are the gourmet flavors they have to choose from. I've only gotten as far as the Buttered Caramel, which was honestly, ice cream nirvana.
In addition to their Gourmet Ice Cream Flavorings, eCreamery has pint size containers you can decorate yourself. We had a lot of fun with that and imagined all of the different ways we could share a special ice cream treat with our friends!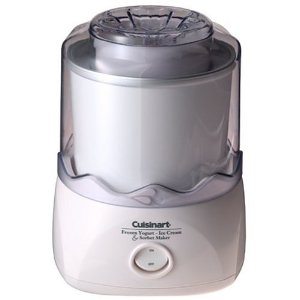 I decided the best way to share the goodness of eCreamery with you all is to host a giveaway. How about a Cuisinart Ice Cream Maker, 2 containers of eCreamery gourmet flavorings (winners choice) and 2 blank pints for you to decorate how you wish. Sound good? Great! To enter the giveaway leave a comment on this post telling me what your favorite flavor of ice cream is.
For additional entries complete any or all of the following:
Become a friend of Dine & Dish on Facebook. Leave a comment on this post letting me know you have done that.
Share the link to this giveaway with your friends on Facebook, tagging Dine & Dish.
Become a friend of eCreamery on Facebook. Leave a comment on this post letting me know you have done that.
Tweet the following: I entered to win @eCreamery Gourmet Ice Cream Flavorings & a Cuisinart Ice Cream Maker from @DineandDish http://su.pr/17ucMt
All entries must be received by midnight CST on Thursday, June 30th. Winner will be chosen by Random.org.
This is not a sponsored post. The giveaway is being provided by me and all opinions are my own.
Now for the ice cream recipe, as shared by eCreamery:
Recipe: eCreamery's Superbly Simple Ice Cream Recipe (or as I would say, simply the BEST ice cream EVER!)

1 1/2 cups heavy whipping cream
1 1/2 cups half-and-half cream
1/2 cup white sugar
4 Tablespoons eCreamery's Gourmet Flavoring of your choice
Thoroughly whisk all ingredients.
Churn in frozen ice cream maker bowl per machine's instructions
I used the Buttered Caramel Flavoring and added 1/2 teaspoon Kosher salt to get that perfect sweet, salty flavor!