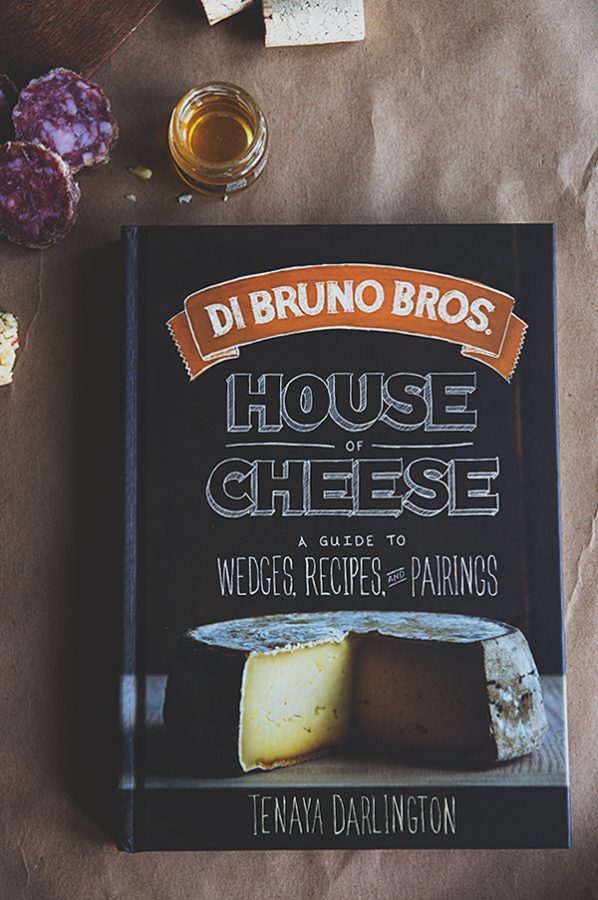 Simply, charming with the right touch of informative. That is how I would describe the Di Bruno Brothers House of Cheese Cookbook. From novice cheese lovers to connoisseurs, this information packed beauty of a book is one worthy of space on your shelf.
When you open the pages of Di Bruno Brothers House of Cheese Cookbook, it feels like you are stepping in front of Philadelphia's largest and oldest cheese counter, with experts right in front of you providing helpful guidance. Dare I call it a reference book? Oh…don't let that scare you away… this "reference" book is unassuming, fun, light and still manages to be an informative book without being overwhelming.
Nick and I first became lovers of fine cheese and wine pairings when we vacationed without the kids a few years ago. We stumbled upon a farmers market in Park City, Utah and decided that instead of dinner, we'd grab some artisan cheeses, fruit, wine and a baguette and head back to our hotel for a night in. From that day forward, creating a simple wine, cheese and fruit tray has been our favorite at home date night tradition. We've always been a bit sporadic about our choices, but now with the Di Bruno Brothers cookbook in our hands, we can shake up date night even more with more formalized pairings.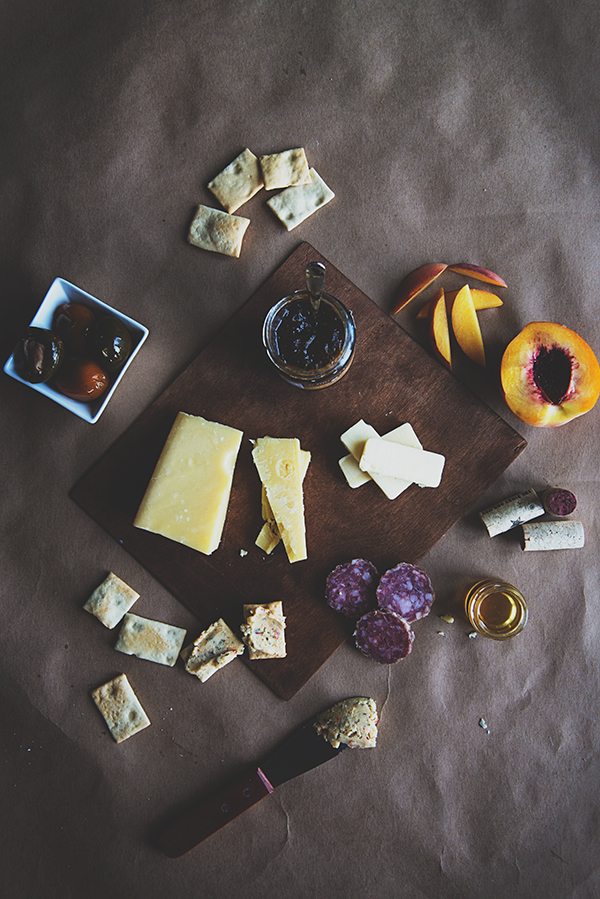 I have an incredibly generous giveaway from Di Bruno Brothers to share with you, but let me just tell you a few favorite things about their cookbook first. Let's start with the nitty gritty… This wonderful cookbook is written by Tenaya Darlington, the freelance blogger behind Di Bruno Brothers House of Cheese. Let me tell you, Tenaya has a way with words and can make reading about even the stinkiest of cheeses, pleasant. The photography? The gorgeous, artistic photography? It was done by the talented Jason Varney. What a killer team the two of them made with this book!
Here is a sampling of what you'll find in the Di Bruno Brothers House of Cheese Cookbook:
30 recipes ranging from starters to desserts (A few of my favorites? Zeke's Bacon Maple Grilled Cheese, Baked Brie with Pears and Apricots, The Incredible Bulk and A Pecorino Perfect Martini)
How-To's galore, from "How to Host a Cheese Party" to "How to Pick a Hunk" and "How to Talk to a Cheesemonger" and so much more
Several really awesome and creative cheese board ideas. I really loved the Tapas on the Patio and Desk Bentos for One cheese board ideas! Brilliant!
Recommendations for the perfect beer and wine pairings
An all inclusive detailed (in a totally non boring way) list of the types of cheeses out there, broken down by personality.
Beautiful words and photographs accompanying each and every page of the book, from start to finish.
If you want to get serious about cheese, in a totally fun and enlightening way, you'll want to buy this book up ASAP. It's currently only $13.99 on Amazon… the amount of information in this book is worth so much more than that! Also, scroll below for a chance to win the cookbook and a wonderful basket of food goods from Di Bruno Brothers!
The giveaway basket includes a selection of tasty products from Di Bruno Brothers (think incredible cheeses, gourmet jarred goods, crackers and snacks), the cookbook and a $25 gift card to buy some things you love at the Di Bruno Brothers online store. If you want to enter to win the gift basket, do so using the PromoSimple widget below. If you just want to cut to the chase and buy the book, you can certainly do that through this link here.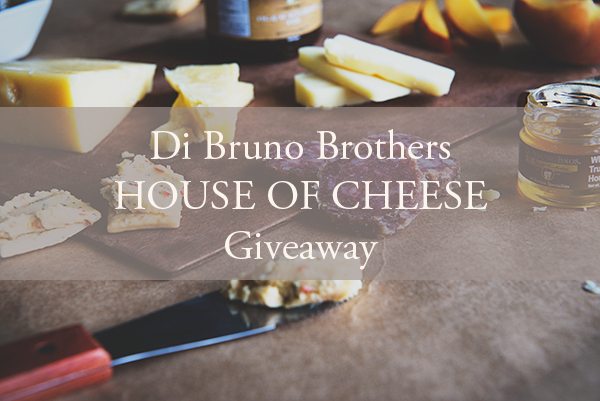 Disclosure: This blog post contains affiliate links. As an Amazon Associate, I earn from qualifying purchases.