Check out these Walnut Crusted Lump Crab Cakes, made with fresh lump crab meat mixed with wholesome ingredients and topped with a crust made using Fisher Walnuts.
If you are into basketball, love the University of Northern Iowa and are following the whole March Madness thing, you may have experienced something in your house over this past week similar to mine.
As someone who doesn't follow college basketball, I can often tell how the games are going simply based on the sounds coming from our basement. Last Friday night, while I was in my PJ's doing old lady Friday night things (aka drinking tea and reading), I heard shouts of amazement and joy from the basement, where the boys in my family were watching UNI play against Texas. Apparently UNI won the game against Texas with an amazing half court shot right at the buzzer. You would have thought we won the lottery, the excitement was so huge!
Fast forward a few days later, when UNI went on to play Texas A&M. Let's just say that game earned news headlines like "How Northern Iowa suffered the greatest collapse in NCAA Tournament history." Apparently UNI had every chance to win the game, but completely choked in the last 35 seconds. (They were up 12 and still lost because of throwing away the game in the last half a minute.) Can you imagine the yells from my basement then? They were not happy, cheerful yells…the boys were not happy with the end result of that game, understandably. (I'm sorry but even I can't figure out how a team can lose a game in 35 seconds!).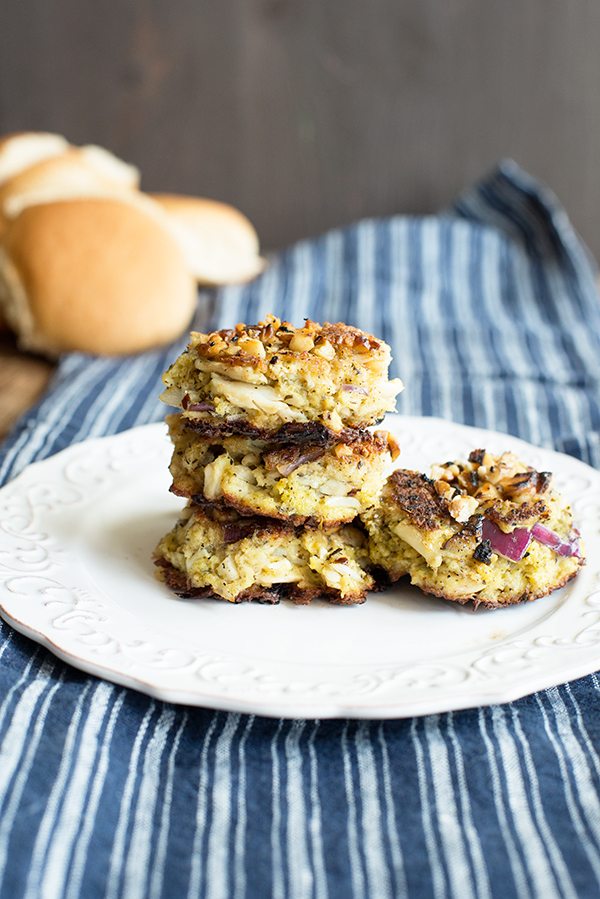 The boys came upstairs, completely sad and dejected. It was like someone told them they won the lottery then the next day took it all away. Even my "I don't get why you are so upset. How exactly does this change your life in any way? Won't the sun still come up tomorrow?" comments were received poorly (imagine that). After receiving a couple dirty looks for my un-appreciated comments, it was then I realized my role in this whole March Madness business. Make food. Feed the boys. Hashtag that is all.
So I donned my happy go lucky, food making helper face, and made food. More specifically, I made crab cakes, which in turn they decided to sandwich between a bun and turn into sliders. With each bite, my boys were happy, once again. All was well in the world, except for that poor UNI team. I don't think they'll ever be able to let go of that darn loss. Maybe I should send them some crab cakes too 🙂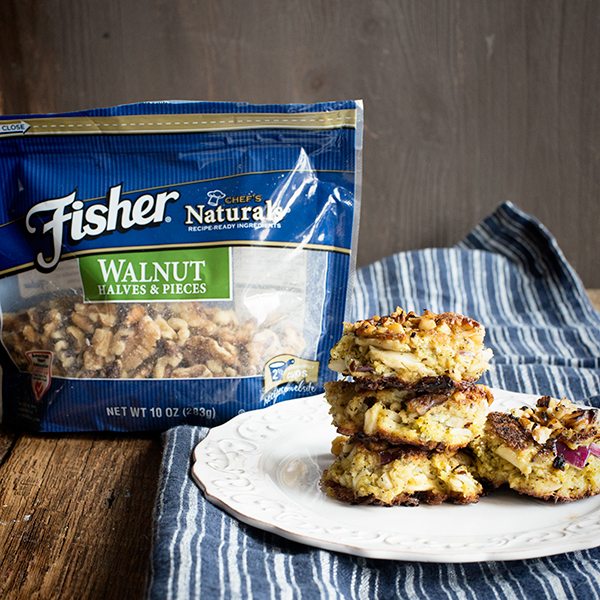 These crab cakes are a combination of a few of my favorite things. Lump crab meat, tasty red onion, a delicious and zesty seasoning blend, and then of course, Fisher Walnuts. I tried to lessen the fat and filler of these crab cakes some, to make them more wholesome, but they still remained incredibly flavorful and good! The chopped walnut crust gives these crab cakes an extra nutty flavor you are sure to love. I hope you enjoy them as much as we did!
For more recipes featuring preservative free Fisher Nuts, visit their website! Enjoy!
Walnut Crusted Lump Crab Cakes Recipe
A simple, yet delicious, crab cake recipe, full of flavor and quick to make!
Servings
10
slider sized crab cakes
Ingredients
1/2

cup

Panko bread crumbs

1

small red onion

chopped

1

Tablespoon

seafood seasoning

I prefer Zatarain's Big & Zesty

2

eggs

1

Tablespoon

mustard

8

ounces

lump crab meat

1

Tablespoon

coconut oil

or oil of your choice

1/2

cup

Fisher Nuts Walnuts

finely chopped
Instructions
In a large bowl, combine all the ingredients except coconut oil and Fisher Nuts. Stir until the mixture holds together and can be formed into balls.

Heat a skillet over medium low heat. Add coconut oil and heat.

Begin forming the crab meat mixture into 2 inch balls, then gently press each ball into a thick patty. Press a spoonful of chopped Fisher walnuts into the top and bottom of each patty.

Place the crab cakes carefully in the heated pan, using your fingers or the back of a spoon to secure any pieces that may have fallen off. Cook on each side for 3-4 minutes, until a nice, golden crust has formed.

(Note, without as much fat and filler, these crabcakes do have to have a little more care. If you want your crab cakes to hold together more firmly, increase the bread crumbs to 1 cup instead of 1/2. cup. Otherwise you'll get along perfectly fine just pressing in any broken off pieces while they cook).
This is a sponsored conversation written by me on behalf of Fisher. The opinions and text are all mine.