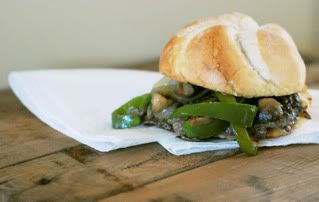 You all are probably starting to think that I should change my blog name to Dine and Whine instead of Dine and Dish, aren't you? Have I been crabby the past couple of posts or what? Sorry to bring you all down, but thank you for pulling me back up. The comments on my last post about the restlessness I am feeling really put things into perspective for me. The post struck a chord with many of you and your personal accounts and advice are so appreciated.
I do not have a lot to say today (first time for everything, isn't there?) but I have been holding on to this recipe for so long and keep forgetting to post it. This is a Recipezaar recipe… and was a spur of the moment try for me. We always have a lot of minute steak in our house and finding creative things to do with that type of steak can be difficult. This recipe for The Ultimate Steak Sandwich has to be the best use of minute steak that I have found. If you try it, I hope you enjoy it as much as we did.
Oh – and PS… Adopt a Blogger 2 bloggers… I haven't forgotten about you!  I promise we'll get the second batch up and running in March. Please encourage the veteran blogs that you visit to participate because right now we are at about an 80 to 20% ratio, with new bloggers being on the heavy side. Can't wait to get started with you! Adopt a Blogger 1 bloggers, I'd love to hear how things are going with your match-ups. If for some reason you haven't heard from your match or things aren't going as you had hoped, please send me an email. Give me a few days as I work from home and my inbox is always flooded…but I will reply!
The Ultimate Steak Sandwich
The perfect, quick, and easy steak sandwich for the whole family to enjoy.
Ingredients
2

minute steaks or cube steaks

McCormick's Montreal Brand steak seasoning

1/2

green pepper

sliced

8

button mushrooms

sliced

1

small onion

sliced

1/4

cup

butter or margarine

salt and pepper

3

garlic cloves

parsley

2

kaiser rolls

or any hardy roll, sometimes french bread does the trick

2

slices

mozzarella cheese or swiss cheese
Instructions
Season steak with spice and set aside.

Chop garlic and add 1/4 cup of butter and chopped parsley.Microwave for 1 minute and let rest.

Add green pepper, onion and mushrooms to frying pan - dot with butter and add some salt and pepper. Cook over med/low heat until soft.

Halve the kaiser rolls and butter with the garlic mixture on both sides. Add slice of mozzarella/swiss (sometimes I combine) to bottom half of rolls.

Sprinkle a second frying pan (or grill) with olive oil and when ready, sear the seasoned steaks on both sides. Turn off heat and cover with tin foil tent for at least 5 minutes.

Preheat oven to 350 degrees.

Assemble sandwiches by adding steak on top of cheese, add mushroom/green pepper/onion mixture and close sandwich with top of roll.

Wrap in tin foil and heat in oven for 10 minutes.

Remove and let then cool a bit -- then enjoy!