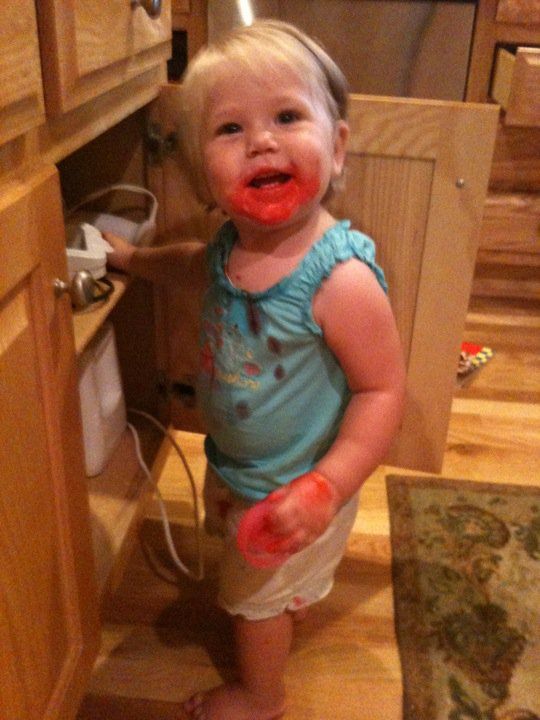 When you are a mom, especially with a curious and very busy toddler on your hands, turning your back for just a few minutes can lead to lots of extra work for you. This is a picture of Leah after she decided to eat a Red Crayola Marker (thankfully non-toxic) for dinner while I was on the phone with my friend, Amy from She Wears Many Hats. Doesn't she look so pleased with her little self? Mmmmm….markers. Little stinker.
As much as I love to cook, making dinner with this little one constantly under my feet or into something has become a bit of a challenge. I have to either make the decision to 1) let her get into anything and everything, which will make her quiet and happy but triple my cleanup work or 2) hold her and entertain her while I also stir, sautee, slice, boil, steam, etc. Since she is the fourth kid, I'll admit that I probably let her get into things just to keep her quiet more often than the alternative (and now that I have the joy of older kids, they get to come and clean up after her! Parenthood is paying off!)
Instead of spending a lot of time in the kitchen lately, I've been going for those dinners that are quick and easy to put on the table, simply so I don't have to do the dinner disco with Leah under my feet. The crockpot has been taken out of the cupboards and dusted off for use more often. "Fast Foods" (like shrimp, polish turkey sausage, pasta) are making a regular appearance on our weekly menus. Anything I can do to get dinner on the table without a lot of time devoted by me is pretty much what is happening anymore.
This recipe from the May / June 2010 issue of Cooking with Paula Deen magazine caught my eye for just that reason. It is quick, easy, hearty and since I was going to be cleaning red marker off of Leah's face, I might as well let her get all down and dirty with the red sauce from this dish.
What are your tips for keeping the kiddos out from under your feet while you cook dinner?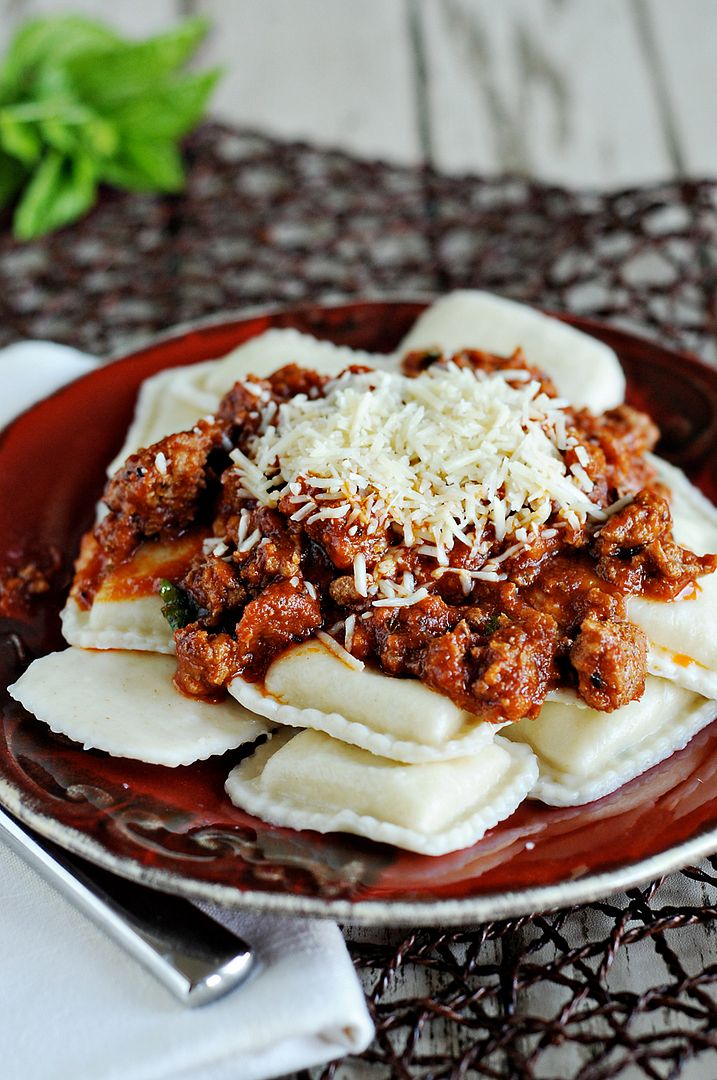 Skillet Ravioli (adapted from the May / June 2010 issue of Cooking with Paula Deen)
| | |
| --- | --- |
| 1 | (20-oz) package refrigerated four-cheese ravioli, cooked according to package directions and kept warm |
| 1 | lb. ground beef |
| 2 | (8-oz) can tomato sauce |
| 2 | T. Italian-style tomato paste |
| 1 | t. dries parsley (I used fresh) |
| 1 | t. dried basil (I used fresh) |
| 1/2 | t. garlic salt |
| 1 | c. shredded parmesan cheese |
In a large skillet, cook beef over medium-high heat for 8 to10 minutes or until browned and crumbly; drain. Return beef to pan, and add tomato sauce, paste, parsley, basil, and garlic salt; cook 6 minutes or until heated through.
Add cooked ravioli to tomato sauce. Sprinkle with cheese, and serve immediately.

Disclosure: This blog post contains affiliate links. As an Amazon Associate, I earn from qualifying purchases.