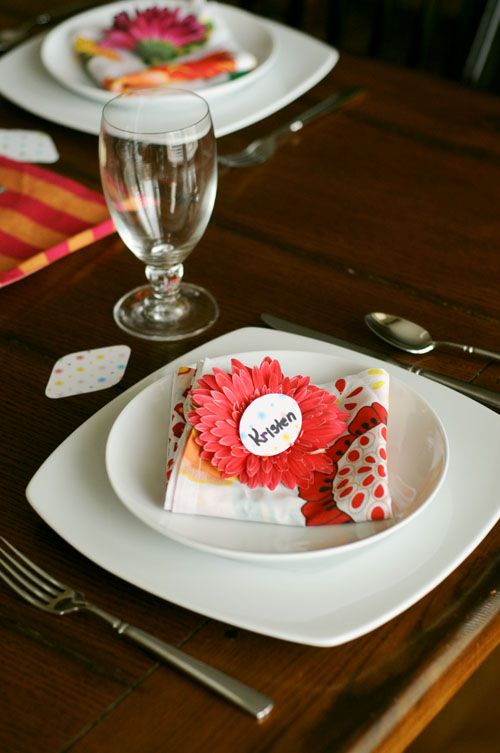 We had our fourth dinner club this past weekend and had such a great time. Each and every time we have dinner club makes me wish that I had the money and resources to have people over every single weekend. I absolutley am in my element when a group of friends are gathered around the dinner table enjoying each others company. I love that our every other month dinner club forces me to entertain on a regular basis because I love it!
Our theme for this month was Farm Fresh. The idea behind this theme was to encourage everyone to use the bounty of fresh ingredients that are available in our area this time of year. We enjoyed a wonderful Mozzarella and Tomato Basil Salad, Sesame Green Beans, Vidalia Onion Bake, Ted's Special Mini Loaves, Mojo Beef Kabobs and Strawberry Shortcake. We also had two delicious kinds of Sangria, Strawberry Daiquiris and frozen Margaritas. Everything was delicious, the company was wonderful and we had a great time. If you haven't started a dinner club yet and you love friends and food, do not wait any longer! Get one started today… you will love it!
Before I leave you with a recipe, I have to give a little shout out to Anne of Cooking with Anne. A couple of months ago I won a copy of the The Healthy Beef Cookbook and $100 gift card from her blog. The premise of the giveaway was that once I received the cookbook and gift card, I was to try a recipe out of the cookbook and blog about it.  The Healthy Beef Cookbook is put out by the National Cattlemen's Beef Association and is a cookbook that anyone who loves to cook with beef needs. This cookbook is going to be a staple at our house, especially over the summer grilling season.
The first recipe we tried were the Mojo Beef Kabobs and they were fantastic. Ignore the photograph… I'm sure that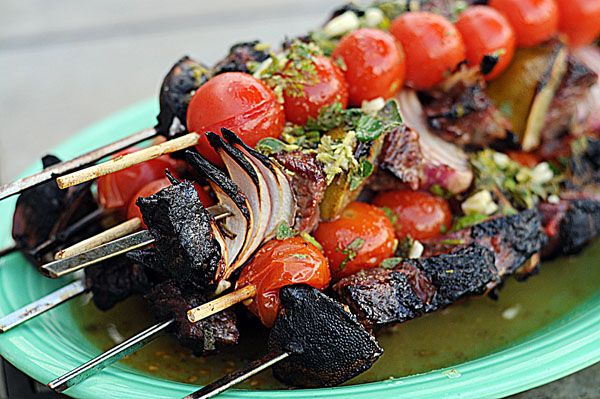 the Cattlemen are probably cringing at the site of the charred edges of beef on the kabob, but my husband started brushing  the sauce on the kabobs right before he took them off the grill and the edges of them caught on fire!! The kabobs were fabulous, nonetheless, and we will be making them time and time again. Thank you Anne and the Beef Assosiation! Readers, you can plan on seeing a lot more recipes from this cookbook on Dine & Dish in the very near future.
Mojo Beef Kabobs (from The Healthy Beef Cookbook)
1 pound boneless beef top sirloin steak, cut 1 inch thick
1 teaspoon coarse grind black pepper
1 large lime, cut into 8 wedges
1 small red onion, cut into 8 thin wedges
1 container grape or cherry tomatoes (about 10 ounces)
Mojo Sauce:

1/4 cup fresh orange juice

1/4 cup fresh lime juice

3 tablespoons finely chopped fresh oregano

3 tablespoons olive oil

2 tablespoons finely chopped fresh parsley

1 teaspoon ground cumin

1 teaspoon minced garlic

3/4 teaspoon salt
Whisk Mojo Sauce ingredients in small bowl. Set aside.
Cut beef steak into 1-1/4 inch pieces; season with pepper.
Alternately thread beef with lime and onion wedges evenly onto four 12-inch metal skewers. Thread tomatoes evenly onto four 12-inch metal skewers.
Place kabobs on grid over medium, ash-covered coals. Grill tomato kabobs, uncovered, about 2 to 4 minutes or until slightly softened, turning occasionally. Grill beef kabobs, uncovered, about 8 to 10 minutes for medium-rare to medium doneness, turning occasionally.
Serve kabobs drizzled with sauce.