This Skillet Chocolate Chip Cookie can be put together and ready to dig into in less than 30 minutes. Warm from the oven and extra good topped with ice cream, this is one dessert recipe you'll always want to have on hand!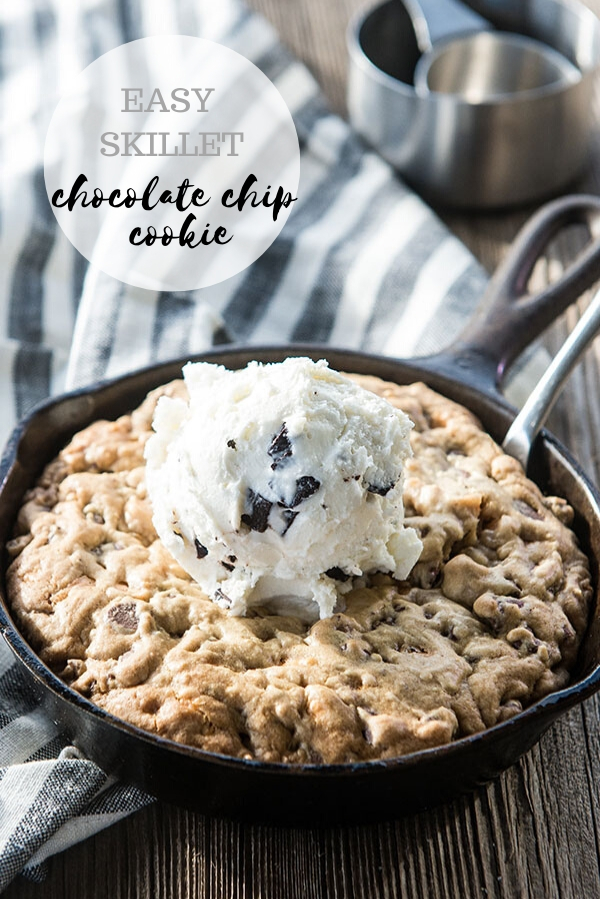 For years, I've resisted making the ever so popular Skillet Chocolate Chip Cookie. I really don't know why I waited. Now I'm kicking myself that this simple dessert didn't make it into my life sooner.
Thanks to The Weeknight Dessert Cookbook by Mary Yonkin, I am now a skillet cookie fan. I've made the recipe from her cookbook 4 times in the past month, each time changing up the flavor of chocolate chips based on what ingredients I have in my pantry. Everyone I've served this dessert to has raved and it's been gobbled up in minutes.
The Weeknight Dessert Cookbook by Mary Younkin
Before we get to the skillet cookie recipe, let me tell you a little bit about Mary's newest cookbook. Mary's cookbooks are definitely the most turned to cookbooks in my house and The Weeknight Dessert Cookbook is no exception. You may remember me sharing recipes from her other two cookbooks here on Dine & Dish. Just like her blog, Barefeet in the Kitchen, Mary's cookbook recipes are fast to get on the table and are all family-friendly. For breakfast ideas, weeknight dinner ideas and now easy desserts, you'll want to pick up these cookbooks today!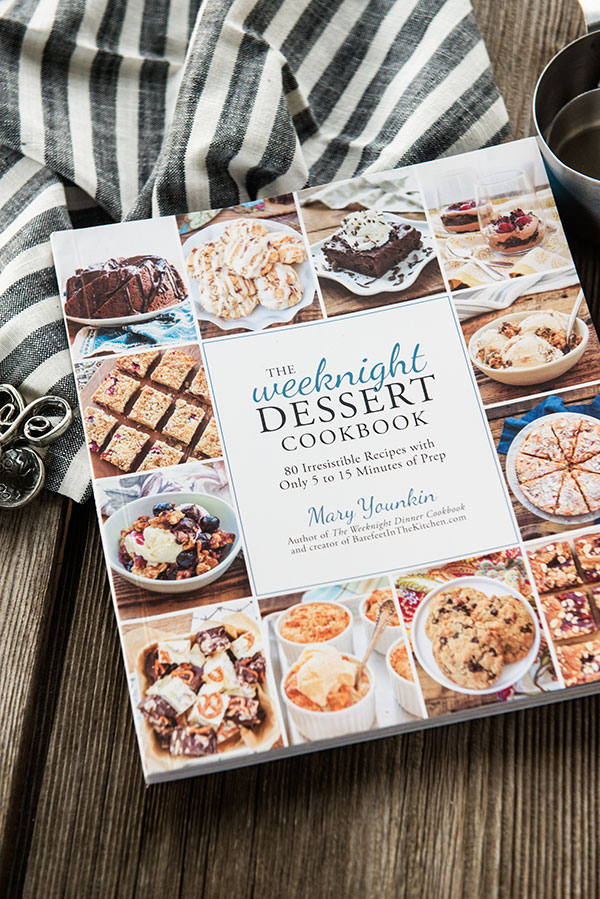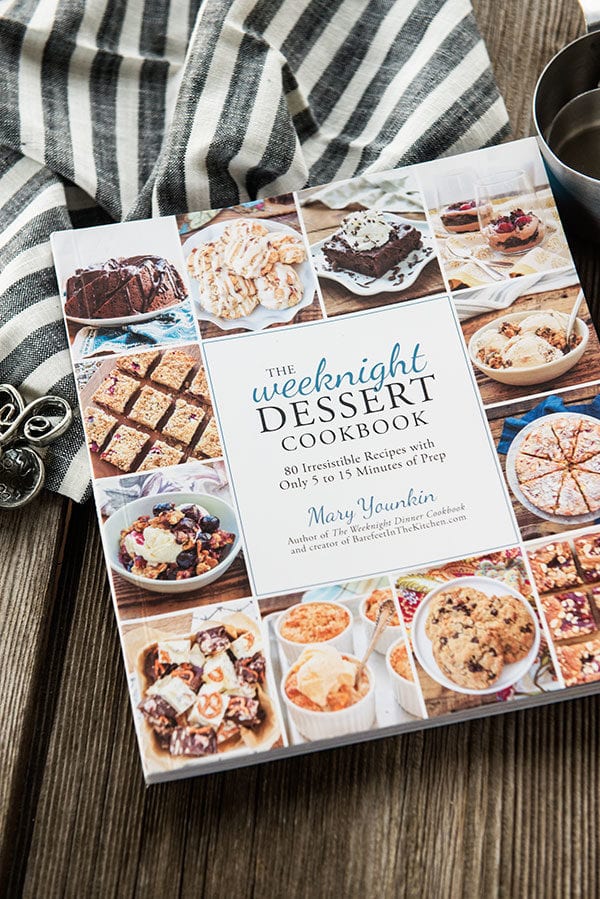 The Weeknight Dessert Cookbook has 80 dessert recipes with only 5-15 minutes prep. This is definitely not an exaggeration. It took me longer to wait for my oven to preheat than it did to get the cookie dough ready to bake. If you are constantly getting the last minute "Mom! I need a dessert to bring to x event today" requests, you will definitely love this cookbook. Whipping up a delicious dessert using one of these recipes will take you no time at all.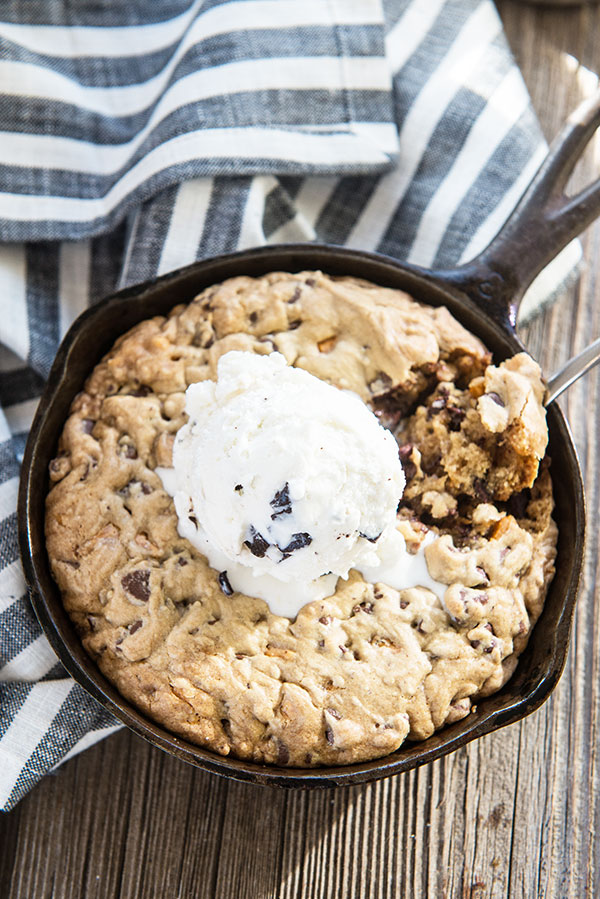 What I Love About This Skillet Chocolate Chip Cookie Recipe
If you have had dessert at my house in the past month (friends of my kids, book club, dinner guests, etc) you've most likely been given a spoon and invited to dig into a warm skillet cookie.
The reason I keep turning to this particular cookie recipe time and time again is that it's simple to make, requires just a few ingredients, is a fun one to eat straight out of the pan, and it is so very good. It's especially good because of the warm, gooey center and crispy edges. This cookie is everything chocolate chip cookies should be but in one giant cookie form.
The first time I made this recipe, my oldest daughter had friends over and they were wanting something sweet. I opened up Mary's cookbook and noticed I had all of the ingredients to make them a giant chocolate chip cookie in a skillet. Next, I pulled out my cast iron skillet, warmed my oven and began the simple process of mixing the cookie ingredients together. After a quick bake in the oven and less than 15 minutes later, I pulled a warm and gooey cookie from the oven. When I gave the girls each their own spoon and told them to dig in, they were so excited. Happy teens = a mom win.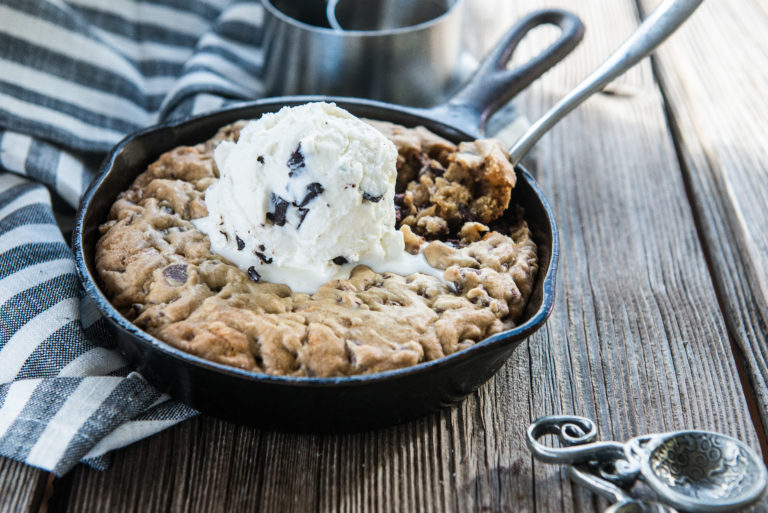 Do I Have to Have a Cast Iron Skillet to Make a Skillet Chocolate Chip Cookie?
You definitely don't have to have a cast iron skillet to make this recipe. As long as you have an oven-safe skillet or even a glass pie plate or metal-rimmed cookie pan, you should be good to go. I prefer to make the cookie in a cast iron skillet, but that's just my personal preference. I have several pan sizes and have divided the cookie dough in half to make smaller versions of the cast iron cookie. For my local book club, I doubled the recipe and made a larger version. Mary's recipe is extremely adaptable – so use it as an idea for a base and go from there!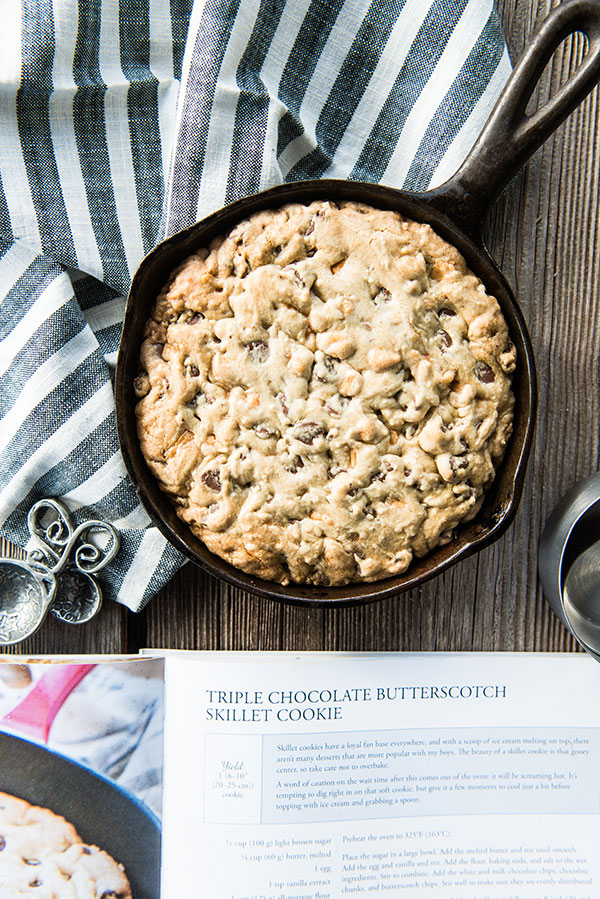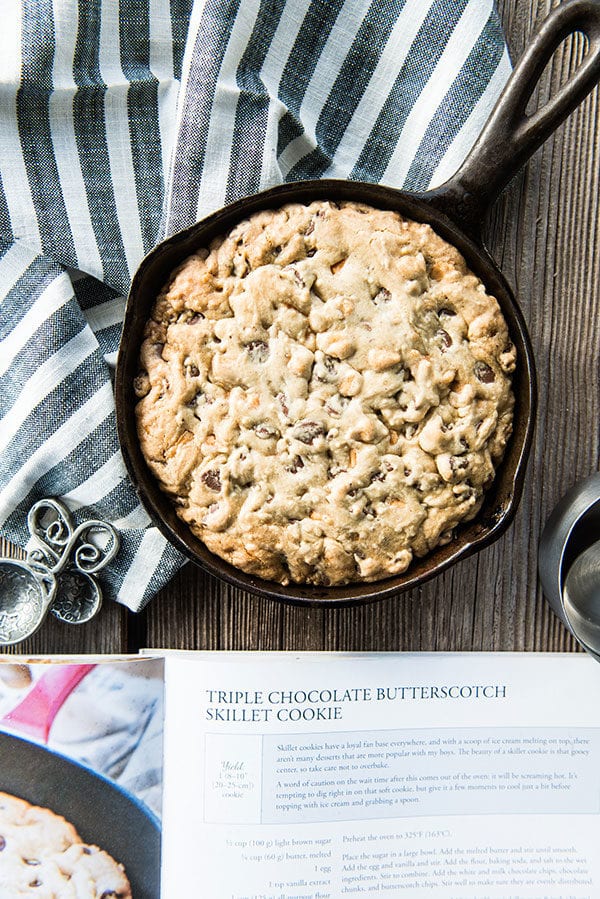 Ingredients You Most Always Have on Hand
What I love the most about Mary's recipes is the majority include staple pantry ingredients. This is especially true for The Weeknight Dessert Cookbook. Very few recipes in her book require an extra trip to the store or a specialty market. In fact, to make her Skillet Cookie recipe, you just need these simple ingredients:
Packed light brown sugar
Melted butter
Eggs
Vanilla Extract
Baking soda
Kosher Salt
All-Purpose flour
A variety of chocolate chunks or chocolate, white chocolate or butterscotch chips
Vanilla ice cream (optional but recommended!)
That's it! Easy peasy, right? If you love this recipe and are looking for more simple and tasty dessert recipes, definitely pick up The Weeknight Dessert Cookbook today! Enjoy!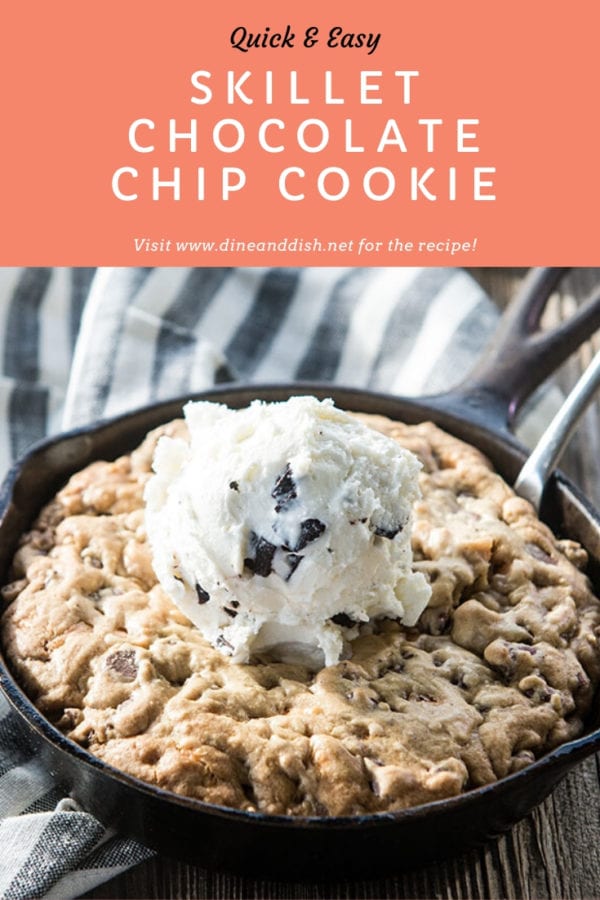 Skillet Chocolate Chip Cookie
This Skillet Chocolate Chip Cookie recipe is from The Weeknight Dessert Cookbook by Mary Younkin. Gooey in the center and crisp around the edges, it's an easy dessert you'll want to make again and again!
Servings
4
people (1 8"-10" cookie)
Ingredients
1/2

cup

light brown sugar

1/4

cup

butter

melted

1

egg

1

teaspoon

vanilla extract

1

cup

all-purpose flour

1/4

teaspoon

baking soda

1/4

teaspoon

Kosher salt

3/4

cup

mix of chocolate and/or butterscotch chips

(Mary suggests 1/4 cup chocolate chips, 1/4 cup chocolate chunks and 1/4 cup butterscotch chips)

Sea salt flakes

optional

Ice Cream

optional
Instructions
Preheat your oven to 325°F.

In a large mixing bowl, place the sugar and melted butter. Mix until smooth. Add the egg and vanilla and continue mixing.

Add the flour, baking soda, and salt to the wet ingredients. Mix to combine.

Add your choice of chocolate or butterscotch chips. Stir well until they are evenly incorporated.

Press the dough into a lightly greased 10-inch skillet or an 8-inch baking dish. Bake for 14-16 minutes or until the top is puffy up and no longer wet. The cookie should be lightly browned and pulled away from the edge of the skillet. (Note, each time I've made this I've had to bake it for a bit longer than 15 minutes. Watch the time closely because this is one dessert you definitely do not want to over bake.

Top with sea salt flakes, ice cream or other toppings of your choosing. Enjoy!
Check out these additional recipes from The Weeknight Desserts Cookbook:
This post contains affiliate links, which means we may receive a commission if you click a link and purchase something that we have recommended. While clicking these links won't cost you any extra money, they will help us keep this site up and running. Thank you for your support.