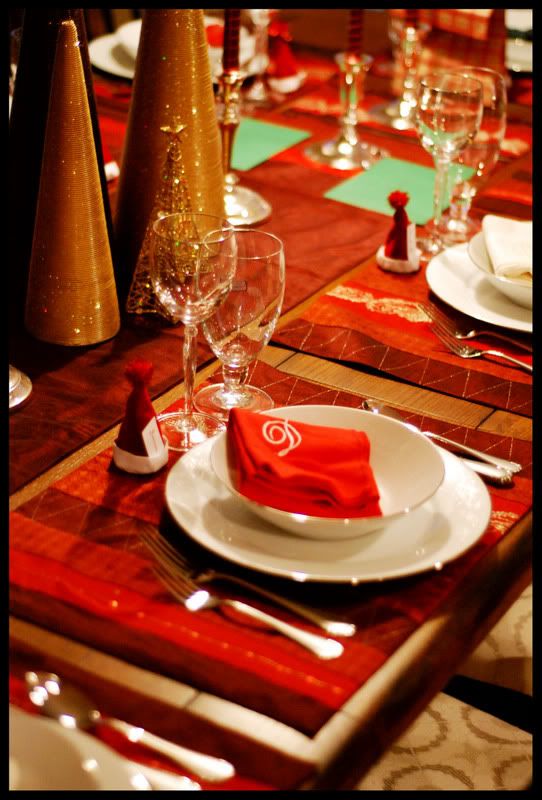 I cannot help but think each year our annual Christmas party just gets better and better. Just when I think we can't top the year before, we do.
Our 2007 annual Christmas party was a success with great food, even better friends and lots of laughs! To catch you up, I am turning to my Pamela Barsky Dinner Party Journal to give you the recap. (If you entertain a lot and don't have one of these journals, get one!! They are great!)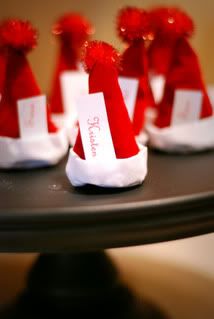 The Occasion: Our annual holiday party with my original M.O.M.S group
Guests: Sara, Mark H, Kathy, Mark D, Bobby, Joanna, Tina, Dave, Nick and I
Cocktails / Wine: I didn't even keep track this year, but I can tell you I didn't have one bad glass of wine. They were all really good. I now wish I would have kept track!
Menu:  
Appetizers – Stuffed mushrooms, shrimp cocktail
Main Course – Delicious salad brought by Mark H, Rosemary Clover Leaf Rolls (remember these tasty gems?), My famous Buttered Carrots, Tina's delicious potatoes au gratin, Crab Cakes with Lemon Garlic Aioli, Cedar Plank Salmon
Desserts – Kathy's amazing Red Velvet Cherry Chocolate Torte
Memorable Outfits: Everyone looked great and no one got made fun of like last year 🙂
Memorable Moments/Conversations (too many to recount all of them!):
Well, our oven catching on fire stands out as a big one! Nick was making the second salmon and since the weather was so bad, we had to change plans and he had to make the cedar plank salmon in the oven. He prepped the boards and made the adjustments for the oven vs the grill. As we were eating, Nick all of a sudden flies out of his chair and screams "FIRE!!". Inside our oven was a raging inferno, caused by the cedar plank catching on fire!
Every year I pass around questions for all of us to answer. Since we all know each other so well and hang out often, these questions often take us past the basic stuff that we normally talk about. The question about accepting an indecent proposal if it meant you would have enough money to save your child's life sparked quite the debate. We learned a lot about each other with the question of who you would go back and make amends with if you could. The boys had some great answers for if the past year was a food, what food would it be? (Mark – "chili… a bunch of crap thrown in together, but when it is done it is pretty damn good").
Who knew that Chuck Norris jokes could be so funny? Apparently, to the guys who had their fill of wine for the night, Chuck Norris jokes are pretty popular. I don't think I have ever seen Mark H laugh so hard! The girls were laughing just as hard watching the guys laugh so hard!
Our Dirty Santa Gift exchange is always fun! Poor Joanna got picked on for the guys gift she brought, which wasn't bar equipment or alcohol related. Apparently, there is an unspoken rule among the guys about what to bring and it has to be in one of those two categories!
Embarrassing moments:
Well, the oven catching on fire was a bit embarrassing. It is a good thing I know these people so well or I might have been mortified 🙂
Next time I will: Do everything the same. It was great! Oh, and per Bobby's request ask the question "If we were all on an island and one of us had to be voted off, who would you choose and why?"
Next time I won't: Have cedar plank salmon in the oven. It was delicious, but it is just a whole heck of a lot easier to do on the grill!
Thank you to Kirsten of Kirsten's Home Cooking Adventures for one of the best crab cake recipes I have ever tried. Here it is for all of you to enjoy. Happy Holidays!
Crab Cakes with Lemon Garlic Aioli:
Perfect dinner for a cold winter night or a neighborhood Christmas party.
Ingredients
Crab Cakes:
1

can

8 oz. premium white lump crab meat, drained (or fresh if you can get it)

2

tbs

mayo

1

small egg

1/4

cup

finely chopped green onion

1/4

cup

finely chopped green pepper

1/2

cup

fresh white bread crumbs or crushed crackers such as Keebler Club crackers or Snack Sticks

if using bread crumbs, add salt to the recipe, if using crackers, no added salt needed

1

tbs

Old Bay seasoning

1

tbs

fresh chopped parsley

1

garlic clove

mashed into a paste

Fresh lemon juice from 1/2 of a lemon

Flour

2-4

tbs

Olive oil

1

tbs

butter
Lemon Garlic Aioli:
1/4

cup

mayo

2

small

or 1 large garlic clove, mashed to a paste with salt

Juice from 1/2 lemon

Dash of black pepper

1

tsp

Old Bay seasoning

or more if you like
Instructions
Crab Cakes:
Directions:

Mix first 10 ingredients together, being careful to not overmix or break up the crab chunks. Dust a sheet pan or piece of tinfoil with flour. Carefully form little patties with the mixture and drop them onto the sheet pan or foil to dust with flour. Don't overhandle as the mixture will be very soft and wet. If the mixture is too wet, add more crumbs, or some flour.

Meanwhile, melt butter into 2 tbs of the olive oil and heat a saute pan to medium-high. Carefully drop cakes into pan with a spatula. Cook on one side until brown and crisp.

(Per Kirsten's suggestion, I seared the crab cakes in the olive oil and butter and then finished them off in a 350 degree oven for about 10 minutes. Perfection!)

Turn carefully, cook on the other side until brown and crisp and the inside of the cakes are cooked, about 2-3 minutes per side.

Serve hot, topped with aioli and a few sliced green onions for garnish.
Lemon Garlic Aioli:
Directions:

Mash garlic into a fine paste with the side of a knife on a cutting board, using salt as an abrasive. Mix all ingredients together. Serve with the crab cakes.
Notes
Makes 4 medium sized cakes, 8 mini cakes, can be doubled