This easy Instant Pot Chicken Thighs recipe is cooked in a rich red wine sauce for a wonderful marriage of flavors.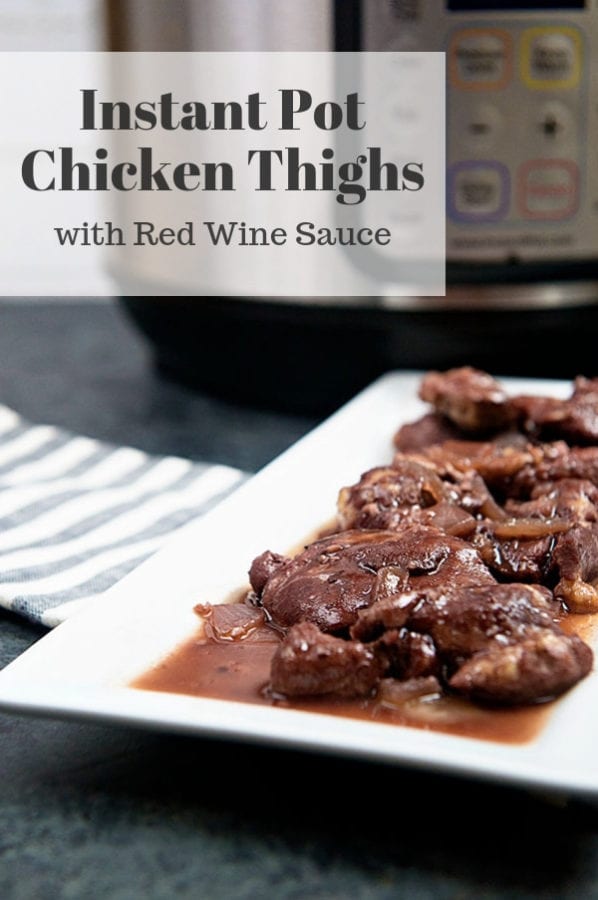 Friends, I have a drinking problem. Actually, I take that back. I have an I can't drink problem. Every time I open a bottle of red wine, I have every intention of drinking it. I want to be one of those people who relaxes with a glass of wine while cooking dinner or to unwind at night. The problem is, I open the bottle, then pour one glass, barely get through that glass then forget about the wine. 2 weeks later I see the same mostly full bottle of wine still on my counter, sad and neglected.
I'm pretty sure it's not good to drink from a bottle of wine you opened two weeks prior. This realization is how the Instant Pot Chicken Thighs recipe in Red Wine Sauce came about. I felt wasteful dumping out barely used bottles of wine. I decided to create a quick, weeknight meal in my Instant Pot using chicken thighs and the leftover red wine. The result was an incredibly flavorful chicken dish.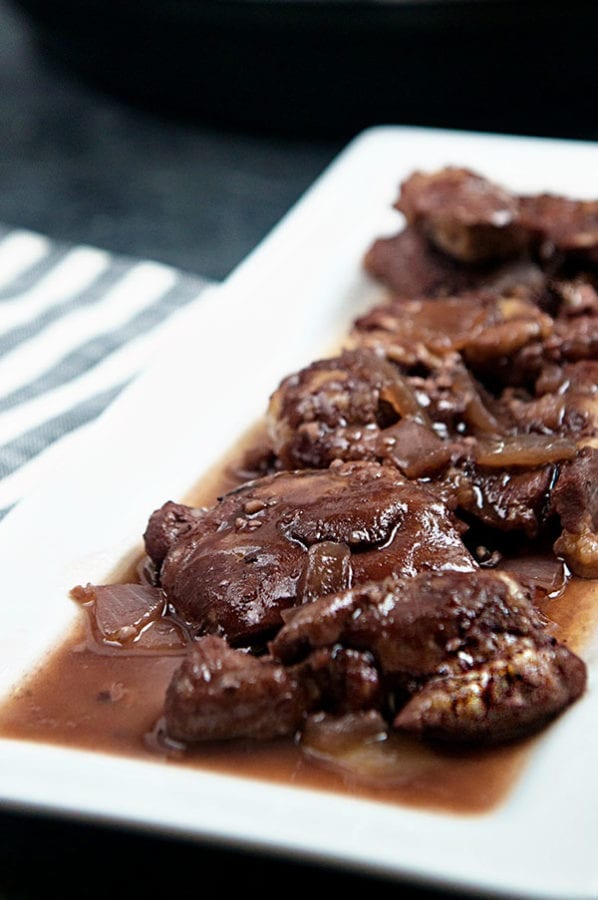 What to Know About this Instant Pot Chicken Thighs in Red Wine Sauce Recipe
First of all, this recipe will not win any beauty contests. That's just the sad truth, but the incredible, rich flavor of the chicken thighs with the red wine sauce totally makes up for it.
Secondly, I am a cheapskate. The most I will spend on a bottle of wine is around $25, and that's high for me. When I buy wine, I try to stay around the $19 mark. I'm telling you this so you know you don't have to go out and spend a ton of money on red wine to cook with. A full bodied red wine under $20 works just fine for the red wine sauce.
Finally, you know I love boneless skinless chicken thighs so much better than any other cut of chicken. This recipe was made for boneless chicken thighs in mind, however you could use a different cut of chicken. I imagine the flavor would be the similar, although I think boneless chicken thighs in the instant pot tend to come out so much more moist and tender than other chicken.
Keep in mind when you cook the chicken in the wine, the high pressure from the Instant Pot will cook off the alcohol. This meal is fine for minors, but just know that the rich red wine flavor is prominent.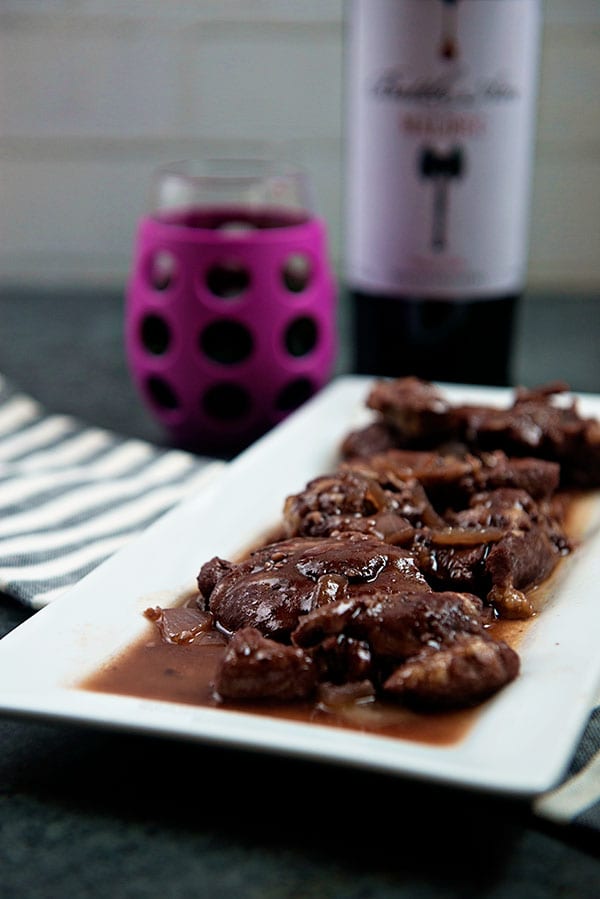 Tips for Cooking Instant Pot Chicken Thighs
I've only been cooking with my Instant Pot for about 6 months. I was a late adopter, but I am so glad I finally became a convert. Chicken, especially chicken thighs, tend to be my favorite thing to make. Here are a few tips to help make sure this turns out to be the very best recipe to use for your leftover wine.
The first step of this recipe calls for you to use the sauté function of your Instant Pot to brown the chicken. I know it's tempting to skip this part, but for the best results, do this step.  Browning the chicken thighs first helps to seal in the flavor, and the little bits of crispy chicken make the red wine sauce extra great in the end.
The last step of this recipe calls for you to remove the chicken thighs from the instant pot and use the sauté function again. This step is critical to making sure your red wine sauce thickens up. If you skip this step, the sauce will be too thin and won't glaze the chicken as well. Definitely take the extra time to thicken the sauce for the very best results.
If you want less of the wine flavor in the red wine sauce, all you need to do is swap out equal parts chicken broth with red wine. Just be certain the amount of liquid you use is equal to the recipe. So instead of 1 cup red wine and 1/4 cup chicken broth you could do 1 cup chicken broth and 1/4 cup red wine. Adjust to whatever your taste buds will prefer.
What to Serve With Instant Pot Chicken Thighs
This recipe can be served alone with a simple side salad or a vegetable like these simple roasted veggies. Served over rice is a great idea too. I particularly like serving this dish with a homemade mushroom rice pilaf. The flavors of the rice and mushrooms blend perfectly with the red wine sauce.
Red Wine Chicken Thighs are also a great addition to stir fry, especially as leftovers. Just cut the chicken into bite sized pieces and serve with your favorite stir fry vegetables and fried rice. It makes for a unique and easy weeknight dinner.
Whatever you serve these with, you'll want to keep this simple recipe handy to make time and time again. That is, of course, if you have a non-drinking problem like I do! Enjoy!
Instant Pot chicken Thighs in Red Wine Sauce
This instant pot chicken thighs recipe is made with boneless chicken thighs and served with a rich red wine sauce. This is a great use for leftover red wine - if you ever have such a thing!
Ingredients
2

pounds

boneless, skinless chicken thighs

salt and pepper

2

Tablespoon

Olive Oil

divided

2

cloves

garlic

minced

1/2

yellow onion

chopped

1

cup

red wine

1/4

cup

chicken broth

1/4

cup

brown sugar

1

Tablespoon

corn starch
Instructions
Pat dry chicken thighs and trim any fat. Season with salt and pepper.

Choose the sauté function on your Instant Pot. Add the olive oil. Once heated through, carefully place in batches of the boneless chicken thighs (3-4 at a time). Sauté the chicken thighs and flip once a slightly crispy edge appears. Continue browning the other side of the chicken thighs. Repeat steps until all thighs have been browned and remove to a plate. Browning should take about 2 minutes on each side.

With the instant pot still on the sauté function, add in remaining olive oil, then garlic and onion. Sauté and stir for just a minute until softened. Turn off sauté mode.

Add the red wine, chicken brown and brown sugar to the instant pot and whisk until blended. Place the browned chicken thighs back into the instant pot in a single layer.

Seal the lid and make sure the vent is set to closed. Cook on high pressure for for 10 minutes. After the 10 minutes of pressure cooking is finished, carefully open the vent and manually release the pressure.

Once the pressure indicator has moved to done, turn the instant pot to off and remove the lid. Remove the chicken thighs to a plate and keep warm.

Return the instant pot to sauté and whisk in 1 Tablespoon of corn starch. Bring to a boil until the sauce becomes thick (approximately 5 minutes). Once the sauce is thick, spoon it over the chicken, turn off the instant pot and serve. Enjoy!
I used the following tools and ingredients for this recipe:
Instant Pot 8 Quart Multi Programmable Pressure Cooker
Cervasi Extra Virgin Olive Oil
White Rectangular Platter from Crate and Barrel