This Baked Boneless Chicken Thighs recipe can be on your table in less than 30 minutes!
I've said this many times, but baked boneless chicken thighs are one of my favorite ingredients for a quick weeknight meal. This recipe can be on your table in less than 30  minutes. I know in my house, that makes it an absolute win!
It has taken me awhile to embrace chicken thighs. Over the past few years I've smartened up and have mostly ditched the dry, flavorless chicken breasts in turn for boneless chicken thighs that can be baked in the oven. This recipe is so easy with its simple and flavorful sauce. I add this chicken to rice, serve it on a bun for sandwiches, or toss it into a salad.
I created this baked boneless chicken thigh recipe after cleaning out my fridge and noticing I had a jar of Oyster Sauce that I hadn't used in a bit. Oyster Sauce is a sauce made from oysters as well as soy sauce. It's often used in Asian cooking and adds the most incredible flavor to chicken dishes like this one.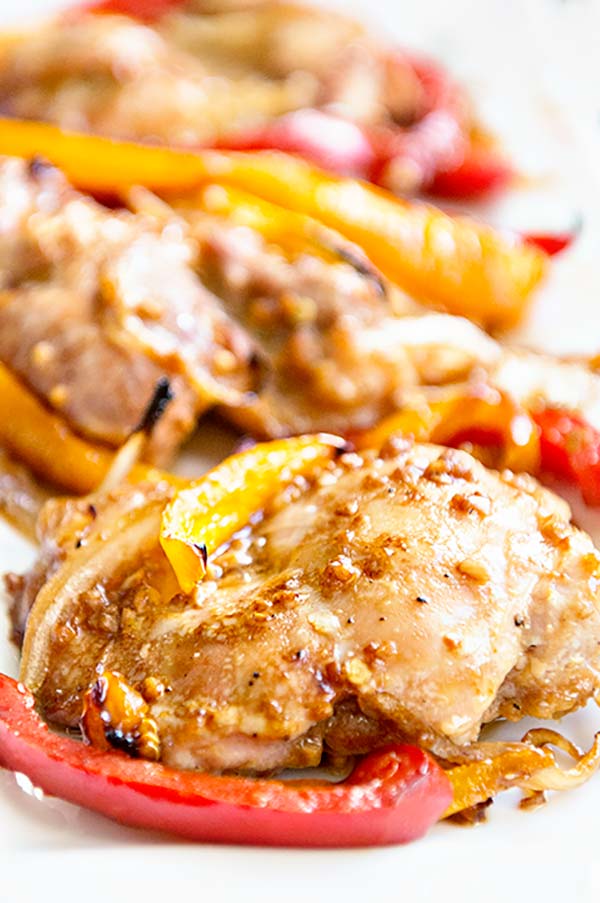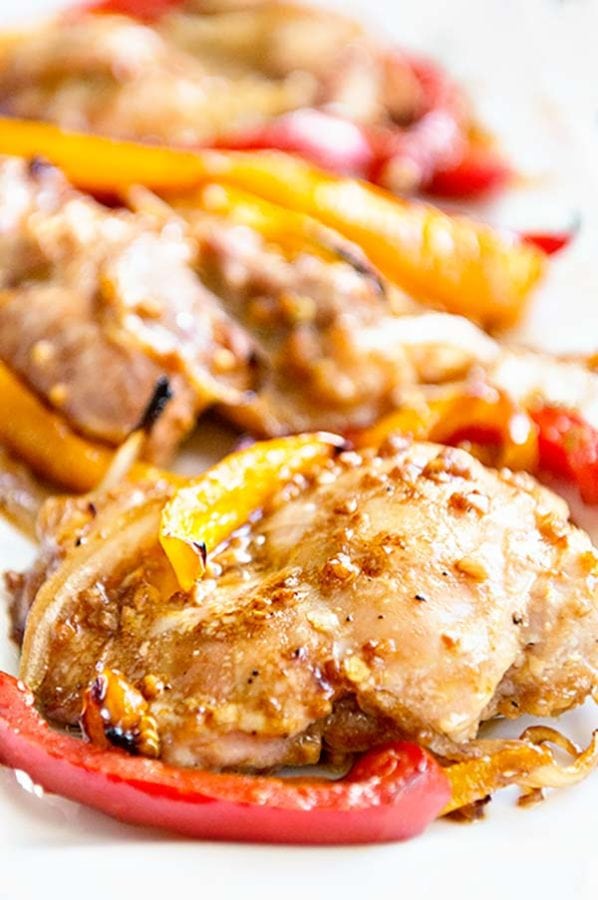 Although I highly recommend using Oyster sauce in this recipe (you can find it at most major supermarkets in the Asian food aisle), if you need to substitute I recommend the following: double the amount of soy sauce, replace equally with Hoisin sauce or use teriyaki sauce instead. Either way, you'll end up with a meal that's quick to put on the table and incredibly delicious.
Tips for Making Baked Boneless Chicken Thighs
For those not used to making baked boneless chicken thighs, here are a few tips to help. First of all, when you bake chicken thighs you'll either want to spray the baking sheet, line your sheet pan with foil, or use a silicone type baking mat. The silicone mat is your best bet if you don't want to add oil to your sheet pan (since chicken thighs are slightly higher in fat). Otherwise, make sure you either spray your sheet pan with non-stick cooking spray or lightly brush it with olive oil.
Another tip – chicken thighs bake really quickly, so don't overcook. Most boneless chicken thighs can be baked in 20 minutes or less at 425° (although you will want to make sure your chicken thighs are at an internal temperature of 165°F before removing from the oven). The bonus about baked boneless chicken thighs is, even if you cook for a bit longer than you meant to, they won't dry out like chicken breasts. They are tender, juicy and flavorful no matter what!
If you're ready to make dinnertime easier and more delicious, ditch the chicken breasts and give this Baked Boneless Chicken Thighs recipe with Peppers and Onions a try! Your family will thank you!
Baked Boneless Chicken Thighs with Peppers and Onions
A versatile boneless chicken thighs recipe that can be on your table in less than 30 minutes.
Ingredients
4

skinless boneless chicken thighs

(approximately 1 pound)

4

Tablespoons

extra virgin olive oil

4

Tablespoons

Oyster Sauce

(see blog post for substitutions)

4

Tablespoons

low sodium soy sauce

3

cloves

garlic

minced

1/4

teaspoon

kosher salt

1/8

teaspoon

pepper

1/2

red bell pepper

cut into thin strips

1/2

orange or yellow bell pepper

cut into thin strips

1/2

yellow onion

cut into thin strips
Instructions
Preheat oven to 425° F. Place chicken thighs in a large bowl.

In a small measuring cup, whisk together olive oil, oyster sauce, soy sauce, garlic, salt and pepper. Pour half the mixture over the chicken and toss until well coated.

Add the peppers and onions to the bowl and pour the remaining sauce over the chicken and vegetables and toss again until well coated.

Line a baking sheet with a silicone baking mat or tin foil. If using tin foil (or the sheet pan directly) brush a small amount of oil onto the pan/foil.

Add the chicken and vegetables to the baking sheet in a single layer and bake for 20 minutes. Remove from oven when temperature reaches 165° F. For slightly crispy, more roasted vegetables, continue cooking under the broiler on high for an additional 3 minutes, watching closely. (Broiler step is optional).
Notes
Here's a simple tip if you are using more than 4 chicken thighs. Simply increase the olive oil, oyster sauce and soy sauce by 1 Tablespoon per chicken thigh. 
Do you want more easy baked chicken thighs recipes? Check out these favorites: