Enter to win $100 store credit or a selection of rustic home decor items from the Drops of Sunshine online store.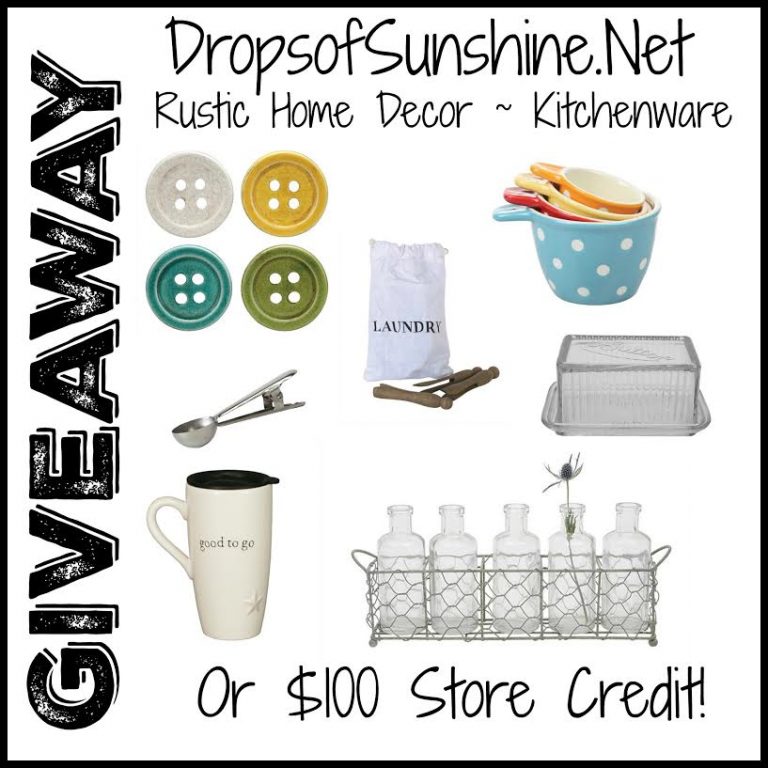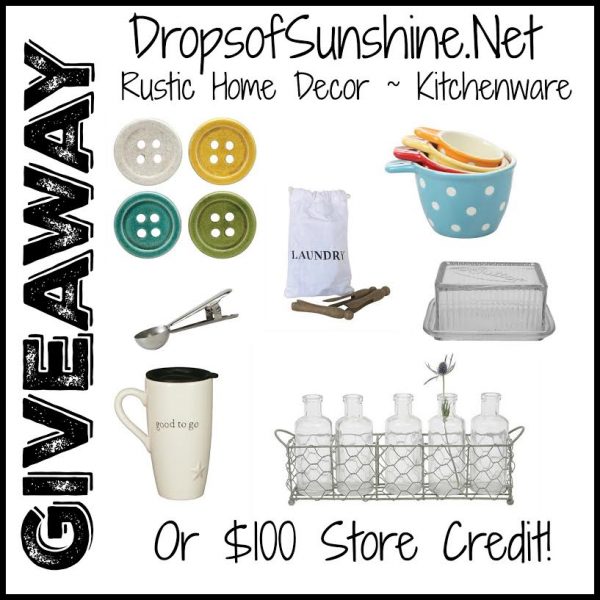 I'm going to tell you a little story about following your dreams without letting fear and obstacles get in the way.
Two months ago, I was sitting at a dinner table in Portland, Oregon with some blogging friends after the wonderful Indulge Conference. Somehow our conversation turned to what's next for all of us. What are our dreams? Is blogging our end game or do we have goals and aspirations beyond that? Truthfully, I admitted that right now, blogging was my current end game. Sure, I'd hope to start a podcast as a passion project, but to me, blogging can very well be an end game. I've worked really hard over the past 10 years to get to where I am with my blog. I really just want to enjoy where I'm at for a bit.
When we got around the table to my friend Julie from the blog Julie's Eats & Treats, I was so inspired by her passion. She expressed an interest in having a product line. Specifically, she wanted a store front of some kind to share and sell housewares she loves. Julie has a full time job, a very successful blog as well as two kids, a husband and home to tend to. She was really struggling with how to make her dream come true, all the while balancing the other responsibilities in her life. We all chatted with her a little about some options and found her passion to be contagious. We all really wanted to see her make her dreams come true!
Fast forward to a little over a month later and I get an email from Julie announcing to me that she had opened an online storefront called Drops of Sunshine. She came home from our dinner conversation, talked with her husband, and immediately put her goals into action. What has resulted is the cutest little online storefront you ever did see! I'm excited to be introducing you to Julie's new store, Drops of Sunshine. In addition, we're offering a $100 giveaway to win some of the chic and rustic housewares she has available.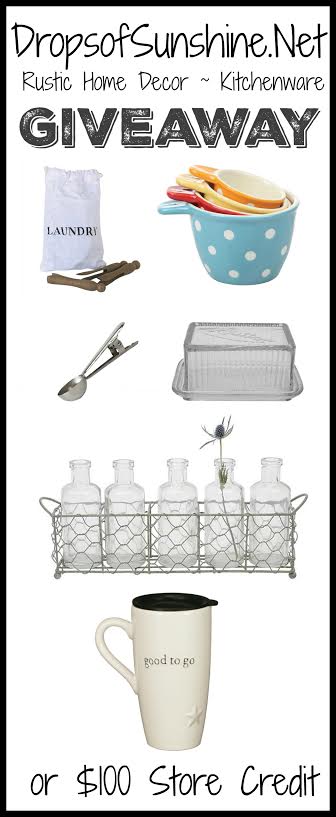 Drops of Sunshine Giveaway
To enter the giveaway, simply complete the steps in the giveaway widget below. Julie has given you the option to win some of her favorite options, pictured, or to choose $100 store credit to spend as you wish at Drops of Sunshine.  The giveaway ends on June, 23rd, so enter today and tell your friends! Congratulations, Julie on making your dreams come true! I'm so excited for you!