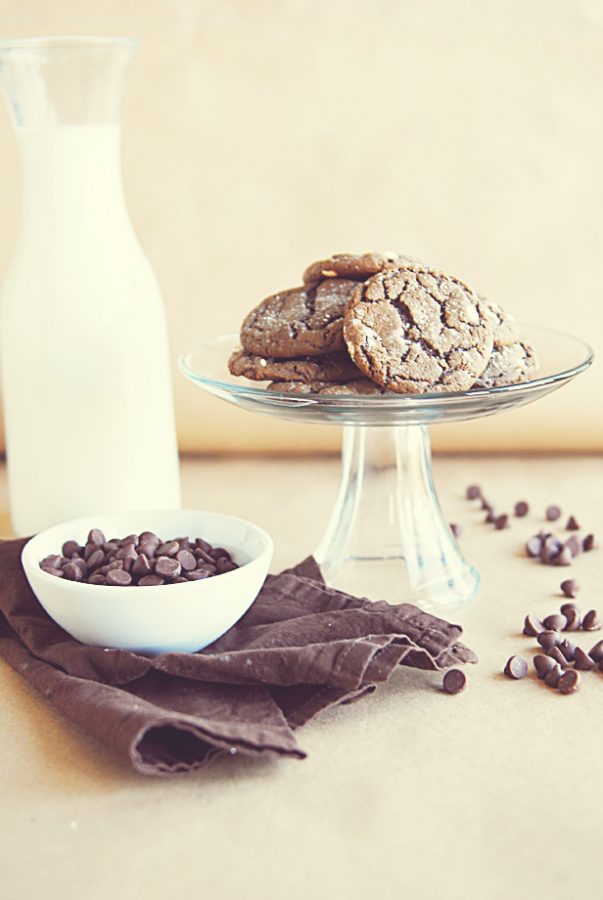 You know there's something wrong when you get a plate of these Triple Chocolate Cookies in front of you and the last thing you really want to do is eat one.
That's how things have been for me around here lately. I've been under the weather since a week ago Thursday. I went to the doctor on Monday, got some med's and was on the upswing and then bam… got knocked down again last night.  I hope that things return to a normal state soon…no energy and no appetite is no fun (although I don't mind the weight loss that is along for the ride… that can stay around as long as it likes).
Anyway, the picture above really should be of a brunch item… it should, but it isn't. It is of Triple Chocolate Cookies and as far as I'm concerned, if you serve these at brunch, you'll have friends coming out of the woodwork wanting invitations to your brunches from now on.
If you are looking for traditional recipes for an early morning Easter brunch, I can help with that too. I was searching around on Foodily to create an Easter Brunch Menu and came up with a few things I'd like to serve to our morning guests on Easter morning. How about:
(and Triple Chocolate Cookies)…fits right in, doesn't it?
Recipe: Triple Chocolate Cookies (from the blog Family, Friends and Food)
2 1/4 cups all-purpose flour
1/2 cup unsweetened cocoa powder, sifted
1 teaspoon baking soda
1/4 teaspoon salt
1 cup butter, softened
3/4 cup packed brown sugar
3/4 cup granulated sugar
2 eggs
1 teaspoon vanilla
1 cup semi-sweet chocolate chips
1 cup white chocolate chips
1 cup milk chocolate chips
Preheat oven to 375 degrees. Combine flour through salt in a bowl and combine. Set aside.
In a large bowl, combine butter through granulated sugar using an electric mixer. Beat until creamy. Add eggs, one at a time and beat well after each one is added. Beat in vanilla.
While the mixer is beating at a slow speed, gradually add the flour mixture. Beat until blended. Using a spatula or wooden spoon, add in the chips and mix well.
Drop the dough by tablespoonfuls onto cookie sheets covered with parchment paper. Bake for 7-11 minutes, or until puffed and the edges are set.
Cool for 5 minutes on cookie sheets, then remove to wire racks to cool completely. Store in airtight containers, with wax paper between layers of cookies.
Disclosure – I am an ambassador for Foodily. All opinions are my own.