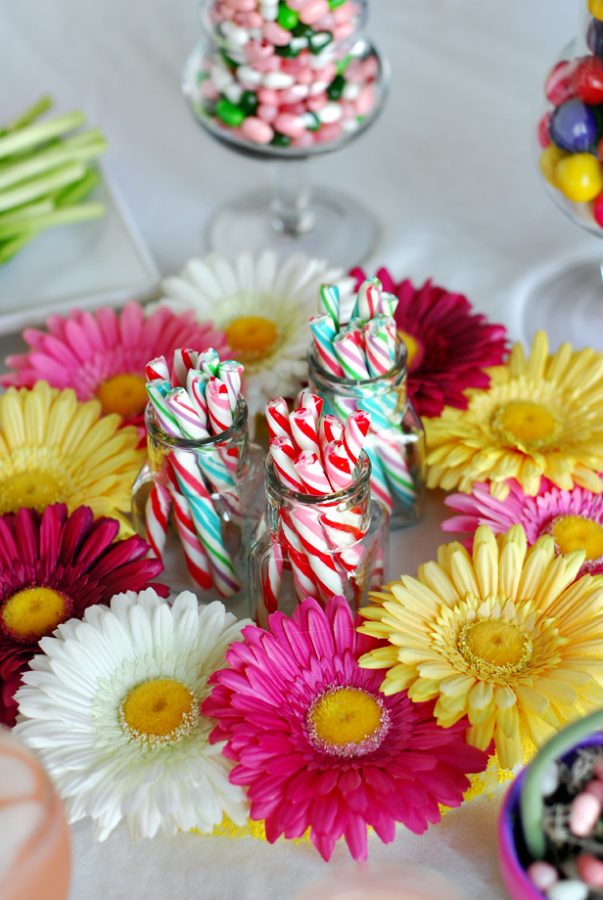 Many of you know from some of my past dinner party posts that I love to throw a great dinner party. Entertaining is something my husband and I truly enjoy doing. Having guests over and serving a meal and entertaining does not stress me out in the slightest. I'm a very relaxed entertainer.
When it comes to creating a tablescape for a dinner party, I try to keep things simple. I do like to create some sort of place holders that will stand out as well as will serve as a souvenir of sorts that the guest can take home with them.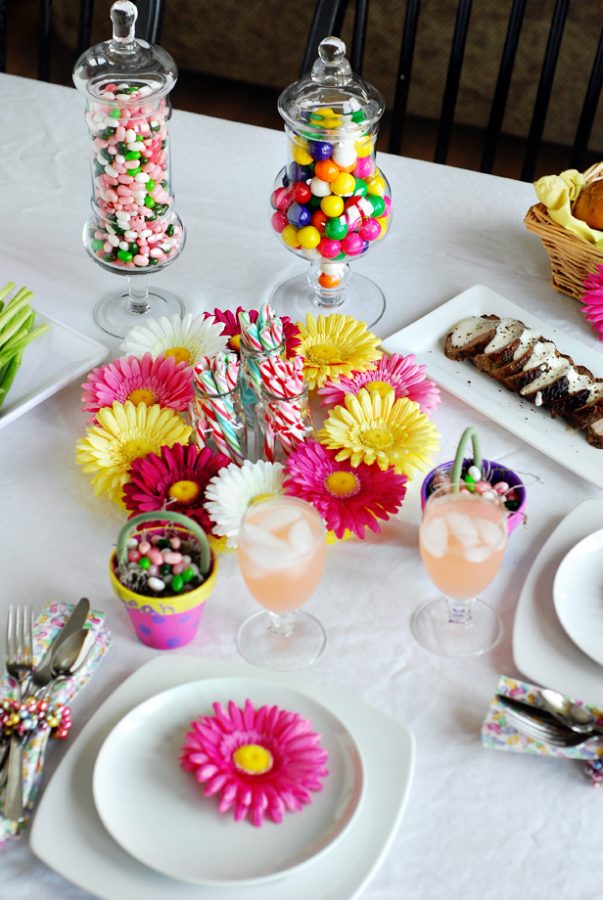 When Breakstone's Sour Cream and Better Homes and Gardens challenged me to create an Easter tablescape, I knew I wanted the main focus to be on the place holders. I decided that my Easter tablescape theme was going to be "flowers and candy"…flowers because it is Spring and candy because my kids gave up candy for Lent and by the time Easter rolls around they are going to want to devour as much sugary goodness as they can! I thought "flowers and candy" would be whimsical, fun, family friendly and would make a beautiful combination for our special Easter feast.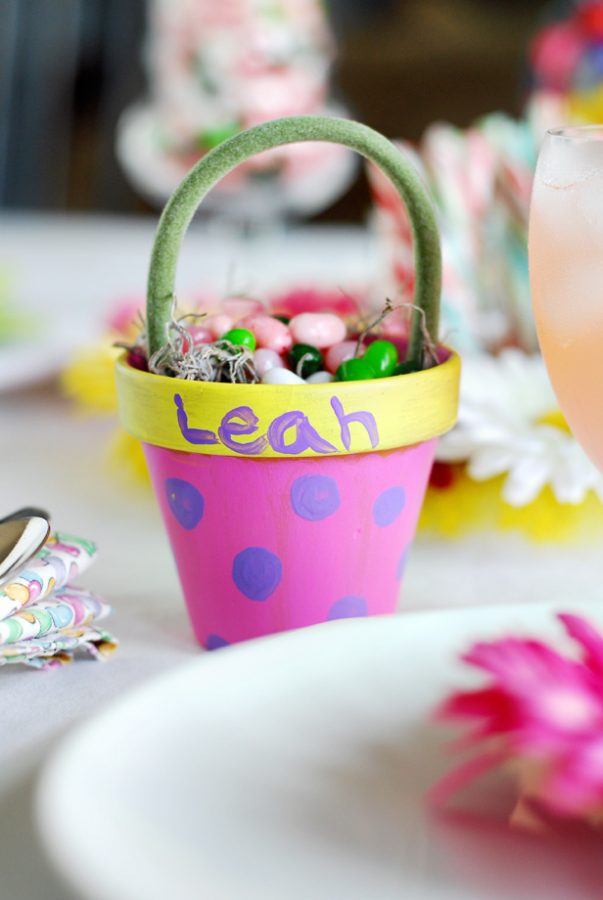 For the place holders I simply painted the inside and outside of a small, 2-inch Terra Cotta pot using acrylic paint in a variety of spring colors. Once painted, I added the guest name on the rim of the pot. To reduce waste, I took the stem of an artificial Gerber Daisy (which I used in another part of the tablescape) and created a handle for the pot, hot gluing it to the inside. I filled the pot with Spanish Moss, then topped with a handful of jelly beans. Can you imagine how excited your guests will be when they take these spring like mementos home from your celebration?
Those artificial Gerber Daisies I mentioned above? I snipped those off of their stems and hot glued them to a Styrofoam wreath I had painted yellow using acrylic paint. What a gorgeous punch of color these beautiful flowers added to the table! Once our celebration is over, I'm going to add a thick ribbon to the top and hang this up as a wreath on my door. The great thing about artificial flowers as well as a hot glue gun is you can adorn just about anything you want to match the look you are going for. Our bread basket, napkin holders, etc. all got a hot glued Gerber Daisy to make them match our theme.
Thank you to Breakstone's Sour Cream and Better Homes and Gardens for inspiring me to get creative in my kitchen this Easter. The Pepper-Crusted Pork Loin with Sour Cream and Onion Sauce is seriously one of the tastiest pork loin dishes I've had and I don't get crafty enough around here. It was fun to trade in my spatula for a hot glue gun for a bit. I can't wait to do it some more.
Don't forget, Breakstone's Sour Cream and Better Homes and Gardens are giving you the chance to win $2500 plus the opportunity for daily prizes as well! Make sure to share your favorite holiday traditions on their site (takes less than a minute) and you could possibly win the money to create your ultimate Easter celebration! Good luck!
Disclosure:  This is a sponsored post for Breakstone's Sour Cream.  All ideas, thoughts, experiences, photos are my own.