These Twice Baked Breakfast Potatoes are a fun and tasty take on breakfast. This recipe is adapted from the wonderful cookbook, Eating in the Middle by Andie Mitchell.
This twice baked breakfast potatoes recipe is all that and a bag of chips. I can't wait to share! Before I share it with you, let me give you some backstory.
Weight Watchers changing to the the new Freestyle program has me thinking a lot about my friend Andie Mitchell's cookbook Eating in the Middle. The new Weight Watchers Freestyle program seems to be a lot about practical balance. Those of you who follow Andie know this is exactly what she has been preaching for years. It's not about elimination and deprivation, it's about "wholesome eating, most of the time". I really like that concept and think this cookbook is going to guide me well throughout my journey.
I've been cooking from this book since receiving it a year ago. I can't believe I haven't shared it on Dine & Dish with you. Now's the time!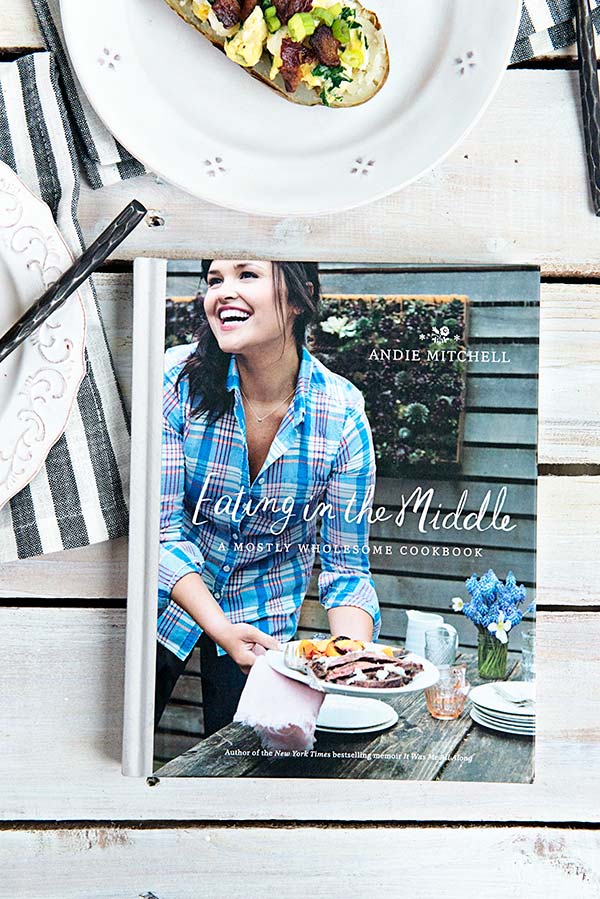 For those who are looking to lead a more practical balanced life, I can't recommend Andie's cookbook enough. It's packed full of recipes (with beautiful photography as well) that are great for a little indulgence and/or buckling down and being healthy. If you buy one cookbook as you aim to reach your health and wellness goals, it should be this one!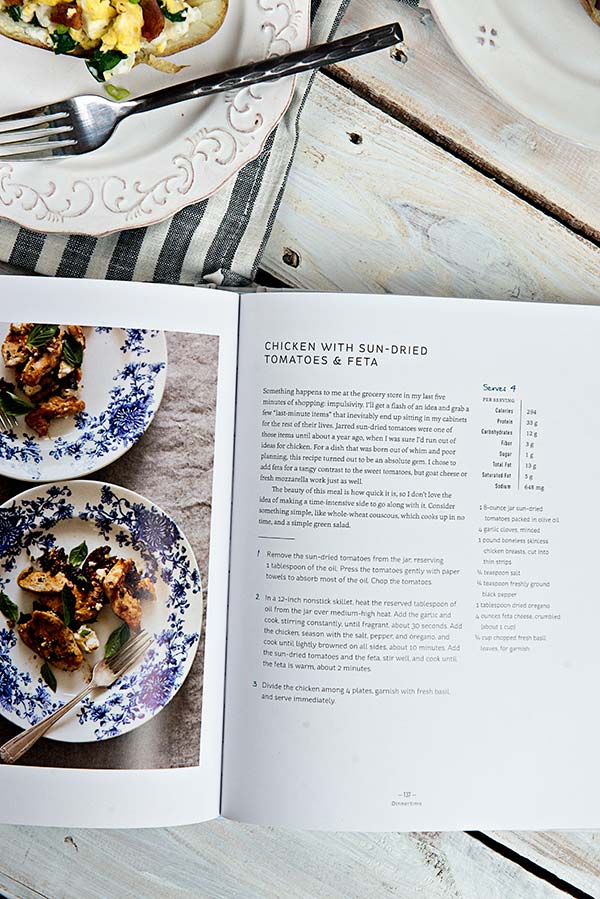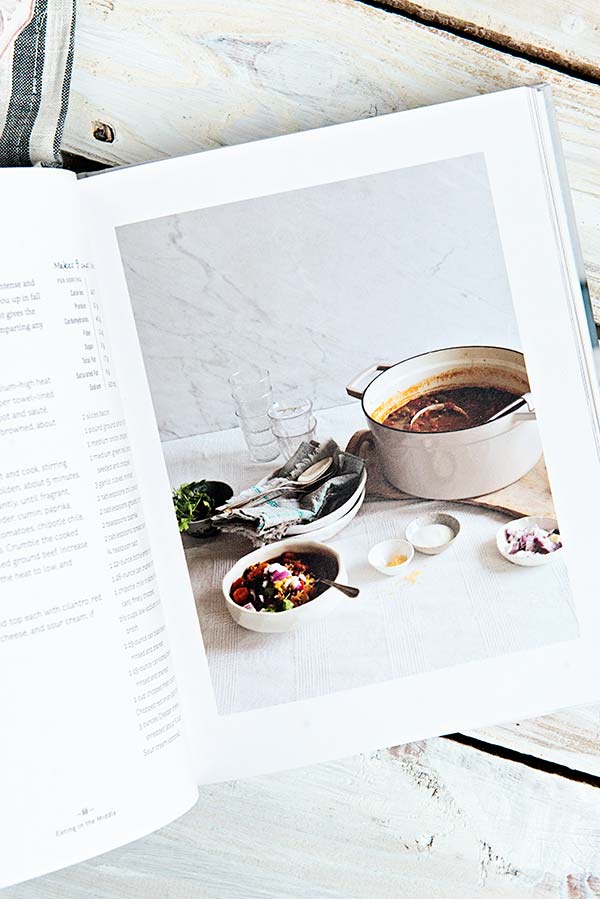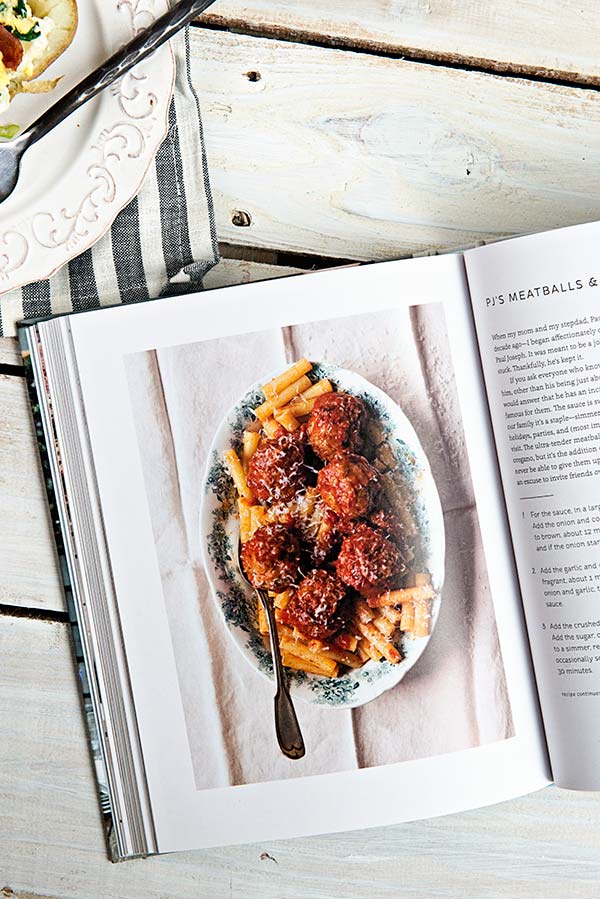 Also, if you love cookbooks that you want to just read from cover to cover, this is a must have book. You can purchase Andie's cookbook, Eating in the Middle, here. You'll love this gift to yourself, I promise. Do yourself a favor too. If you haven't read Andie's memoir It Was Me All Along, drop whatever you're doing and read it, stat. It's currently less than $5 on Amazon right now. (I wrote about my love for this book on this book review post).
Now, can we talk about these breakfast potatoes? Yes!!!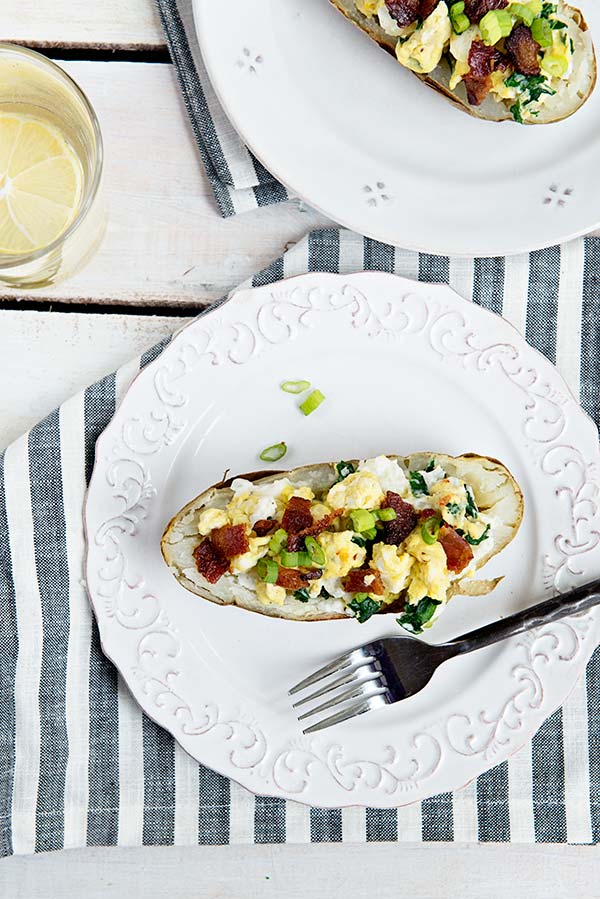 Here's Why This Breakfast Potatoes Recipe is a Winner
1. They are Weight Watchers Freestyle Friendly
I love breakfast potatoes. I mean, who doesn't, really? But I'd never had breakfast potatoes like this until reaching for Andie's book. When I saw this recipe I knew it was one we would love and that I had to make it ASAP. I've made Andie's recipe for twice baked breakfast potatoes a few times and love it. However, this time I decided to make it even more "Weight Watchers Freestyle" friendly.
Andie's recipe is perfect. It's really not one that needs changed at all because it's wonderful the way it is. The only reason I decided to make changes is because I wanted to lower the Smart Points value of my breakfast. I knew there were a few ways I could do that. For example, instead of sour cream, I used plain greek yogurt. I also eliminated the butter and used coconut oil spray. In addition, I decided to forgo the cheese (I know, I know…). The result was a delicious breakfast that didn't make a dent in my Smart Points quite as much as the original.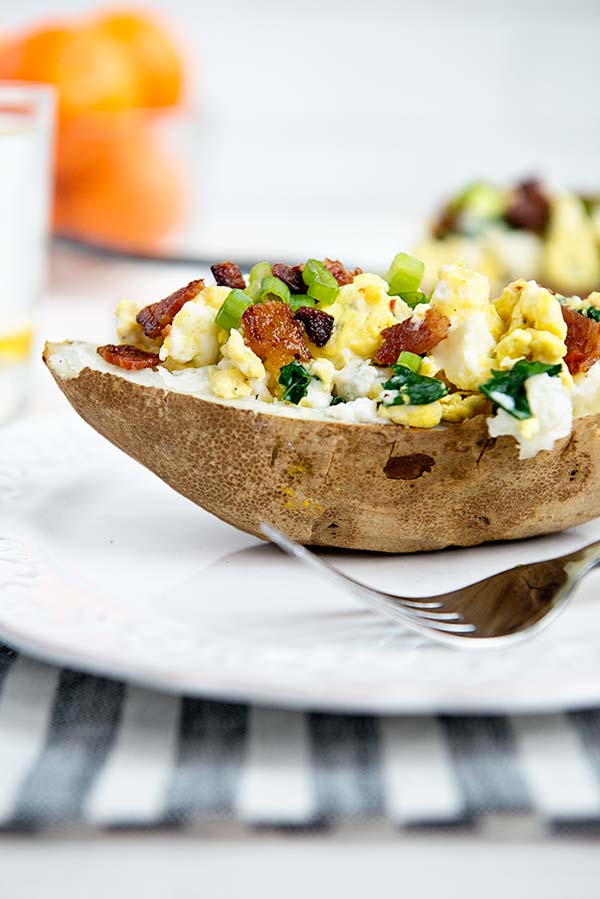 2. Twice Baked Breakfast Potatoes can easily be made in advance
One thing I really love about these breakfast potatoes is they are super easy to prepare ahead of time. You'll find that once you've prepared the potatoes, they can easily be stored in the fridge. Then, they are ready to reheat if you want a quick, simple breakfast. In addition, I think another way to make this recipe would be modifying it into casserole form. (Similar to this twice baked potato casserole recipe from Mom on Timeout). Either way, this recipe is a definite keeper!
3. Making Breakfast Potatoes this way shakes up the breakfast routine
You guys, I don't know about you but I get so bored with breakfast. It has never crossed my mind to make Twice Baked Potatoes as a breakfast food! It's absolutely wonderful to find a recipe that helps to shake up breakfast. As a result, having extra breakfast recipes in my arsenal helps to eliminate that all to familiar breakfast rut. This makes me happy.
Sidenote: Have I mentioned to you how much I LOVE these storage containers for meal prep? They are my absolute favorite because they can go in the oven, fridge, freezer, microwave and dishwasher. You'll want to grab a set or two!
In conclusion, if you love breakfast potatoes give these twice baked breakfast potatoes a try! And definitely run out TODAY to buy Eating in the Middle by Andie Mitchell. With recipes like this one, it's clearly a cookbook that will stand the test of time.
Twice Baked Breakfast Potatoes Recipe
These Twice Baked Breakfast Potatoes are a fun and tasty take on breakfast. Recipe adapted from the wonderful cookbook,
Eating in the Middle
by Andie Mitchell. 5 Smart Points per serving.
Ingredients
2

large russet potatoes

washed and dried

2

slices

bacon

4

large eggs

2

Tablespoons

water

1

hand full of Kale

stems removed and chopped

1/2

teaspoon

plus a pinch of salt

1/4

teaspoon

plus a pinch of freshly ground black pepper

1/2

cup

plain

fat free yogurt

2

Tablespoons

finely chopped fresh chives

for garnish
Instructions
Preheat oven to 400°F

Prick each potato several times with a fork, place on a large rimmed baking sheet, and bake until tender, about 1 hour.

Place bacon on a small rimmed baking sheet and add to the oven with 20 minutes remaining on the timer. Cook in the same oven with the potatoes until bacon is crisp. Remove from the pan and pat with a paper towel.

In a small bowl, beat the eggs and water with a pinch each of salt and pepper.

Spray a non stick skillet with coconut oil spray. Heat to medium and add the eggs and cook, stirring frequently with a rubber spatula. Add the kale and cook until kale is softened and eggs are no longer runny, about 2 more minutes. Transfer to a small bowl.

When the potatoes are cool enough to handle, cut each potato in half lengthwise and scoop out the flesh into a small bowl, leaving a 1/4-inch border. Set the potato shells aside.

Mash the potato flesh with a fork and stir in the sour cream, 1/2 teaspoon of salt and 1/4 teaspoon of pepper. Fold the scrambled eggs and kale mixture in the the mash.

Spoon a quarter of the mixture into each of the potato shells. crumble the bacon and sprinkle it evenly over the potato halves. Top each potato half with chives and serve immediately.
Disclosure: I received a copy of Eating in the Middle from the publisher. All opinions expressed in this review are my own. I was not compensated to share my opinions. Also, this blog post contains affiliate links. As an Amazon Associate, I earn from qualifying purchases.