This post is sponsored by Alexia Foods.
Learn how the new Alexia Premium Vegetable Sides are changing the way we do dinner and enjoy this Easy Baked Shrimp over Butternut Squash Risotto recipe.
The Thanksgiving holiday is over and I'm sure many of you are like me and craving some healthy "re-set" foods. Let's just say I went way over my points limits one too many times over the holiday weekend. Weigh in on Saturday was not pretty, but it's done, and I'm back in a healthy mindset today.
You may be wondering why I would share a recipe that includes creamy, cheesy, delicious risotto if I'm back on the health focused train? Because, friends, this is butternut squash risotto, one of Alexia's newest premium vegetable side dishes! This Butternut Squash Risotto is a much healthier alternative to the typical starches you find on our dinner table. Plus, it's Gluten Free and only 3 points per delicious serving. You won't miss the starch when you add these new vegetable side dishes from Alexia to your dinner table.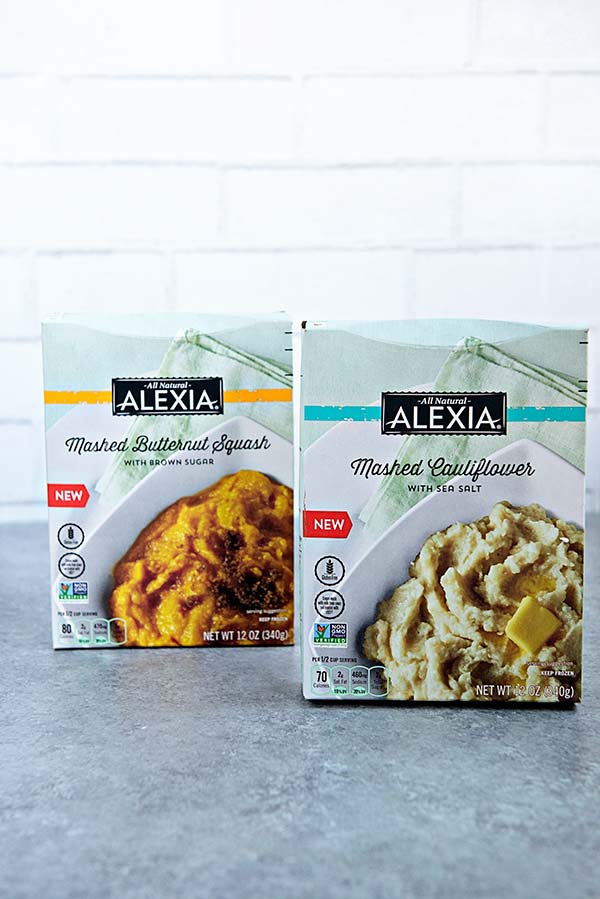 In addition to Alexia's Butternut Squash Risotto, you can also find these other delicious Alexia side dishes in the freezer section of your supermarket: Cauliflower Risotto,  Mashed Butternut Squash, and Mashed Cauliflower.  When healthy choices are this delicious, it makes eating right really easy!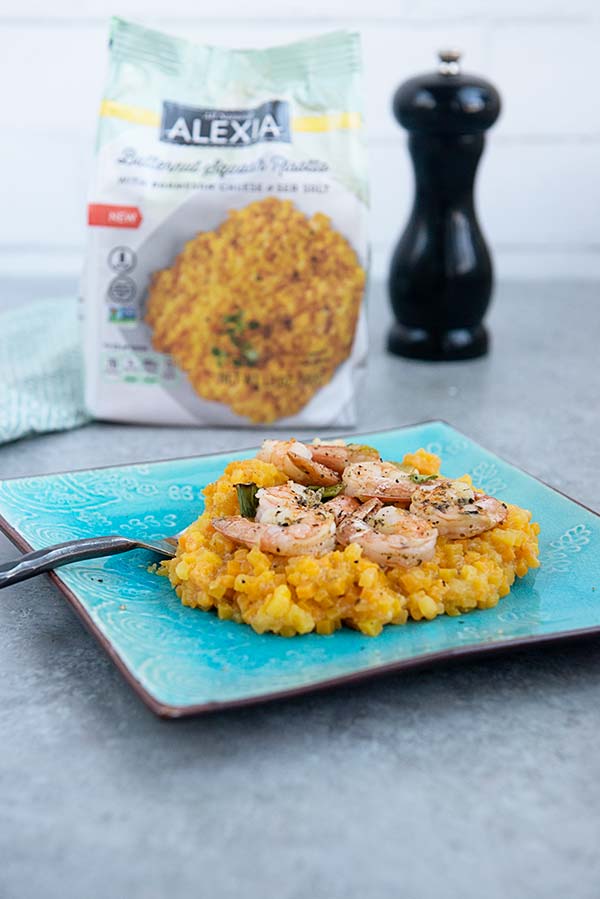 These new side dishes from Alexia help so much when trying to get a healthy dinner on the table, quick. Each side dish takes no more than 10 minutes to cook, and make such great pairings with a variety of foods.
The Easy Baked Shrimp recipe I'm sharing today was excellent over the Butternut Squash Risotto, but it would also pair really nicely with the Cauliflower Risotto. In fact, it'd be great with the mashed vegetable dishes too! You really can't go wrong here.
If you are looking for some healthier side dish alternatives, look to all natural Alexia products in the freezer section of your supermarket. If you're looking for a simple dinner recipe, look below to find the easy baked shrimp recipe. Enjoy!
Easy Baked Shrimp Over Butternut Squash Risotto
An easy baked shrimp recipe served over Alexia Butternut Squash Risotto.
Ingredients
1

Tablespoon

coconut oil

melted

Juice of 1/2 lemon

Zest of 1/2 lemon

2

cloves

garlic

minced

1/2

cup

fat free chicken broth

2

teaspoons

Italian seasoning

2

medium green onions

sliced (greens and all)

1

pound

medium

tail on, shrimp

freshly cracked black pepper

to taste

4

servings prepared Alexia Butternut Squash Risotto
Instructions
Preheat oven to 400° F.

Place shrimp in a single layer in a 9x13 casserole dish.

In a small bowl, whisk together melted coconut oil, lemon juice and zest, garlic, broth, Italian seasoning and green onions. Pour over the shrimp.

Bake for 10 minutes, or until shrimp are done.

To serve, plate 1/2 cup Butternut Squash Risotto and top with 1 serving of baked shrimp. Sprinkle with fresh cracked black pepper, to taste.
Disclosure: This is a sponsored post on behalf of Alexia and their new Premium Vegetable Sides. All opinions expressed are my own.