Let's do brunch with this Easy Eggs Benedict with Hollandaise Sauce recipe!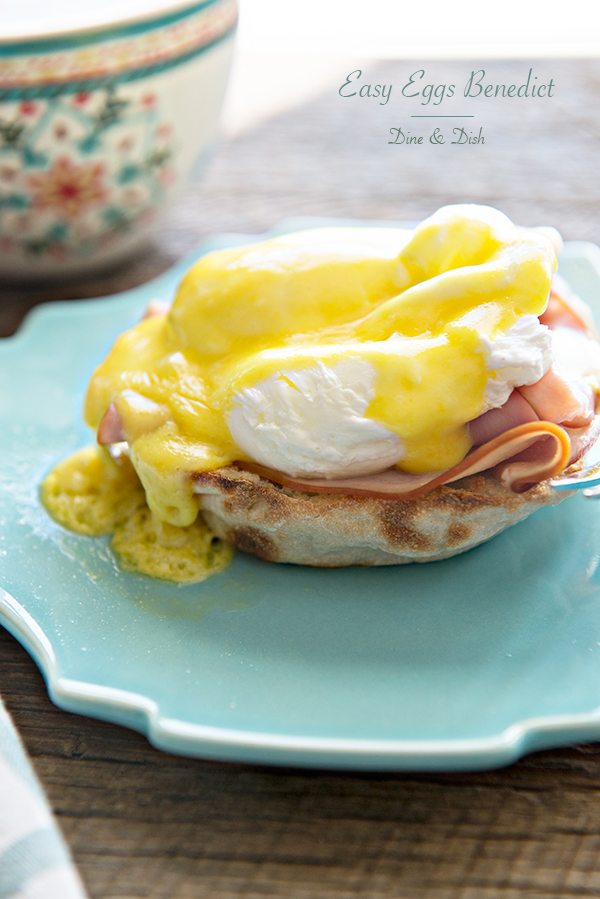 I have always been a morning person…even as a teenager I never was one to sleep until noon, or even need my parents to wake me up for school. My internal alarm clock has always been set bright and early.
As a mom now, especially, as much as I treasure a good nights sleep, I love getting up before the rest of the family gets up for my "happy hour". My brain is definitely the most functional in the mornings…any good ideas I'm going to have typically happen in the morning. Which, makes the rest of the day seem like kind of a wash, doesn't it?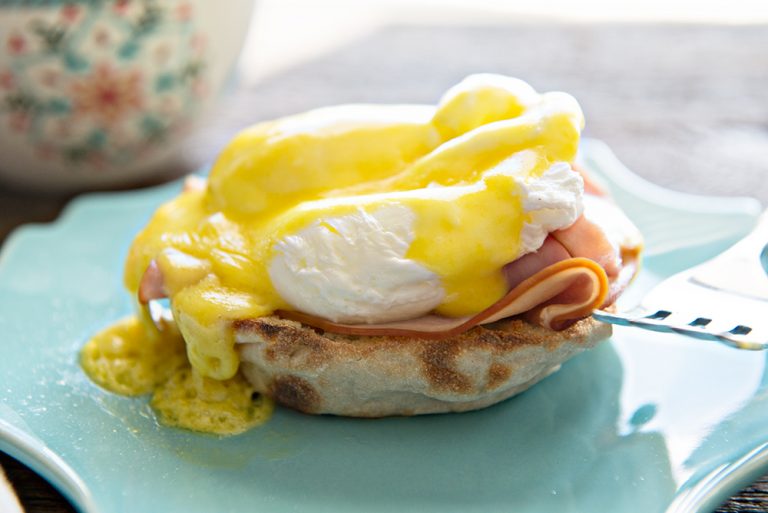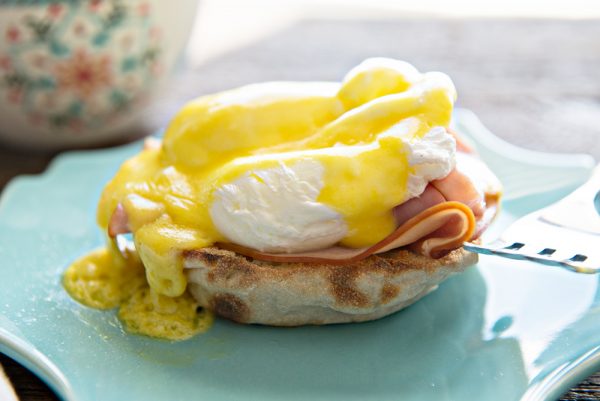 Even though I love getting up early,  I'm definitely not an early morning breakfast eater. In fact, brunch is my favorite meal! I'd love to eat something delicious and substantial around 10am every day as my breakfast/lunch meal.
I made Eggs Benedict with Hollandaise Sauce the other day as my brunch meal and let me tell you…whether you eat early in the morning or later in the day, this is the kind of meal to look forward to! The Hollandaise Sauce is super easy to make, and I found out, thanks to my friend Elise from Simply Recipes, that poaching an egg is incredibly simple too… I had no idea and had avoided making Eggs Benedict for so long because I assumed poaching an egg was hard.
If you want a delicious brunch or breakfast recipe (fancy enough for even Easter Brunch if you so desire) give this simple Eggs Benedict with Hollandaise Sauce recipe a try! Enjoy!
Eggs Benedict with Hollandaise Sauce is made even better with homemade English Muffins! Try out this recipe!
Easy Eggs Benedict with Hollandaise Sauce
A simple Eggs Benedict with Hollandaise Sauce recipe for breakfast or brunch!
Ingredients
1

poached egg

follow these instructions from Simply Recipes

1/2

English Muffin

toasted (try making homemade)

1

slice

thinly sliced deli ham

3

Tablespoons

Hollandaise Sauce

For the Hollandaise Sauce:

1/2

cup

butter

1/8

teaspoon

salt

2

Tablespoons

lemon juice

3

egg yolks

3

Tablespoons

heavy whipping cream
Instructions
For the Hollandaise Sauce

In a small saucepan, heat butter, salt and lemon juice until bubbly (do not boil)

Remove from heat.

Place egg yolks in a medium bowl and slowly pour in butter mixture, stirring continuously. Whisk together until smooth and creamy. Stir in heavy whipping cream.

To assemble Eggs Benedict:

For each serving, top 1/2 toasted English Muffin with a folded slice of deli ham, 1 poached egg and 3-4 Tablespoons of Hollandaise Sauce. Serve warm.
Want more great brunch recipes? Follow my Breakfast Recipes Pinterest Board, featuring recipes like these: