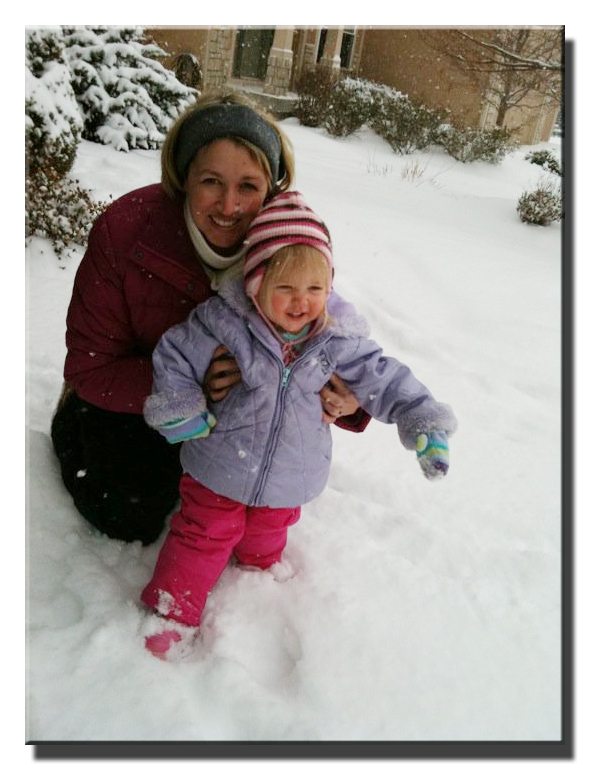 One of my very first posts many moons ago on Dine & Dish was about how I don't "do" snow. I'm not a fan. I think it's pretty and all, but I'd rather sit in by the fire, snuggled up with a good book, looking out on it falling gently on the trees rather than being outside with the snow falling on me.
That attitude was the old me. After a phone conversation last night with my friend DeAnn as we were discussing our personal Happiness Projects, it kind of hit me that I have one chance at this life I've been given. As much as I hope I can be reincarnated someday as a Glee cast member, I have to be mindful that as far as I know, today is my one and only chance to live today. I have one chance to be the best mom I can be to my kids… to make the most of the memories and days we have together.
So today, outside of my normal snow hating character, I got bundled up with the kids and we headed outside into the most beautiful Kansas snowfall I have seen in a very long time. And not just once… twice I did this! For hours at a time! We had a fantastic time, I shoveled our driveway and sidewalk with the help of a good friend, and then we all came inside to warm up with hot chocolate. Picture perfect, memory making kind of day… and had I not stepped out of my old self and into my new self, I would have totally missed out on being present with my kids during such a fun time.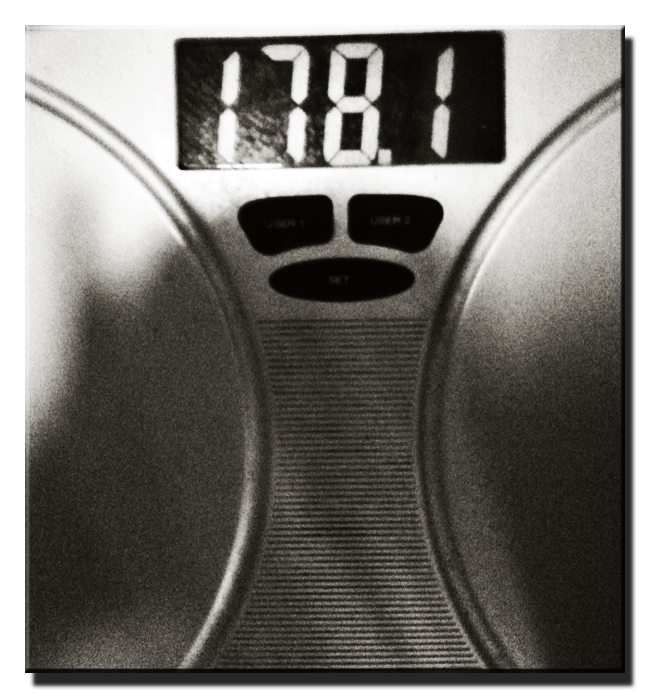 Part of my Happiness Project is to focus on being present, and with that comes me actively being a part of my family's life. Not just sitting on the sidelines, but jumping in, getting off my butt, and being among their chaos.
This is also part of my Eat. Live. Be. initiative. You all were so fantastic last week with my nakedness and I hated to think of letting you down. Each time I almost flubbed on my Weight Watchers points, your positive comments came into my head and I got myself in control… most of the time. I had some slip ups but I also did a pretty darn good job of keeping on track. I exercised every day, which for me is unheard of. I drank a ton of water, which again… I'm the Diet Dr Pepper queen, so this is a huge improvement. Most importantly, I was present and mindful of what I was putting into my body and attempted to stay clear of mindless eating. Thank YOU for supporting me, watching me and helping me along this journey! (I'm down 2.8 pounds this week from 180.9 to 178.1!)
Finally, I made the most delicious roast chicken, adapted from a recipe in the January 2011 issue of Martha Stewart Living Magazine. Served over a salad of mixed greens and Honey Mustard Vinaigrette Salad Dressing (still a fave of ours), this chicken made me feel like I was "cheating", it was truly that delicious. An added bonus it that this one chicken was able to be stretched into multiple meals. Gotta love that! (Oh – and ignore the extra black roasted crispies and potatoes on the cookie sheet…. we kind of like our roasted potatoes well done around here!)
Hope you all had a great week! Can't wait to read your updates.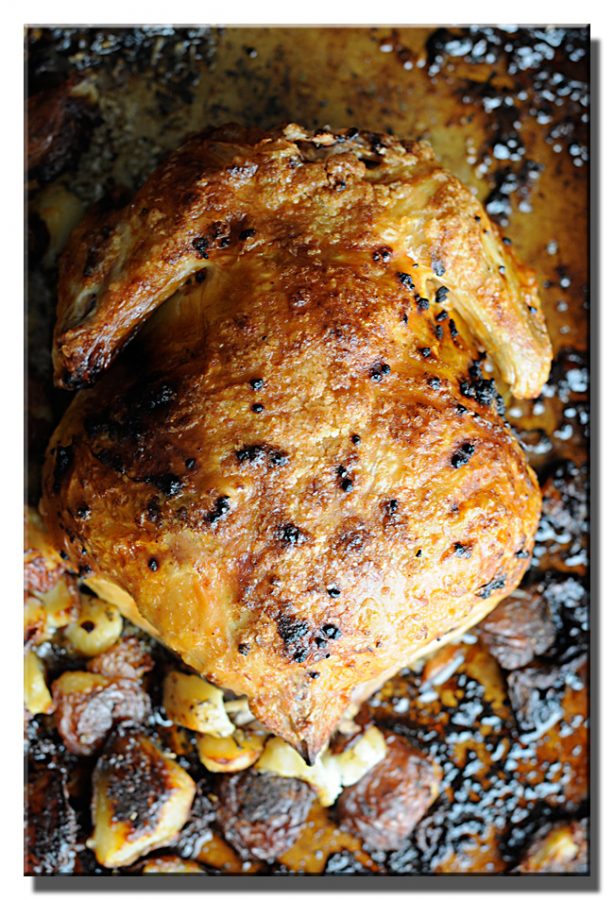 Crispy Oven Roast Chicken
Crisp-Skinned Chicken with Roasted Potatoes (Adapted from Martha Stewart Living Magazine, Jan 2011)
Ingredients
6

redpotatoes

quartered

Coarse salt

Extra-virgin olive oil

1/2

teaspoon

cornstarch

1

whole chicken

about 4 1/2 pounds

2

tablespoon

butter

softened

3

cloves

garlic

minced
Instructions
Preheat oven to 450 degrees. Cook potatoes in salted boiling water until tender, 11 to 13 minutes. Drain. Return potatoes to pot, and shake over low heat to dry and fluff. Coat with oil, and season with salt.

Mix together 1 1/2 teaspoons salt and the cornstarch (this was new to me, and really made a huge difference in the flavor and crispness of the chicken!). Pat chicken dry with paper towels. Combine minced garlic and softened butter. Rub skin with butter, and season with salt mixture. Rub the inside of the cavity as well.

Place chicken, breast side up on sprayed baking sheet and tuck wings under. Tie legs together with kitchen twine. Scatter potatoes around chicken. Roast for 30 minutes. Remove from oven, and flip potatoes. Return to oven, rotating sheet. Roast until chicken juices run clear and an instant-read thermometer inserted into the thickest part of a thigh reaches 165 degrees, about 30 minutes more. Let chicken rest for 10 minutes before serving.
Disclosure: This blog post contains affiliate links. As an Amazon Associate, I earn from qualifying purchases.