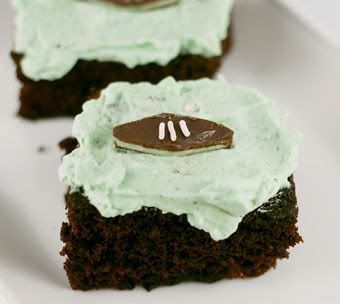 I fell in love with my now husband at a football game. We had actually been friends for quite awhile and he kept asking me out but I kept saying no. I felt like he was just too serious and responsible for someone I wanted to date at that time. In fact, I recall on our way home from a baseball game me telling him that I felt sorry for whomever he was going to marry because he was too "perfect" and so responsible. Nice, huh? We remained good friends, he kept trying, and I kept turning him down.
One day, the company I worked for offered me tickets to a Kansas City Chiefs game. I had been to a Chiefs game several times, but I knew that Nick, who loved football, had never been. I had three extra tickets and decided to see if my parents wanted to come up for the game and then I called Nick to see if he wanted to join us. He said yes and a few weeks later we were all heading to the game. It was that night, watching Nick interact with my parents… he treated them so well… that I got over my need for someone wild and crazy in my life and fell in love with Nick. We immediately started dating and the rest is history.
While dating, we would spend many a Saturday curled up on the couch watching college football. After we got married and bought a house, we still continued to watch football together, but eventually I began finding other things to do around the house to occupy my time. I began losing interest in "wasting" time watching football and found other things to do.
Now, Nick still watches football while I don't. I like to sit in on the end of a game, but spending several hours in front of the TV is beyond something my attention span can handle these days. I know Nick feels the same way about some of the shows I watch too. Watching TV together is not something we do a whole lot of together anymore.
That is why I was so excited a few years ago when Nick introduced me to the TV show Friday Night Lights. It was one of his favorite books, and we both really enjoyed the movie. The TV show was something that we both really liked and we looked forward to our date nights of catching up on the most recent episodes. Then, in typical NBC fashion (meaning this always happens to us when we both get into a show we like that is on NBC) rumors began to swirl that they were not going to renew Friday Night Lights.  I was so disappointed. In fact, I was one of those crazy people who actually sent in $5 to the "Keep the Lights On" club to have mini footballs sent to NBC execs.
Well, the attempt to save Friday Night Lights and the TV date nights hubby and I were having worked, and Friday Night Lights returned this past week. To commemorate the occasion, I decided to make Martha Stewart's Grasshopper Cake featured in the January 2009 edition of Martha Stewart Living. With a rich chocolate base and a creamy whipped Creme de Menthe frosting, this cake was worthy of such a special night. OK – well maybe not so special to you, but when you are married with three kids, anything that can get you back snuggling on the couch is worthy of special accolades!
Grasshopper Cake (from Martha Stewart Living Magazine)
Serves 8.
FOR THE CAKE
3/4 cup unsweetened cocoa powder, plus more for pan
1 1/2 cups all-purpose flour
1 1/2 cups sugar
1 1/2 teaspoons baking soda
3/4 teaspoon baking powder
3/4 teaspoon salt
2 large eggs, lightly beaten
3/4 cup warm water
1/2 cup whole milk
1/4 cup sour cream
1/3 cup unsalted butter, melted, plus more for pan
3/4 teaspoon pure vanilla extract
FOR THE FROSTING
2 large egg whites
1/2 cup sugar
6 ounces (1 1/2 sticks) unsalted butter, softened and cut into tablespoons
2 1/2 tablespoons creme de menthe
1 teaspoon pure vanilla extract
12 Andes Creme de Menthe candies
36 white sprinkles (which let me tell you… big pain in the rear if you have to dig through a jar of multi colored sprinkles!)
Make the cake: Preheat oven to 350 degrees. Butter an 8-by-12-inch cake pan. Line bottom with parchment, then butter parchment, and dust with cocoa powder. Tap out excess.

Whisk cocoa powder, flour, sugar, baking soda, baking powder, and salt in a large bowl. Stir in eggs, warm water, milk, sour cream, butter, and vanilla, mixing until smooth.

Pour batter into prepared pan. Bake until a tester inserted into the center comes out clean, 35 to 40 minutes. Let cake cool in pan on a wire rack for 15 minutes. Invert cake onto rack, and let cool. Cake will keep, unfrosted and covered, overnight.

Make the frosting: Mix whites and sugar in a mixer bowl set over a pan of simmering water. Heat, whisking constantly, until sugar dissolves and mixture is warm, 2 to 3 minutes.

Remove from heat. Whisk on high speed until stiff peaks form, about 5 minutes. Add butter, several tablespoons at a time, whisking after each addition. Add creme de menthe and vanilla, and beat for 2 minutes, scraping down sides of bowl as needed.

Using a paring knife, cut corners off mint candies to shape each into a football. Press 3 sprinkles onto each, using frosting as glue. Frost cooled cake. Arrange footballs on cake in 4 rows of 3. Cake will keep, covered, for up to 4 days. Slice just before serving.