A review of the Blue Apron Meal Delivery Service – spoiler alert…it's pretty awesome!
Also, a sample recipe for the Blue Apron Harissa Chicken Skewers with Khorasan Wheat and Persimmon Salad.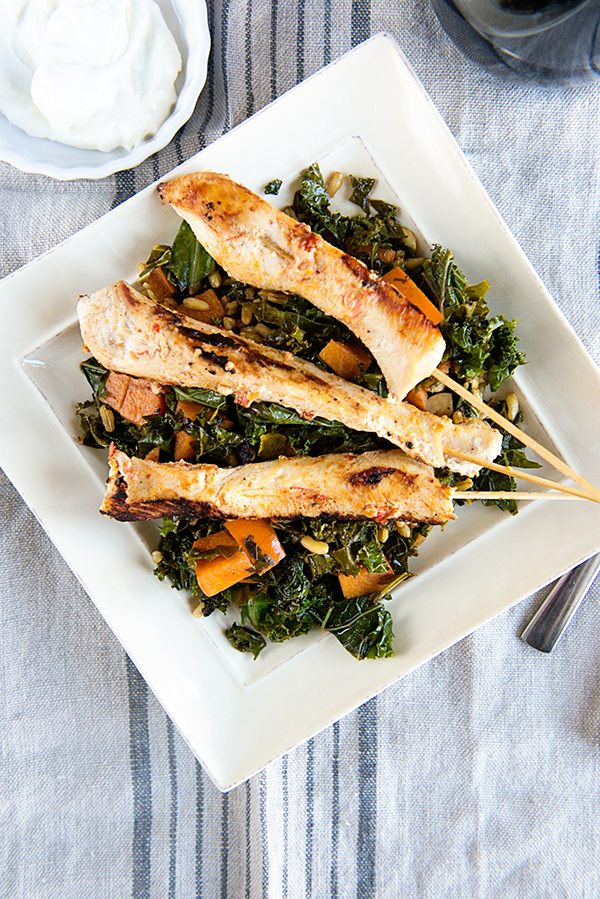 "Why would someone like me use a service like Blue Apron?" That was the question bouncing around my head when asked if I'd be interested in trying the Blue Apron meal delivery service out. I love to cook – I mean I develop recipes for a living! I also work from home, so have a fairly flexible schedule for grocery shopping and things related to cooking. Why would someone like me need Blue Apron?
The first question you might have is "What exactly is Blue Apron? I know I've seen it around on commercials and on the web, but what is it?". That's actually a really great question. Well done, pretend question asker.
Blue Apron is a weekly meal delivery service…think farm fresh vegetables, high quality meat, flavorful herbs, spices and oils…all neatly packaged up in a refrigerated cooler and sent straight to your home. Each meal contains a list of ingredients, recipe sized ingredient portions, and detailed photo instructions for cooking the meal.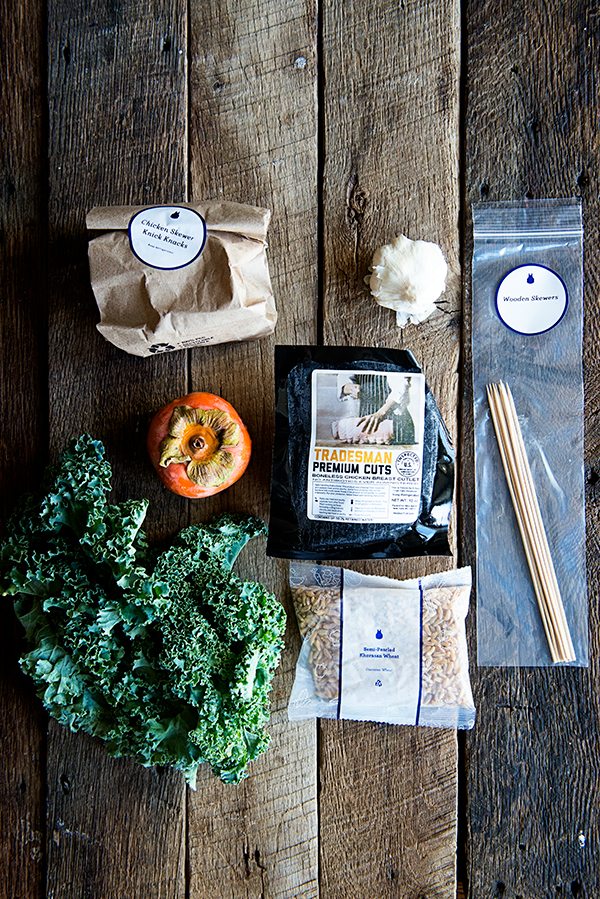 You can customize Blue Apron's delivery to meet your needs. A family of 2 would best be suited to use the 2 person plan, which sends you 3 meals a week. A family of 4 would probably best benefit from the Family plan, where you can customize to receive either 2 or 4 recipes a week. (Find out more about pricing and delivery options here). No matter which option you choose, shipping to your doorstep is absolutely free AND you can skip any week or cancel anytime you want to.
Now that you know what Blue Apron is, let's get back to the original question. Why would someone like me want to use a service like Blue Apron? The answer is now crystal clear to me…ease. Blue Apron meal deliveries are like having an on hand "easy button" for dinner. The recipes are unique, yet not at all complicated. The food is incredible. The time to make each dish is minimal. In a word, Blue Apron is easy. In this crazy busy time of working hard and full schedules, wouldn't it be nice to have a delicious home cooked dinner without a lot of effort?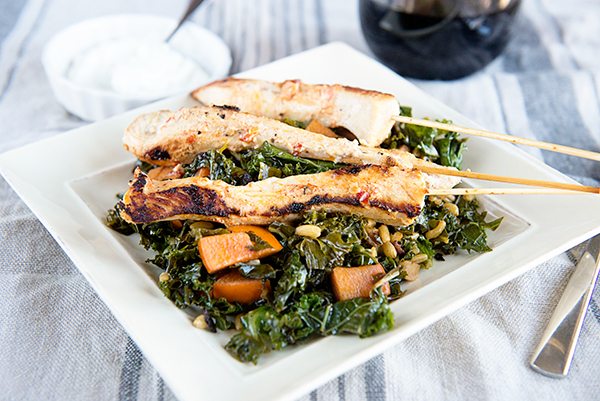 Here is who I think would benefit from Blue Apron:
Working parents who have a desire to eat a nutritious meal at home more often but are short on time.
Families with teens or tweens learning to cook…put the kids in charge of dinner. These recipes are perfect for budding chefs.
A couple wanting to reconnect over regular date nights at home. Make a simple dinner together, then have the rest of the time for your date.
Anyone who absolutely hates grocery shopping…ingredients to make a full meal delivered right to your door is pretty amazing.
Empty nesters who are adjusting to cooking for two and are finding it hard to find the motivation to go all out at dinner anymore.
Single people living alone…Blue Apron is an easy way to have nutritious food on hand.
People who are ill or caregivers of the ill. The last thing you want to have to think about is "what's for dinner?" Let Blue Apron take care of that for you!
And finally, people like me…busy working moms who although love to cook, sometimes just want a nutritious, no brainer dinner ready with little effort.
Check out Blue Apron for yourself and see if it's something that will help you make mealtime a "no-brainer". I think you'll find that it's a service that is absolutely meant for people like you and me!
Click here to check out Blue Apron for yourself and take a look at the Blue Apron Harissa Chicken Skewers recipe below!
Harissa Chicken Skewers
A Blue Apron recipe for Harissa Chicken Skewers.
Ingredients
2

Boneless

Skinless Chicken Breasts

8

Wooden Skewers

3

Ounces

Semi-Pearled Khorasan Wheat

2

Cloves

Garlic

1

Persimmon

½

Bunch Kale

2

Tablespoons

Red Wine Vinegar

1

Tablespoon

Red Harissa Paste

¼

Cup

Labneh Cheese
Instructions
Heat a medium pot of salted water to boiling on high. Once boiling, add the khorasan wheat and cook, uncovered, 16 to 18 minutes, or until tender. Drain thoroughly and set aside in a warm place.

While the khorasan wheat cooks, wash and dry the fresh produce. Peel and mince the garlic. Remove and discard the kale stems; roughly chop the leaves. Core and small dice the persimmon. Cut each chicken breast lengthwise into 4 equal-sized strips; transfer to a medium bowl.

While the khorasan wheat continues to cook, to the bowl of chicken strips, add ¼ of the labneh and as much of the harissa paste as you'd like, depending on how spicy you'd like the dish to be; season with salt and pepper. Toss to thoroughly coat. Working 1 strip at a time, carefully thread the seasoned chicken lengthwise onto the skewers. Transfer to a plate.

In a large pan (nonstick, if you have one), heat 1 tablespoon of olive oil on medium-high until hot. Add the chicken skewers and cook 3 to 4 minutes per side, or until browned and cooked through. Leaving any browned bits (or fond) in the pan, transfer to a plate and set aside in a warm place.

Add 1 teaspoon of olive oil to the pan of reserved fond and heat on medium-high until hot. Add the garlic and cook, stirring occasionally, 30 seconds to 1 minute, or until fragrant. Add the kale; season with salt and pepper. Cook, stirring occasionally, 30 seconds to 1 minute, or until slightly wilted. Add the vinegar and ½ cup of water (be careful, as the liquid may splatter). Cook, stirring occasionally, 4 to 5 minutes, or until the kale has wilted and most of the liquid has cooked off. Add the persimmon and cooked khorasan wheat. Cook, stirring occasionally, 1 to 2 minutes, or until thoroughly combined and the persimmon is slightly softened. Season with salt and pepper to taste.

Place the remaining labneh in a bowl; season with salt and pepper. Stir to incorporate. Divide the khorasan wheat salad and cooked chicken skewers between 2 dishes. Serve with the seasoned labneh on the side. Enjoy!
Notes
Note: This was a Blue Apron 2 serving meal, but we find the servings to be very generous and fed 4 using this recipe (2 skewers each).
Disclosure: This post is in partnership with Blue Apron. I was sent a Blue Apron shipment and asked to give my opinion. All opinions expressed are my own.