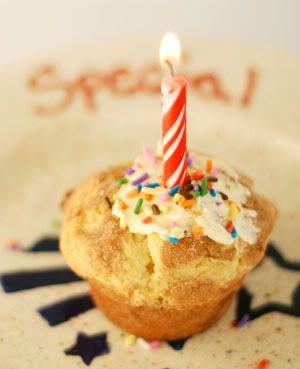 I admit it… I'm a little slow on the whole New Year's Resolutions thing. We have been so busy since Christmas that I feel like the New Year came upon us without giving me the chance to really reflect on what I want to accomplish this year.  I have already mentioned that for our household, 2009 is going to be a year for Simplicity. That is my main goal, but I have some other smaller things that are really important to me as well.
My oldest kiddo, Jacob, turned 7 yesterday (which in itself is unbelievable to me… my baby is already 7 years old!). For his birthday he wanted "muffins with sprinkles". When I asked him what kind of muffins he wanted he said, "Those kind that have cinnamon sugar on them!". I knew immediately that he was talking about Peabody's very indulgent Snickerdoodle Muffins. Snickerdoodle Muffins are very worthy of a special occasion, like a 7th birthday!
I got up and made the muffins in the morning, put some spreadable butter on top, added some sprinkles and a candle just for fun. We had so much fun doing a quick early morning birthday celebration before school!
It was during our impromptu birthday celebration yesterday morning that I watched the joy on the face of my kids as we did something a little out of the ordinary and unexpected. Something as simple as having muffins with sprinkles brought smiles and laughter galore. It dawned on my how easy it is to please children, and how often I do not take advantage of that.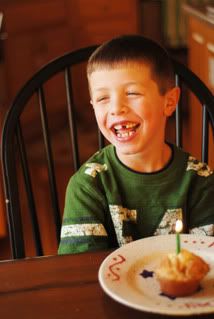 With that revelation, I've determined that another goal of mine for this year, and beyond, is to remember to have fun with my family. We need to stop rushing around so much and I need to plan more fun little activities for us to do. They are all at an age where it takes so little to please them… I need to maximize that the best that I can!
What are some of the fun little things you do with your family or that you remember your parents doing with you when you grew up?
For Peabody's recipe, head over to her blog. The recipe can be found HERE.
Also, don't forget to check out my favorite chocolate chip cookie recipe at the Right@Home website!
Happy Belated New Year. I appreciate each and every one of you and I hope that 2009 is full of wonderful things for you!