Here are the February 2017 365 Days to Rock Your Happy prompts – updated each Sunday!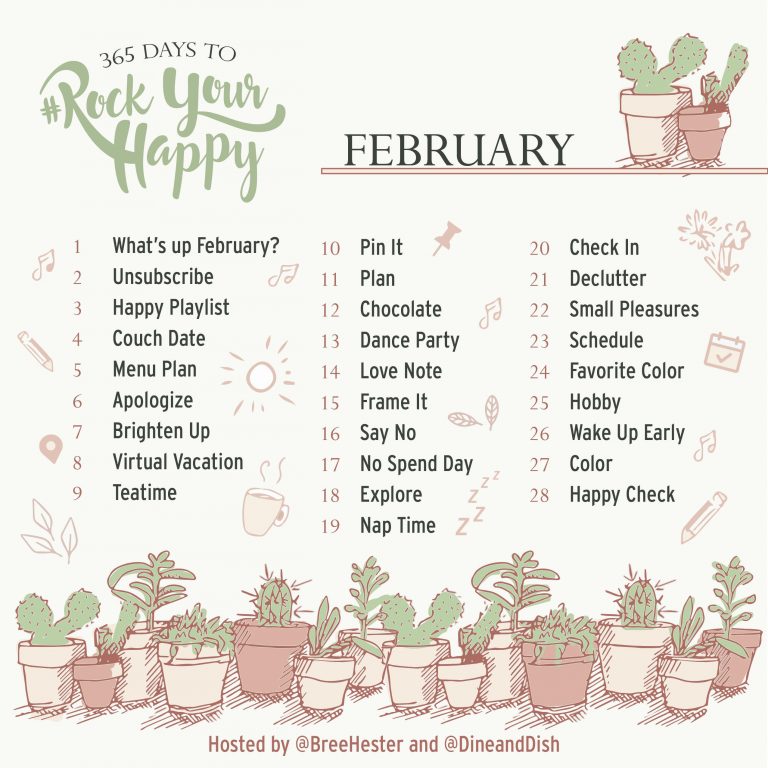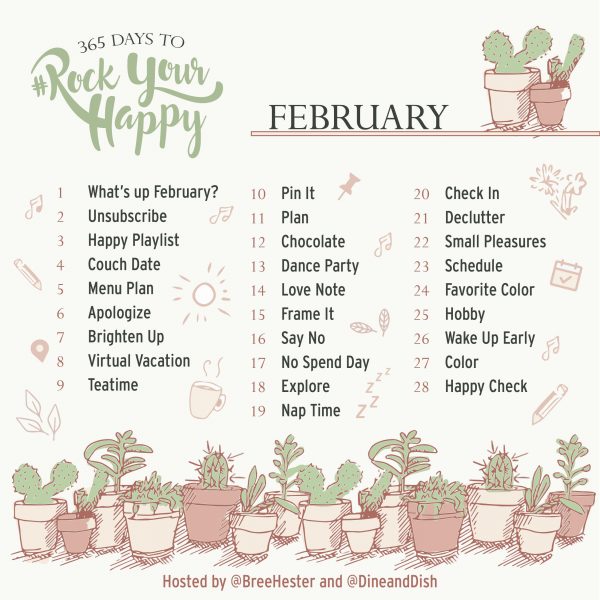 February 1 – What's up February? Take a look at the month ahead and see what you have coming up. What can you say no to? When do you have some wiggle room? Take a look at the calendar and schedule some FUN! Buy some tickets. Sign up for a class.
(HT) – Bree likes to make monthly goals using her Powersheets. She sits down and makes an action plan for achieving her goals on the 1st of the month. Kristen agrees that the best way to achieve goals is to start by writing them down. This book is incredibly helpful for goal setting.
February 2 – Unwanted subscriptions. Get rid of things that you spend money on and don't use. You can save some big money. Do you use Hulu enough to justify the expense? Can you
(HT) – Go through your bank accounts and see what you are actually paying for. Also, make sure that you turn off any unwanted subscriptions in your PayPal account. Go to PROFILE > PROFILE AND SETTINGS > MY MONEY > MY PREAPPROVED PAYMENTS > UPDATE and disable ones you no longer use.

February 3 – Happy Playlist (Make a playlist of all the songs that make you happy)
HT – Tsh of The Art of Simple is a playlist MASTER. Get some inspiration from her Spotify playlists.
February 4 – Couch date. No sitter? No problem. Plan a couch date.
Bree – I love a cheese plate couch date. Even now that I have a great sitter, this is still one of my favorite ways to spend time with my husband. The tradition began out of necessity, but stayed because it's so fun. And you don't even need to leave the house. I also love to cook a meal from this book. So many great ideas in this one.
February 5 – Meal plan. When you have a plan for cooking at home and eating healthy meals, it is far more likely to happen than when you just wing it.
(HT) Our friends at Nourished Planner send great ones each with a grocery list all done for us. Sign up for their newsletter and they deliver it straight to your inbox. Easy peasy!
Some books we love to cook from:
February 6th – Apologize. Say sorry to someone you've been holding a grudge to.
Happy Tip (HT) Have you ever truly forgiven someone and felt like you had a giant, 10 ton weight lifted off your shoulders? It's one of the best feelings to apologize and be forgiven. This timely article can help you with how to say sorry, the right way.
February 7th – Brighten Up. Wear a bright color today!
(HT) Let this pinterest board inspire your outfit choice today!
February 8th – Virtual vacation – with Google Earth you can travel anywhere!
(HT) – Google Earth is worth the free download. Want to walk the streets of Paris? Care to take a drive along Pacific Coast Highway? You can get away for free, virtually, with Google Earth. Google Flights is also helpful to "plan" a trip anywhere you want to go.
February 9th – Teatime. Take an afternoon break and enjoy a cup of tea.
(HT) – This Get Happy tea is Kristen's current favorite. Bree loves Holiday tea. Also, if you love tea time and don't have one of these, you need to get one, stat.

February 10th – Pin it! Make a Pinterest board of things that make you happy. Visit it often!
(HT) – Check out Kristen's "Happy Things" and Bree's "Travel" board for inspiration.
February 11th – Plan. Schedule a coffee date, movie night, dinner out or something fun with a friend for a future date. Bonus – schedule one of these things each week!
February 12th – Chocolate. Indulge with a piece of chocolate, your favorite chocolate drink or some chocolate cake or cookies.
(HT) We're so lucky to have an amazing specialty chocolate store in Kansas City. Really treat yourself and indulge in a small box of chocolates you wouldn't normally buy for yourself! And if you need an excuse, scientists say chocolate really does make you happy.
February 13th – Dance Party. Kitchen dance parties happen on the regular at my house. There is nothing more fun than cranking up the music and breaking it down in the comfort of your own home.
(HT) Try finding a fun dance playlist on Spotify. There are lots to choose from.

February 14th – Love Note. Write a love note to yourself. If you can't love yourself, you can't love anyone else.
(HT) Etsy is my favorite source for cards these days. This one especially spoke to me.
February 15th – Frame It. Put a favorite picture in a frame. Seeing pictures hanging on my walls makes me so happy. I change out my frames frequently.
(HT) I buy white frames when they are on sale at the local craft store. I buy different textures and sizes, but they are always white. I also use Framebridge. I have given them as gifts and have some in my own home. Such an easy process and they have the prettiest frames.
February 16th – Say NO to say YES. What can you say no to right now that will allow you to say yes to something you really want to do? Make a list of things that you really don't want to do. What can you delete or delegate?
February 17th – No Spend Day. Can you go a whole day without spending any money?
(HT) Skip the coffee shop today and try this recipe at home. Or if you like a hot drink, give this one a spin.
February 18th – Explore your hometown. Pretend you are a tourist in your own town. You will see where you live with fresh eyes. Visit a local store, coffee shop, or attraction.
February 19th – Naptime. Take an indulgent afternoon nap. Cuddle up with someone you love. I like to snooze on the couch with a cozy blanket.
(HT) I have one like this and it is my absolute favorite. It is so light and breathable. It keeps me feeling cozy, but never too warm.
February 20th – Check in with a friend. We all have those people who pop up in our mind from time to time but we tend to put off reaching out to. Today, reach out to someone you haven't talked to in awhile and check in.
February 21st – Declutter your kitchen drawers (only your kitchen drawers). Get rid of gadgets and utensils you don't use anymore and organize what you keep.
(HT) Here's a great read on decluttering your kitchen drawers in just ten minutes!
February 22nd – Small Pleasures. Is something small that brings you joy? Fresh flowers, a new candle, your favorite tea?
(HT) This candle from Target smells so good, and has vetiver which is a mood lifter.
February 23rd – Schedule an appointment you've been putting off. Your health could be depending on it
(HT) Check this list of doctor's appointments you should be making every year, based on age.
February 24th – Favorite Color Vignette. Create a vignette on a shelf, table or your desk featuring happy things in your favorite color.
(HT) This Pinterest board featuring interior vignettes is so dreamy! Here are some great tips for creating your own interior vignettes.
February 25th – Spend time on a forgotten hobby. Hobbies…remember those? Spend some time today enjoying a favorite hobby.
(HT) Hobbies seem to be one of the first things that get shoved aside when we are busy, but doing them brings us so much happiness. Here's a list of hobbies you may have even forgotten about!

February 26th – Wake up early. Get up earlier than normal and spend some quiet morning time by yourself.
(HT) Did you know that some of the most productive people in the world tend to be very early risers? If you want to make early mornings a part of your life, check out this book/method. It really works
February 27th – Color. Whip out the crayons and colored pencils, pick up a coloring book or doodle on a blank sheet of white paper. This is such a relaxing thing to do.
(HT) Loving this new coloring book from Lindsay Letters. Beautiful and inspirational.
February 28th – February happy check! We completed month 2, what made you happy this month? Was their a prompt that really brought you some happiness?
(Bree) The no spend day was one of my favorites. I need to do that more often.
(Kristen) I loved the explore prompt! Kansas City is actually a pretty cool place to explore.
It's never too late to join in the 365 Days to Rock Your Happy movement. Send the sign up link to a friend and spread the happiness!