My family loves fish. Well, I am not sure if that is exactly true. My family loves fish that does not taste like fish, like this Lemon Baked Cod. If the fish has a fish flavor, the fish is not loved. However, if I can spice up and drown out the fishy flavor of the fish, then the fish is gobbled up. So, my family likes fish as long as it tastes nothing like fish. Make sense?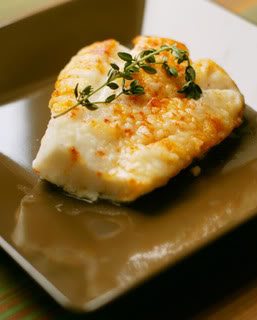 Last week I saw a tip that said "To capture the flavor of your fresh caught fish, soak it in milk". So, is this to actually keep the fresh fish flavor of the fish then? For those people who actually want their fish to taste like fish? I guess for those of you who live near the coast and have access to fish fresh from the sea, then fish tasting like fish is actually not a bad thing. Here in Kansas, we can get fresh from the pond catfish, but trust me… you don't want it tasting fishy. Deep fry and season the hell out of that sucker, soak it in melted butter or add some lemon zest to it so it tastes nothing like the pond it came from!
Anyway, we have non-fishy tasting fish at least a couple of times in our house. Cod, because of the ease to make and the ability to simply get rid of the fishy fish flavor, is a favorite. If you like your fish to not be fishy then give this non-fishy flavored Lemon Baked Cod recipe a try. You won't even know you are eating fish, which makes me wonder.. why not just eat chicken?
Lemon Baked Cod
If you like your fish to not be fishy then give this non-fishy flavored fish recipe a try.
Ingredients
1

lb

cod fish fillet

1/4

cup

butter or margarine

melted

2

tablespoons

lemon juice

1/4

cup

all-purpose flour

1/2

teaspoon

salt

1/8

teaspoon

white pepper

paprika
Instructions
If fish fillets are large, cut into serving pieces.

Mix butter and lemon juice.

In another bowl, mix flour, salt and white pepper.

Dip fish into butter mixture; coat fish with flour mixture.

Place fish in ungreased square baking dish, 8x8x2 inches.

Pour remaining butter mixture over fish; sprinkle with paprika.

Cook uncovered in 350 degree oven until fish flakes easily with fork, 25-30 minutes. Garnish with parsley sprigs and lemon slices if desired.
Do you love non-fishy fish like this Lemon Baked Cod too? Check out these other great recipes from food bloggers around the globe: