This quick and tasty Five Ingredient Chicken and Caramelized Onion Pasta Recipe is from one of my new "go-to" cookbooks, Five Ingredient Recipes.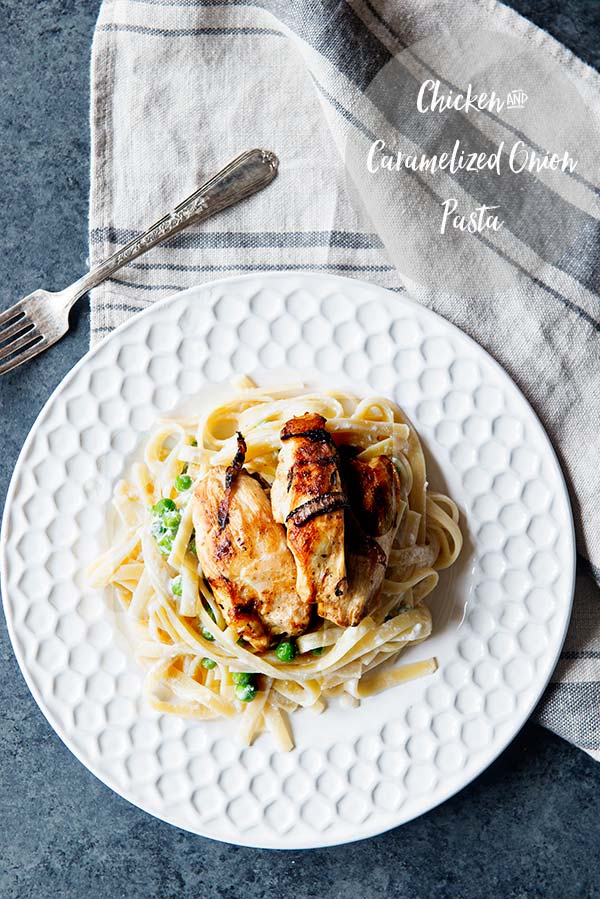 I'm so excited to share this recipe and cookbook review with you all today! I've had the new Five Ingredient Recipes cookbook in my hot little hands for quite some time now, and had the opportunity to review some of the recipes before it was published. It's a keeper, friends!
This cookbook is for all the busy people out there, like you and me, who still want to carve out time to put a good meal on the table for their family despite a jam-packed schedule. It's for those of us who want fresh, flavorful, from-scratch recipes without a lot of convenience items thrown in. This cookbook is for those of us who love to cook, but maybe get weary of coming up with new ideas night after night.
If any of this sounds like you, you must order the Five Ingredient Recipes cookbook by Phiilia Kelnhofer (aka the blogger behind the site Sweet Phi).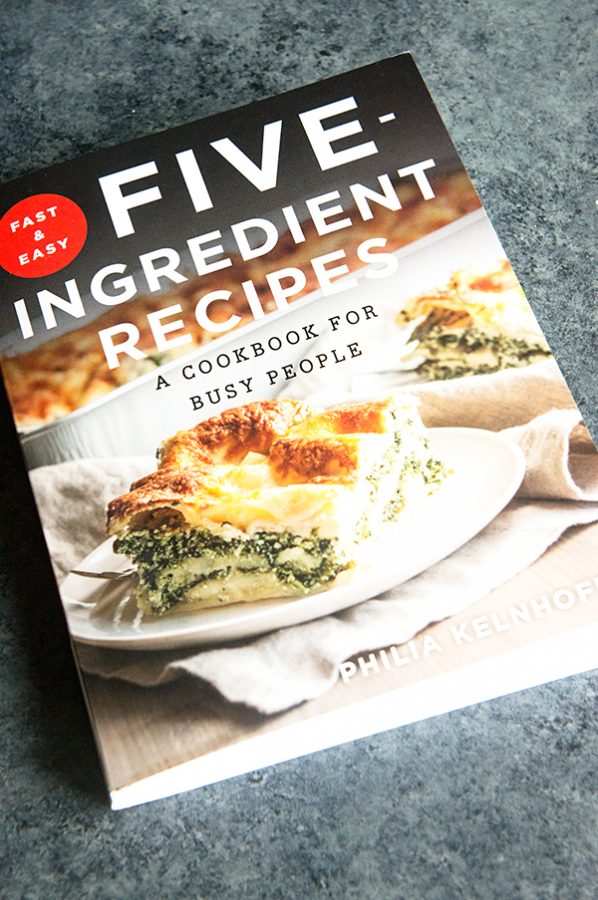 Each of the 105 recipes features only 5 ingredients
Each recipe has a gorgeous, color photo to go along with it!
Each recipe is fresh and balanced… you won't find a lot of "from the box" type ingredients in here. There are a few convenience items, but for the most part, we're talking good, fresh, food.
Each recipe is accompanied by a quick to read red circle, containing the 5 ingredients. That makes grocery list making so simple!
Phi's stories about each recipe makes me smile…family, friends and meal time are all important to Phi and it shows with each recipe!
If you want to make the recipes as is, that's great, but each recipe also serves as a great base recipe for those who want to add their own flare to a dish!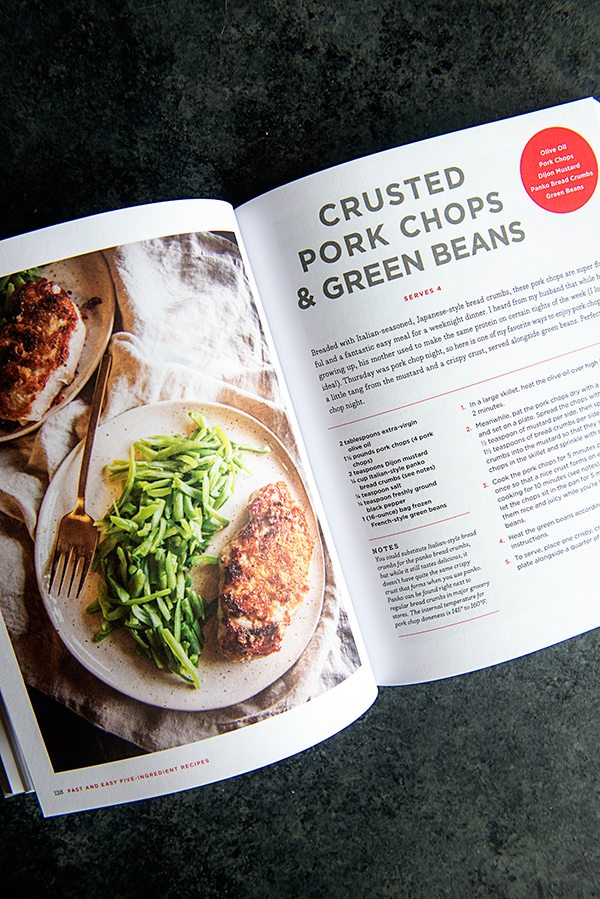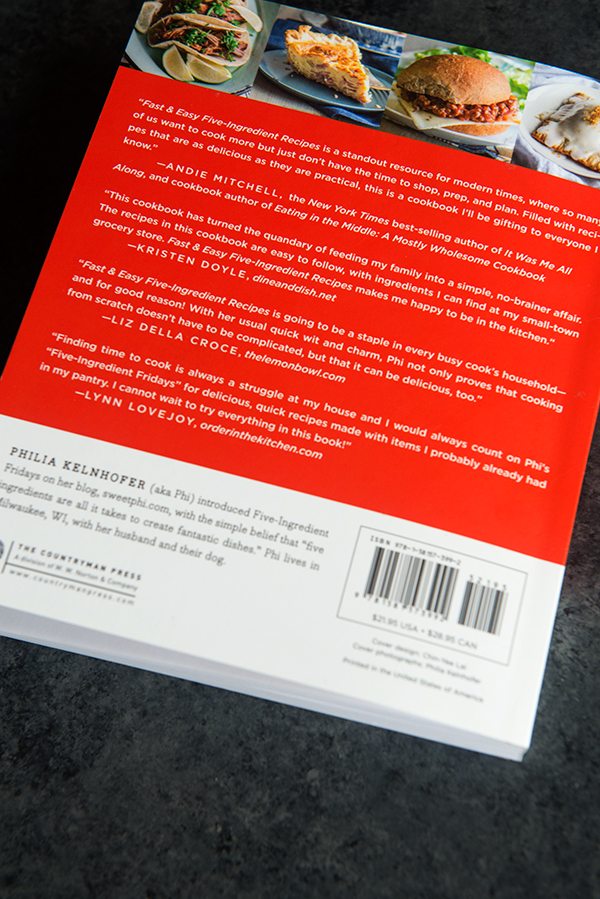 Slim Shady would like me to add that the Five Ingredient Recipes cookbook is a very comfortable sleeping surface. Anytime this book is out, he's right there on top of it. Goofy cat!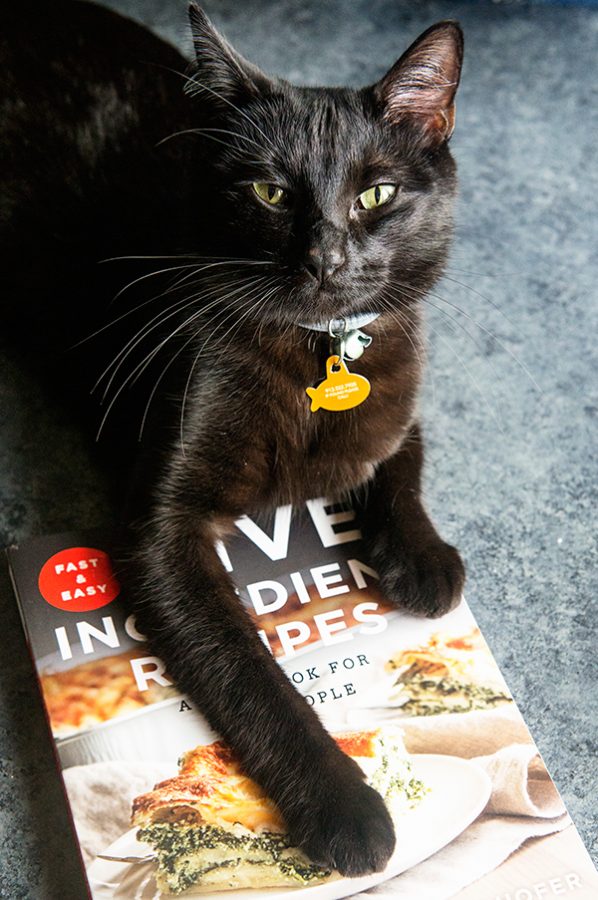 Make sure to pick up the Five Ingredient Recipes cookbook on Amazon today! It's currently listed at less than $10, which is a steal considering how much time and effort it will save you come dinner time! Also, I hope you'll enjoy this preview of the Chicken and Caramelized Onions Pasta recipe from this cookbook below.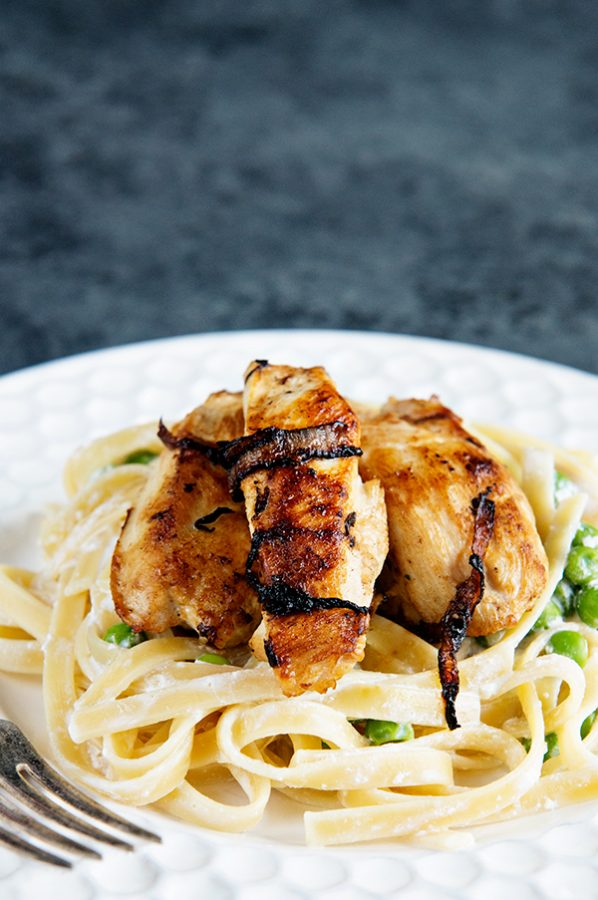 Chicken and Caramelized Onion Pasta Recipe
A simple recipe from the Five Ingredient Recipes cookbook by Philia Kelnhofer.
Ingredients
1

large red onion

finely sliced

3

tablespoons

extra-virgin olive oil

divided

1

pound

chicken breast

each breast cut into thirds, or chicken tenders

Pinch

each of salt and freshly ground black pepper

8

ounces

fettuccine pasta

2

cups

cooked sweet peas

this is my addition, not part of the original recipe

1

cup

plain yogurt
Instructions
In a large skillet over medium heat, cook the red onion in 2 tablespoons of the olive oil, stirring occasionally, for 20 minutes, or until the onion is soft and caramelized.

Add the remaining tablespoon of olive oil and the chicken and sprinkle with a pinch of salt and pepper. Cook for 15 minutes, or until the chicken is cooked through, and remove from the heat.

Meanwhile cook the pasta according to the package instructions. Drain, reserving 1/2 cup of the cooking water, and return the pasta to the pot it was cooked in.

Pour the reserved water back into the pot with the pasta, add the cooked peas and stir in the yogurt until the noodles are coated with the yogurt.

Add the chicken mixture to the pasta. Stir and serve.
Notes
From the Five Ingredient Recipes cookbook.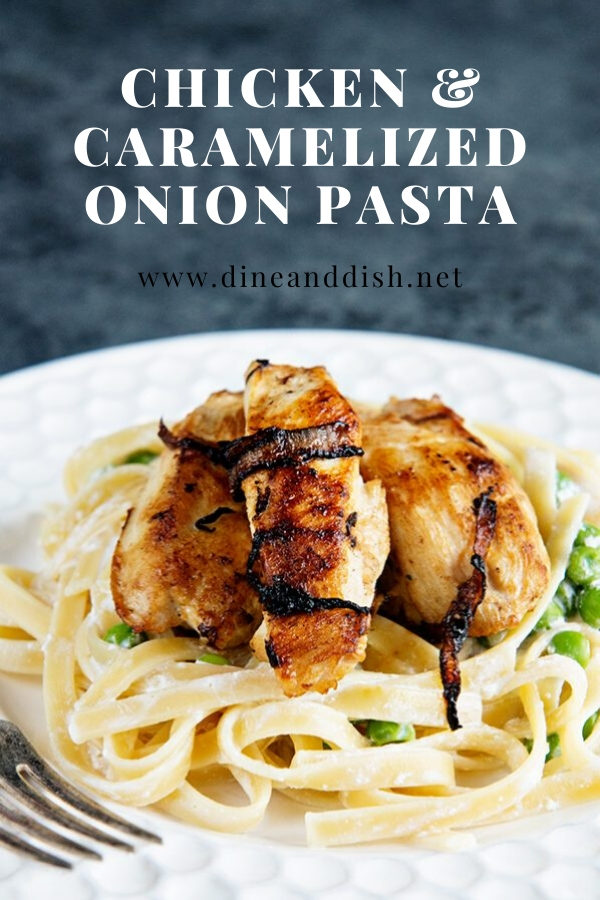 Disclosure: My friend Phi sent me a copy of her cookbook for review. In addition, this blog post contains affiliate links. As an Amazon Associate, I earn from qualifying purchases.