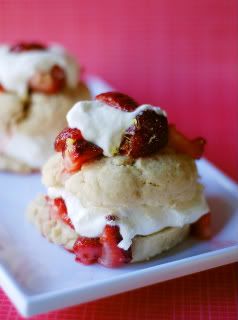 Wow – there are a lot of you out there! Food bloggers, that is. This fall Dine & Dish will be two years old. It is amazing to me to see how much this online community of bloggers has changed over the past two years. I bet for those of you who have been doing this a lot longer than I, that change is even more phenomenal to watch.
I feel like I used to have a good finger on the pulse of who all was blogging. I felt like I knew a lot of you through your blogs and was fairly involved in the community. Things changed, I got swamped with life and had to step back on my involvement for a bit. Now, when I go food blog hopping, I am amazed to find a number of food bloggers who have been doing this for awhile who I am not even aware of! Blink your eyes around these parts and things change like the wind.
Food Blogging events are creeping up everywhere. New ones, old ones… they are still going strong and involvement is more triumphant than ever. It is such a neat thing to watch.
Because of this continuing upswing trend in food blogging, I have decided to bring back, by popular request, the Adopt a Blogger event. I'm going to change things around some… some new rules which equals some new fun! I'll be posting about this next week, so keep your eyes on Dine & Dish to get involved.
As a part of my goal to get re-immersed into the food blogging community, I am also submitting these delicious shortcakes as an entry to one of my favorite food blogging events. Sugar High Friday… an oldie but goodie! With the theme as "berries", how could I resist? Head on over to Susan of Food Blogga's blog to check out the other delicious berry entries.
Strawberry Shortcakes with Brown Sugar Biscuits and White Chocolate Cream from  Bon Appétit | June 2006
Ingredients
White chocolate cream
2 ounces high-quality white chocolate (such as Lindt or Perugina), chopped
1 tablespoon water
1/2 teaspoon unflavored gelatin
2 1/2 cups chilled whipping cream, divided
3 tablespoons sugar
Biscuits
3 cups all purpose flour
1/2 cup (packed) golden brown sugar
4 teaspoons baking powder
3/4 teaspoon salt
9 tablespoons (1 stick plus 1 tablespoon) unsalted butter, cut into 1/4-inch cubes, chilled
1 cup whipping cream, plus additional for brushing biscuits
2 tablespoons raw sugar*
Strawberries
4 cups halved hulled strawberries (about 2 to 2 1/2 pounds)
1/4 cup sugar
2 tablespoons fresh lemon juice
1 tablespoon finely grated lemon peel
1 tablespoon chopped fresh mint or 2 teaspoons dried lavender blossoms**
For white chocolate cream:
Place white chocolate in medium bowl. Place 1 tablespoon water in very small bowl. Sprinkle gelatin over; let stand until gelatin softens, about 15 minutes. Bring 1/2 cup cream and 3 tablespoons sugar to simmer in small saucepan, stirring until sugar dissolves. Remove from heat; add gelatin and stir until dissolved. Pour gelatin mixture over white chocolate, whisking until melted and smooth. Cool to room temperature.
Beat remaining 2 cups cream in large bowl until peaks form. Fold 1/2 cup cream into white chocolate mixture to lighten. Fold chocolate mixture into remaining cream in bowl. Refrigerate until cold, at least 1 hour and up to 3 hours.
For biscuits:
Combine flour, brown sugar, baking powder, and salt in large bowl; whisk to blend. Add butter. Using fingertips, rub in until coarse meal forms. Gradually add 1 cup cream, tossing until moist clumps form. Gather dough into ball; shape into 8 1/2-inch round on parchment or foil. Chill 15 minutes.
Preheat oven to 350°F. Line rimmed baking sheet with parchment paper. Cut dough into eight 3-inch rounds, gathering scraps and reshaping as needed. Place rounds on prepared sheet, spacing 2 inches apart. Brush tops with cream and sprinkle with raw sugar. Bake until tester inserted into center comes out clean, about 20 minutes. Cool completely. (Can be made 2 hours ahead. Let stand at room temperature. If desired, rewarm in 350°F oven 5 minutes before using.)
For strawberries:
Combine strawberries, 1/4 cup sugar, lemon juice, lemon peel, and mint or lavender in medium bowl; toss to blend. Let stand at room temperature until juices form, at least 10 minutes, or refrigerate until ready to use, up to 2 hours.
Cut biscuits in half horizontally. Place 1 bottom on each of 8 plates and mound strawberries with syrup on each, dividing equally. Cover with white chocolate cream and biscuit tops.