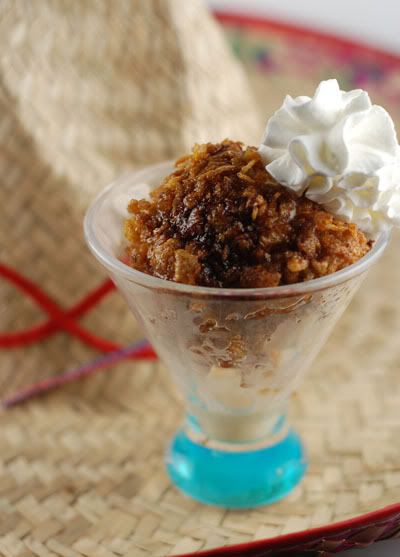 For months now, a good friend and I have been talking about starting a Dinner Club. We both knew that it would be a lot of fun, but we were really stuck on who to invite. Our goal was to have people who didn't know each other very well but who would hit it off and gel right away. They also needed to be passionate about food…either in the "I love to cook" sense or "I love to eat" sense.
The Dine & Dish Dinner Club officially launched this past Saturday and we had such a wonderful time. I am so disappointed that it took us so long to get moving and get it off the ground because it really was a wonderful evening of food, friends and laughter. My husband and I made fajitas using this Beef and Chicken Fajita recipe from Cooking Light, which was a delicious hit! The couple who was going to bring dessert ended up getting sick that day, so I decided to tackle Fried Ice Cream. Delicious, fun, impressive and fit the evening perfectly!
Many people have asked how I got our dinner club started. Considering we just had our first one, I am no expert, but since it was such a success (lasting until 1am) I will share what we did to get our first Dinner Club off the ground.
We decided to include five couples in our dinner club to start with. I invited two couples and asked each of them to invite one couple each. The couples we invited are people who we love to hang out with but don't get to see as often as we would like to. The requirement was that they had to be willing to commit, were interested in food, and were fun.
We have set our Dinner Club up to meet on an every other month basis, so six times a year.
We will have the Dinner Club at our house each time we meet, but will rotate hostessing responsibilities. The "host couple" is responsible for finalizing a theme, the main dish, the adult beverages, the music play list and "the questions" (more about this later!)
Everyone else is to sign up for an appetizer, side or dessert. (For inspiration, I told everyone to look at restaurant menus that fit our theme or to Google "Southwest Menu".)
Everyone brings a copy of their recipe to share with each couple. There is no going to the store to bring something not homemade. Even if you think you can't cook, this is an opportunity to stretch yourself some and to make something from scratch.
For those of you who have read about my dinner parties in the past, I always do "get to know you" type questions. They are slid into the place cards and after we are done eating, we go around the table and each person reveals their question. The first person gives their answer and then we go around the whole table and answer that specific question. Then we move onto the next persons question. Sometimes the questions are tame… sometimes a bit more controversial or racy. It makes for a very, very fun evening and is a signature part of my dinner parties!
Choose a theme for each time you meet. Our next theme is "Rustic Italian". Some other themes to consider – "Take me out to the ballgame", "Cook from a famous chefs cookbook", "Wine Country", "Greek", "Purple Foods"… the possibilities are endless!
Keep it low stress. The idea of the Dinner Club is to have a fun, adult night out with good friends. It is not something that should be stressed about. Invite people who you know won't take things too seriously.
Just do it! If you are considering starting a Dinner Club, I suggest doing it right away. You will have a blast and it will make for a night that your friends look forward to each time you meet.
If you have a Dinner Club that meets regularly and have advice on getting one started or want to share what has made yours successful, leave your comment on this post. I'll do a roundup of advice in a few weeks.
Fried Ice Cream
Fried Ice Cream (from Recipezaar)
Ingredients
1

pint

ice cream

1

beaten egg

1/4

teaspoon

vanilla

2 1/2

cups

of sweetened corn flakes

1/2

teaspoon

ground cinnamon

1

beaten egg

1/4

teaspoon

vanilla

cooking oil

for deep fat frying

whipped cream

optional
Instructions
Place 4 scoops (about 1/2 cup each) of ice cream in a small pan.

Freeze for 1 hour or till firm.

In a small mixing bowl stir together egg and vanilla.

In a pie plate carefully stir together cereal and cinnamon.

Dip each frozen ice cream ball in the egg mixture, and then roll them in the cereal mixture.

Return coated ice cream balls to freezer and freeze for 1 hour or till firm.

Reserve the remaining cereal mixture.

In a small mixing bowl stir together egg and vanilla.

Remove coated ice cream balls from the freezer. Dip balls in egg mixture, and then roll them in the remaining cereal mixture and return to pan.

Cover and freeze for several hours or till firm.

In a deep fat fryer or a heavy saucepan, fry frozen coated ice cream balls one or 2 at a time, in deep hot oil (375°F) for 15 seconds or till golden brown.

Drain on paper towels; return the fried ice cream balls to freezer while frying the remaining balls.

Serve immediately with whipped cream (if desired).