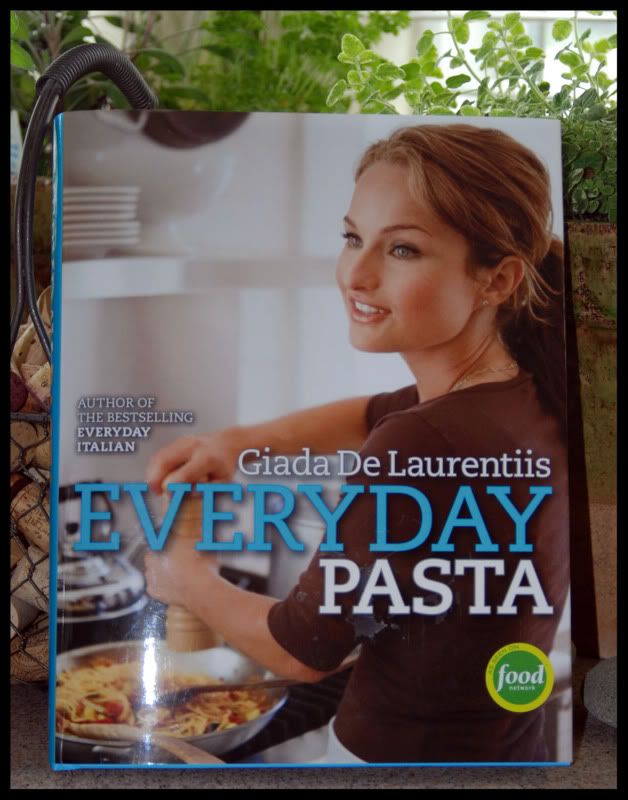 My good friend Kathy and I, along with our husbands, went to a Giada De Laurentiis book signing a couple of weeks ago. We were 4 of about 1,000 eager fans who were lucky enough to get tickets to the sold out event. We were all anxious to find out if Giada is the "real deal". Could she possibly be as genuine and adorable in real life as she comes across on TV? The answer? Simply, yes. Giada de Laurentiis seems to be the real deal. Genuine, full of life, friendly and beautiful (how else do you think we got our hubby's to go along with us?)
Giada arrived at the book signing/speaking engagement after several weeks on the road promoting her newest cookbook Everyday Pasta. Kansas City was near the end of the tour for her. She was about 15 minutes late, but when she walked into the room you felt like she had all the time in the world and that you were her one and only focus.
Some of the questions and answers that I found interesting are below. Please note, these are not exact quotes but mere summaries of the dialog.
Do you plan on ever opening a restaurant? Opening a restaurant is on the back burner right now because she is just too busy with her shows (Everyday Italian & Giada's Weekend Getaways) and creating recipes for her cookbooks. It is a dream of hers that she hopes to someday make a reality.
How many hours does it take to make one episode of Everyday Italian? Giada spends 3 months creating and testing recipes. The actual taping of one 22 minute show takes 15 hours. Each complete show is taped twice…once in wide shot and once close up.
How do you stay so skinny? Giada said that this is the number one question she gets asked by fans. She credits her slim figure to three things…1) Portion control 2) Working out 3 times each week 3) Good genes
What is your favorite American food? French fries and chocolate gelato
When you make dinner at home, what do you cook? Since her husband Todd is a meat and pasta kind of guy, she likes to make Short Rib Ragu. The recipe is somewhat time consuming, but she swears it is well worth it. Another favorite is Penne pasta with beef and arugula.
How do you do it and where do you find the time to fit so much into your life? Family is extremely important to Giada.I imagine that when most of us are out of town for a long period of time, when we come home we want some down time to ourselves. Giada makes it a point to be home at least once a week. On that one day, she surrounds herself with immediate and extended family and tends to make big meals at home for them. She finds cooking to be very therapeutic and when she is on the road it drives her crazy not to be able to cook for herself and others.  She loves to be surrounded by family and good food.
Giada's tip for making ravioli using wonton wrappers – Work your way from the inside out. A lot of people try to seal the outside edges first and then work their way in. If you do it this way, you will end up with tons of air bubbles. If you start on the inside and work your way out, you will avoid that problem all together.
If you missed the tour and want to find more about Giada, head on over to her website. You can also catch her on segments of the Today show, as well as her two shows on the Food Network: Everyday Italian and Giada's Weekend Getaways.
If you do not have her newest cookbook, Everyday Pasta, I highly recommend getting yourself a copy.  It is full of incredible recipes and beautiful photographs. I have several pages bookmarked already. Here is a glimpse inside, with the first recipe I tested, Rigatoni with Sausage, Peppers, and Onions.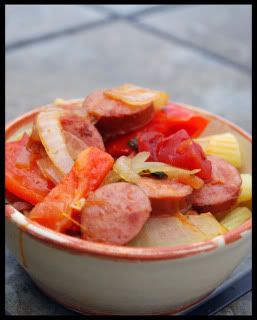 Rigatoni with Sausage, Peppers, and Onions
Ingredients
1/4

cup

extra virgin olive oil

1

pound

sweet Italian turkey sausages

2

red bell peppers

cored, seeded, and sliced

2

yellow onions

sliced

1

teaspoon

salt

1

teaspoon

freshly ground black pepper

4

garlic cloves

chopped

1/2

teaspoon

dried oregano

1/2

cup

chopped fresh basil

2

tablespoons

tomato paste

1

cup

Marsala wine

1

14.5 ounce can diced tomatoes, with juice

1/4

teaspoon

crushed red pepper flakes

optional

1

pound

rigatoni pasta

Freshly grated Parmesan cheese

for garnish
Instructions
Heat the oil in a large, heavy skillet over medium heat. Add the sausages and cook until brown on all sides, 7 to 10 minutes. Remove the sausages from the pan.

Keeping the pan over medium heat, add the bell peppers, onions, salt, and pepper and cook until golden, 5 minutes. Add the garlic, oregano, and basil and cook for 2 minutes. Add the tomato paste and stir until incorporated, then add the Marsala, tomatoes with their juice, and red pepper flakes, if using. Stir to combine, scraping the bottom of the pan with a wooden spoon to release all the brown bits. Bring to a simmer.

Cut the sausages into 4 to 6 pieces each. Return the sausages to the pan. Simmer uncovered until the sauce has thickened, about 20 minutes.

While the sauce simmers, bring a large pot of salted water to a boil over high heat. Add the pasta and cook until tender but still firm to the bite, stirring occasionally, 8 to 10 minutes. Drain the pasta and add to the thickened sauce; toss to combine. Spoon into individual bowls and sprinkle each serving with Parmesan cheese.
For another account of meeting Giada and another delicious recipe from this cookbook, head on over one of my favorite blogs, Kirsten's Home Cooking Adventures.