A sweet and salty popcorn recipe makes the perfect snack on National Popcorn Day or any day of the week. Read below for the Sweet and Salty Buttery Popcorn recipe.

Today is National Popcorn Day…who knew, right?
When I first started blogging, I had what I thought was a brilliant idea. I'd do my blog posts each time it is a National Food day. Oblivious as I was to the fact that every single day is a "national food day" of some sort. Of course, as an over zealous new blogger, I'm sure I figured blogging every single day about whatever star food of the day was would be a cinch. Riiiiigggghhhhttt…. You all know my lack of consistency with posting well enough to guess the outcome.
My dreams of being the "National Food Day" blogger extraordinaire never happened and instead I just hop on the National Food Day bandwagon whenever it is convenient for me, which happened to be today with National Popcorn Day. My kids love popcorn and we make variations of stove top popcorn all the time. That's what I like about popcorn… you can just pile on whatever you like most (for me, that always includes at least butter) and have a new type of treat each day. Like most of the popcorn we make around here, this isn't really a recipe. It is just one of the variations of sweet and salty we love.
I hope you had a very happy National Popcorn Day. Let's celebrate again in a couple days, shall we? I hear it's national cheese day! Enjoy!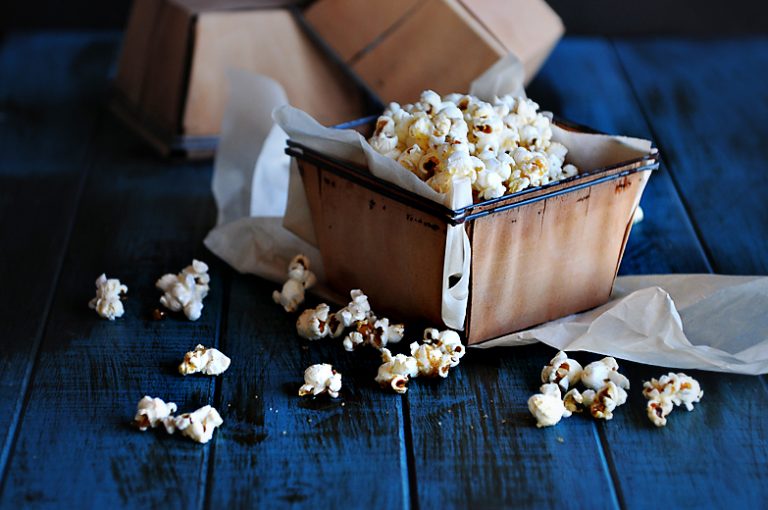 Recipe: Buttery Brown Sugar Popcorn
A buttery brown sugar popcorn perfect for snacking!
Ingredients
1

cup

unpopped popcorn

1/4

cup

butter

melted

1

Tablespoon

Kosher salt

1/4

cup

brown sugar
Instructions
Preheat oven to 250°

Pour popped popcorn onto a parchment lined baking sheet.

In the meantime, melt the butter in the skillet. Pour melted butter onto the baking sheet over the popped popcorn. Stir until evenly distributed.

Sprinkle salt and brown sugar over the popcorn. Bake for 10 minutes. (Baking isn't totally necessary, but it helps the brown sugar, butter mixture adhere to the popcorn better). Pour into a big bowl and enjoy!
If you are on the lookout for another popcorn recipe, check these ones out from around the web: