Join the #CareEnough Popsicle Challenge (inspired by Hallmark) and let's show how small acts of kindness can actually change the world. 
Have you ever been overwhelmed by the time and effort it can take to change the world? You observe friends on life changing mission trips, organizations building shelters and schools, celebrities raising millions of dollars for those in need, etc. and you think "Wow, I'd really like to change the world but I just don't have the                    (insert: time, money, resources) to pull it off."
Friends, I'm here to challenge you to consider changing what you think it might take to make a difference in the world. Grand gestures are nice and do make an impact, but so can sharing small acts of kindness and caring around your own community. It doesn't take a lot of time, money or resources to make a difference in the lives of others. We can make a huge impact by simply showing people that we #CareEnough thorough small acts. 
My friends at Hallmark recently challenged me to inspire more small acts of caring. Knowing that our heat index in Kansas City has been in the 103° range recently, I decided one great way to inspire caring was to figure out how to cool off those people struggling out in the heat. I challenged a couple of my friends to do the same, and wanted to share our results here in hopes of inspiring you all to join in my #CareEnough Popsicle Challenge.
The task was to take freezer ice pops around to those people in the community who were outside suffering in the heat. What we did was open to our own interpretation of the challenge, but I'd say between my girls and I, my friend Jennifer and my friend Michelle, we all made an impact in different parts of our own communities.
For this challenge my girls and I chose to take our popsicles downtown to hand them out to homeless and other people on the streets. With the volunteer work I do for the Kansas City Community Kitchen I know that especially on weekends, resources for food and shelter tend to be less readily available. I wanted my children to participate in this outreach opportunity to gain some new perspective on how lucky we are to have shelter, air conditioning, food and family. I also wanted them to see how simple it can be to show others that you care.
As we drove through the streets handing out the popsicles, the reaction we received was 100% positive. People were hot and any small thing we could do to help cool them off made a big impact on their frame of mind. We received so many smiles, hugs and kind words from each person we passed out popsicles to. From my estimation, we gave popsicles to 250 people, spent about $22 and the entire act including drive time took about an hour and a half. I believe the impact we made was worth a lot more than that!
(I wanted to respect the privacy of the people we handed popsicles out to so refrained from taking pictures).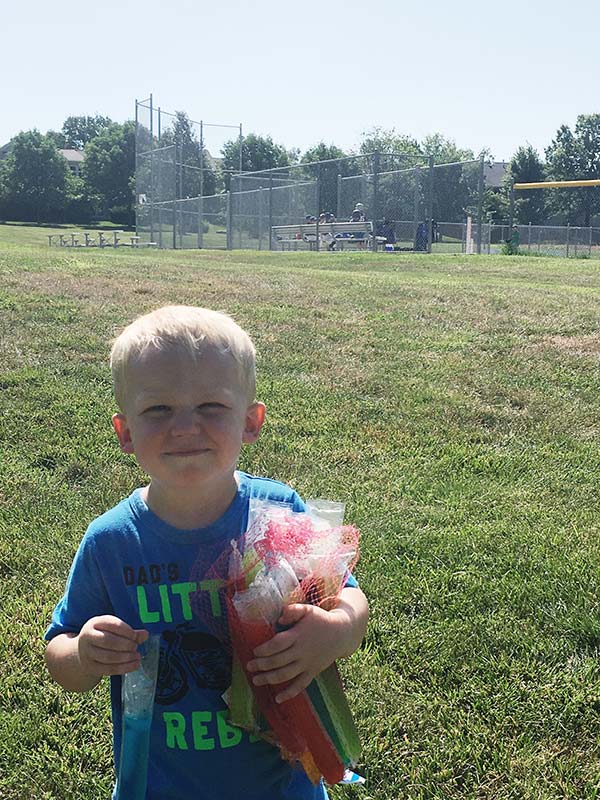 My friend Jennifer and her son Isaiah were the next to accept the #CareEnough popsicle challenge. They hit the neighborhood park and found plenty of opportunities to change the world a little bit by sharing some cool treats.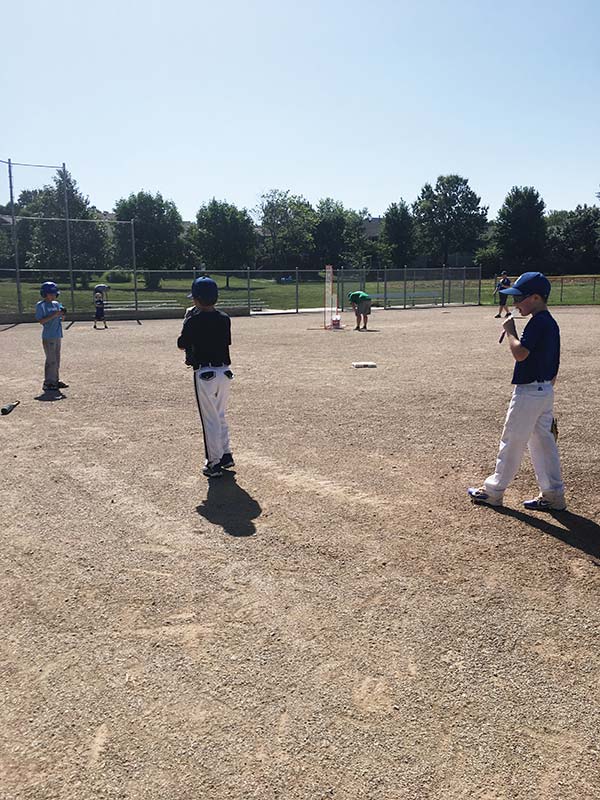 Among the people Isaiah and Jennifer blessed with popsicles were some of Shawnee, Kansas' finest firemen, a group of baseball players practicing in the heat and some boy scouts. The amount of time it took Jennifer to pass out popsicles to 40 people was less than an hour and the cost was less than $5.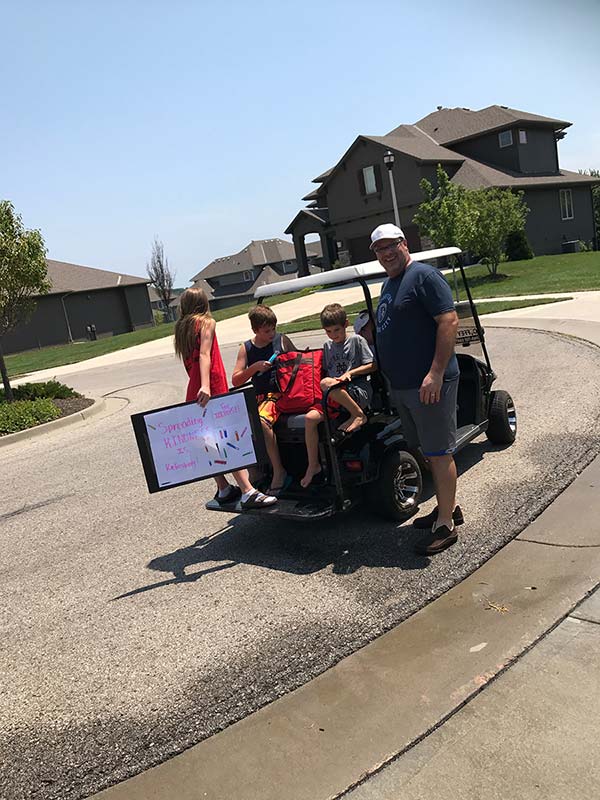 My friend Michelle and her kids started the challenge in their neighborhood before moving onto an area of Kansas City that was devastated by some recent storms.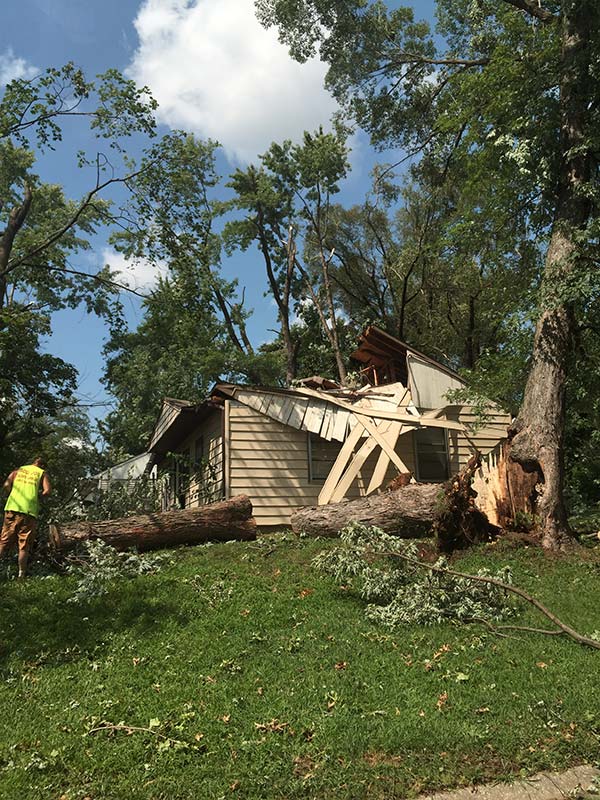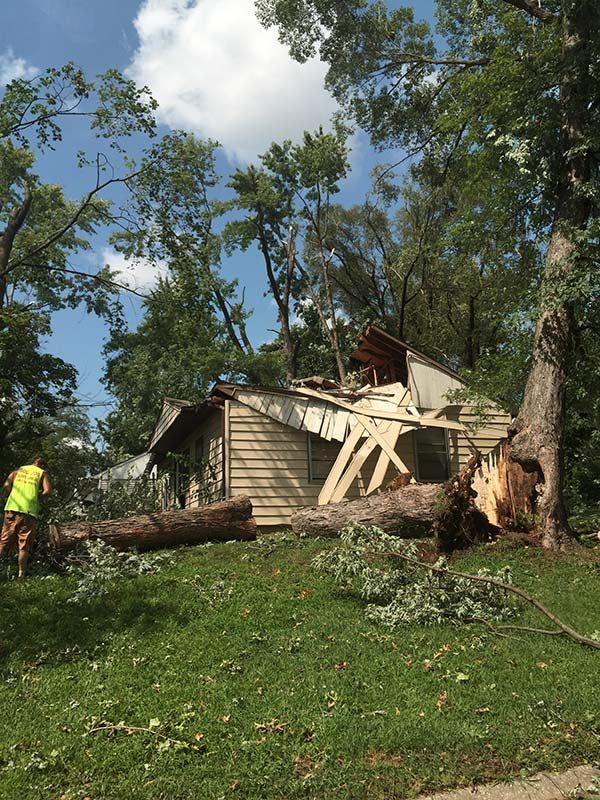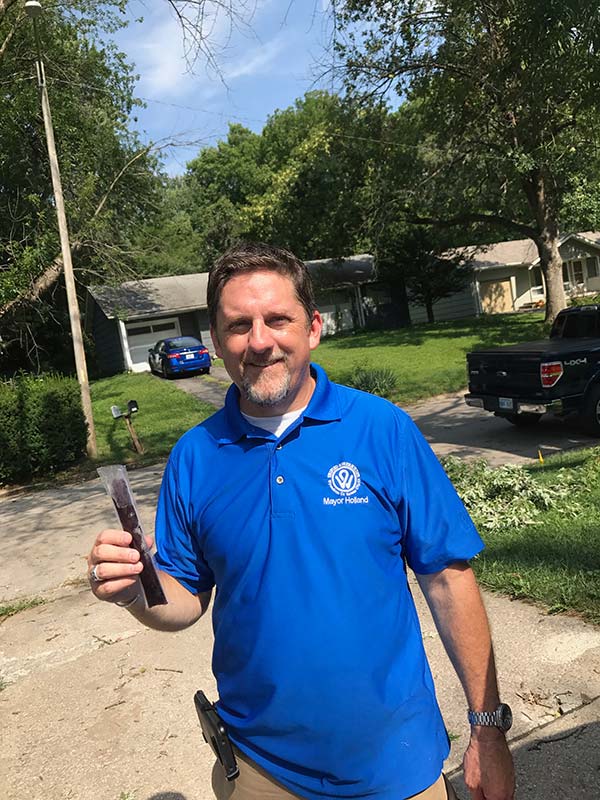 The recipients of Michelle's cool treats included neighbors doing yard work, a new family moving into their subdivision, Kansas City residents who were without power because of the storms, people helping neighbors and strangers with their storm cleanup (in the 102 degree heat) and the mayor of Kansas City, Kansas! The total time it took Michelle to pass out 50 popsicles was approximately 2 hours and the cost was less than $5.
I hope this post proves to you that changing the world is easily attainable. It doesn't take grand acts, money or a lot of time…if we all start showing that we #CareEnough by committing to perform simple, small acts of kindness, we can make a big impact.
Join the #CareEnough Popsicle Challenge!
Won't you join me? I would love to see my #CareEnough Popsicle challenge spread to your part of the country and beyond! Together we can start a movement to spread the popsicle love and make more people smile in the world. Wouldn't that be awesome?
If you participate (please know there is no timeline on doing small acts…just do it when you can), share a photo with me on Instagram, tag @dineanddish and use the hashtag #CareEnough so I can gather all the pictures and share them on Dine & Dish in a future post.
Thank you to Dine & Dish sponsor, Hallmark,  for inspiring this challenge. For more #CareEnough inspiration check out their collection of stories on their webpage.