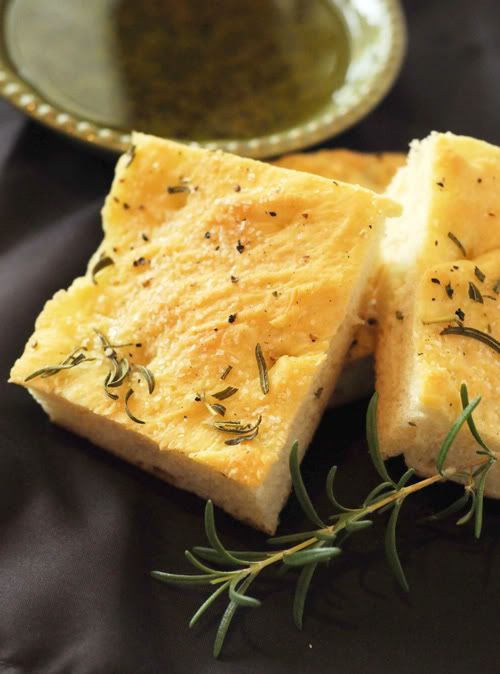 Have you checked out my newest blog, Culinary Snapshot? I hope you will come on over, have a look, and submit your before/after photos! Check out the "behind the scenes" for this photo of Rosemary Focaccia.)

I have always had a love for writing. When I was in 3rd grade my teacher, Mrs Callahan, noticed that I had an interest in writing and gave me the encouragement I needed to want to be better at it. When I was younger, I would spend my summers typing on the typewriter, creating a family newspaper called "The Wogan Word" (Wogan is my maiden name). In high school, it was Mr. Ybarra who told me that I had talent and helped guide me to become a better writer. My plans, for as long as I can remember, were to major in journalism once I went to college.
All it took was one teacher and one very memorable experience to knock me down and change my plans for the future. It was my senior year of high school and "Mrs H" was a full-time substitute in our honors English class. The assignment that would stop my dreams of a journalism degree in its tracks was to write a letter to a spaceship of Aliens telling them how to make a peanut butter and jelly sandwich. Sounds simple enough, right? Well, I wrote my letter and turned it in. The next day in class, "Mrs H" chose to use my paper as an example. She had me stand up and read my paper in front of the class. Apparently I did the assignment all wrong, and as I read, "Mrs H" began following my instructions, dramatically overstating each mistake I made. It was humiliating, I was humiliated and I lost my confidence and love for writing after that one simple assignment. I went on to major in Human Resources in college and completely changed the course of my professional future.
After a very long hiatus from writing pretty much anything, I began writing again a few years ago. I started first with a journal and then began blogging. Soon after, I was hired by a few places to begin writing for them. I began to let the thoughts of that nasty teacher and her rude comments dissolve in my mind and re-acquainted myself to my love of writing.
Bread baking was a similar experience for me. The first two batches of bread I ever made were awful. I clearly remember the second batch, which were clover leaf dinner rolls, turning out hard as a rock. Even our dog wouldn't eat them. Luckily, I wasn't as "fragile" as I was back in high school when I made my first two batches of bread. I continued to try until I got it right. The result is that my family is so spoiled now by all of my homemade bread that often times partially eaten loaves will go to waste.
If you have had a bad experience making homemade bread, don't let a couple of failed attempts keep you from trying again. A great type of bread to help build up your confidence with is Focaccia. It is one of those breads that is quick to put on the table, easy to handle, and great to make. If you have given up on bread baking, dust off your apron and try again. Hopefully all it will take is one successful attempt and you will find out how much you love baking bread.
Rosemary Focaccia (from Cooking Light)
I actually used my bread machine to make the dough for the Rosemary Focaccia. Following the order of my ABM, I put the ingredients in and allowed the dough cycle to do all of the work!
1 1/4 cups boiling water
3 tablespoons chopped fresh rosemary, divided
1 tablespoon honey
1 package dry yeast (about 2 1/4 teaspoons)
3 3/4 cups all-purpose flour, divided
1/4 cup olive oil, divided
1 teaspoon salt
Cooking spray
1 teaspoon water
1 large egg yolk
1 teaspoon sea salt or kosher salt
Combine boiling water, 1 teaspoon rosemary, and honey in a large bowl; cool to 100° to 110°. Sprinkle yeast over honey mixture; let stand 5 minutes. Lightly spoon flour into dry measuring cups; level with a knife. Add 3 1/4 cups flour, 2 tablespoons oil, and 1 teaspoon salt to honey mixture, stirring to form a soft dough. Turn dough out onto a floured surface. Knead until smooth and elastic (about 10 minutes); add enough of remaining flour, 1 tablespoon at a time, to prevent dough from sticking to hands (dough will feel sticky).
Place dough in a large bowl coated with cooking spray, turning to coat top. Cover and let rise in a warm place (85°), free from drafts, 45 minutes or until doubled in size. (Gently press two fingers into dough. If indentation remains, dough has risen enough.) Punch dough down. Pat dough into a 14 x 12-inch rectangle on a baking sheet coated with cooking spray. Cover and let rise 20 minutes or until doubled in size.
Preheat oven to 350º.
Uncover dough. Make indentations in top of dough using handle of a wooden spoon or your fingertips. Combine 1 tablespoon oil, 1 teaspoon water, and egg yolk; brush over dough. Drizzle with remaining 1 tablespoon oil; sprinkle with remaining rosemary and sea salt.
Bake at 350° for 25 minutes or until lightly browned. Remove from pan; cool on a wire rack.
Yield: 14 servings
CALORIES 166 (25% from fat); FAT 4.6g (sat 0.7g,mono 3g,poly 0.6g); IRON 1.7mg; CHOLESTEROL 15mg; CALCIUM 9mg; CARBOHYDRATE 27.1g; SODIUM 335mg; PROTEIN 3.9g; FIBER 1.1g
Disclosure: This blog post contains affiliate links. As an Amazon Associate, I earn from qualifying purchases.