This Eggadilla Breakfast Quesadilla recipe is a simple breakfast for those mornings on the go!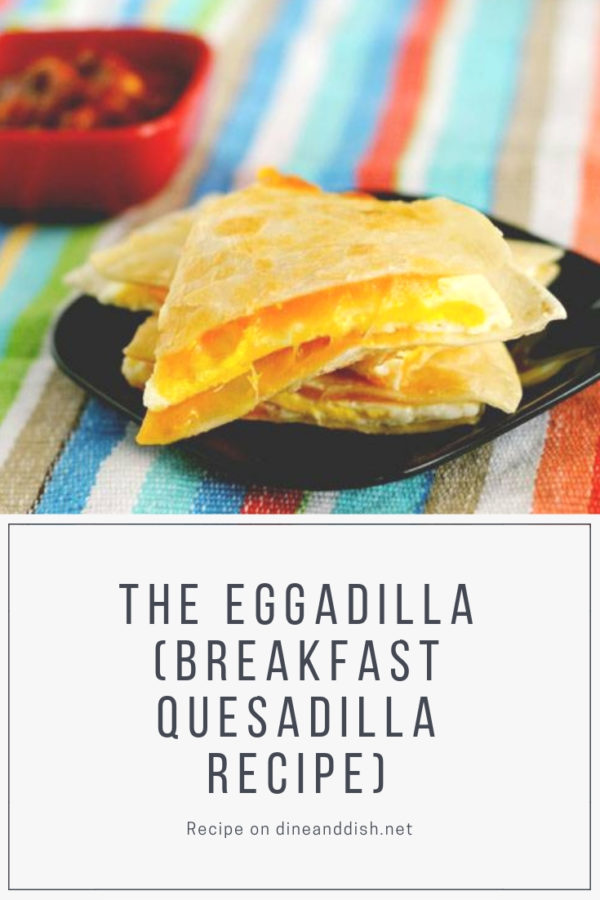 I am typically an early riser. Not necessarily because I want to be but because I have been forced to be by a husband who chooses to go to work at 5:30am and kiddos who somehow inherited some insane early rising gene. Why is it that even when they go to bed late, they still wake up early? No matter how late we tuck them in at night, they are up and at 'em by 6:00am.
Changes are happening around here though, and I'm excited about it! For the past couple of weeks, we have become a bunch of lazy morning people. We have been playing so hard during the day that my kids are now not rolling out of bed until 7:30 or 8am. It has been heavenly to be able to catch a few more moments of sleep before starting the day, especially since the baby seems to really like my company in the middle of the night.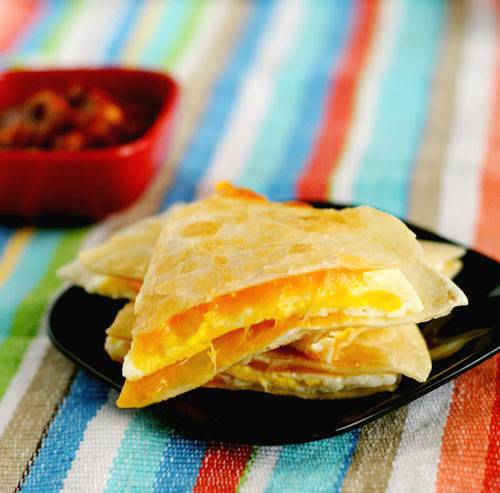 Now, when they wake up, they come into my room, climb up in my bed and it seems like we collectively just spend too long of time oogling over Leah. (It is so neat to see how much the big kids love her!) We watch her sleep, we watch her when she's awake, and before we know it, another hour or so has zoomed by. By the time we shower, get dressed and roll downstairs for breakfast it is at least 9:30!
Like I said the other day, I am trying to plan out our breakfast and lunches a little better. When I saw this recipe for this Eggadilla Breakfast Quesadilla in the Sunday newspaper edition of Relish Magazine, I knew it would be a great recipe to serve for lunch or breakfast. It is so easy it fits our new lazy lifestyle. In fact, I think the simplicity of the recipe will match perfectly for when  reality hits and we have to start waking up again to be someplace early in the morning. It is easy enough to make during those hectic morning hours. For now, however, I don't even want to think about those days because they will be here all too soon. We are going to sit back and enjoy the lazy days of summer!
Eggadilla Breakfast Quesadilla Recipe is from Relish Magazine
Eggadilla Breakfast Quesadilla Recipe
The Eggadilla is a Breakfast Quesadilla Recipe you'll want in your life as soon as possible!
Ingredients
1/2

teaspoon

extra-virgin olive oil

2

eggs

1

egg white

2

8-inch or 10-inch flour tortillas

1/2

cup

shredded Cheddar cheese

Salsa

optional

Diced avocado

optional
Instructions
Heat a nonstick sauté pan, big enough to fit tortillas, over medium-low heat. Add oil. Add eggs, breaking yolks. Cook until eggs are set enough to flip, about 2 minutes. Flip; cook until eggs are done (over-hard), about 2 minutes. Transfer to a plate. Wipe out pan.

Return pan to heat and increase heat to medium. Place one tortilla in pan. Sprinkle on half the cheese. Place cooked eggs over cheese. Top with remaining cheese and tortilla. Cook until bottom tortilla is a little brown and cheese starts to melt, 1 to 2 minutes. Flip with a spatula and brown the other side. Remove from pan. Transfer to cutting board. Cool 1 minute. Slice into wedges. Serve with salsa and diced avocado if using. Serves 2.