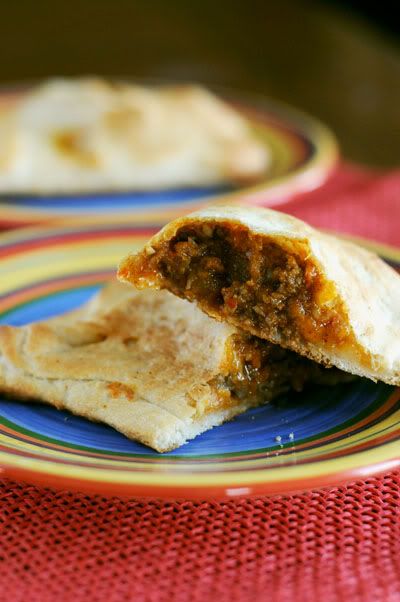 Holy cow – I am having a baby in less than 7 weeks!
I took these Calzones to a friend of mine this evening who recently had a baby, and while I was there it hit me… I'm pregnant and I am going to have another kid in the house before I know it. Of course, I know that I am pregnant… it is a little obvious by the bulging tummy, swollen ankles, and all of those other lovely things that come with pregnancy. It honestly hasn't hit me until today though how soon this baby is going to be here! My other kids were 2-3 weeks early, so there is a distinct possibility that our newest addition could be here in a months time.
We got rid of everything baby and maternity related after Ella was born because we honestly thought we were done having kids. Now that this little blessing has come into our life, we are basically starting over in the baby department.
I was thinking back to everything we registered for when I was first pregnant with Jacob, my now 7 year old. We had everything, from the wipes warmer to the diaper genie (sooooo gross!!) to the little blanket that had velcro and burrito swaddled the baby for you. The first time we used the wipes warmer, we noticed a burning smell coming from his room. The wipes warmer warmed a little too much and our wipes were dry and burnt. From that point on, the poor little bambino had to have cold wipes on his bum… and guess what? He survived.
Little Leah Katherine is going to have to get by with the bare minimum. I'm thinking at the very least a car seat. Maybe some clothes and a bassinet, although a really cushioned laundry basket might do the trick (Kidding!).
I am getting prepared in the food department, which seems to be a fairly common theme for me (remember vacation preparation?). Tonight I ended up making a triple batch of these Calzones. Took one batch to my friend, served one batch to my family, and freezed a batch for after the baby is born. I have double batched a couple of other meals to have on hand once our world is rocked with the arrival of baby number four.
If you have any great freezer meals, would you send the recipes my way? Also, what do you think is absolutely essential to have when baby comes home? I would love to know what product you couldn't live without when it comes to your little ones.
Calzones can be so versatile. Here are some other combinations food bloggers love:
Recipe: Tex Mex Calzones
Tex-Mex Calzones (from March 2009 Issue of Cooking Light Magazine)
Ingredients
8

ounces

ground turkey breast

1/2

cup

chopped onion

1/2

cup

chopped green bell pepper

1/2

cup

chopped red bell pepper

3/4

teaspoon

ground cumin

1/2

teaspoon

chili powder

I also added 1/4 of a packet of Chili Seasoning to give it a bit more flavor

2

garlic cloves

minced

1/2

cup

fat-free fire-roasted salsa verde

1

11-ounce can refrigerated thin-crust pizza dough

3/4

cup

3 ounces preshredded Mexican blend cheese

Cooking spray

Salt to taste
Instructions
Preheat oven to 425°.

Heat a large nonstick skillet over medium-high heat. Add ground turkey to pan; cook 3 minutes, stirring to crumble. Add onion and next 5 ingredients (through garlic) to pan; cook 4 minutes or until vegetables are crisp-tender, stirring mixture occasionally. Remove turkey mixture from heat; stir in salsa.

Unroll dough; divide into 4 equal portions. Roll each portion into a 6 x 4–inch rectangle. Working with one rectangle at a time, spoon about 1/2 cup turkey mixture on one side of dough. Top with 3 tablespoons cheese; fold dough over turkey mixture, and press edges together with a fork to seal. Place on a baking sheet coated with cooking spray. Repeat procedure with remaining dough and turkey mixture. Bake at 425° for 12 minutes or until browned. Serve with sour cream.