Maple Pecan Waffles are a sweet and indulgent brunch, topped with toasted Fisher Nuts Pecans and perfect for Mother's Day!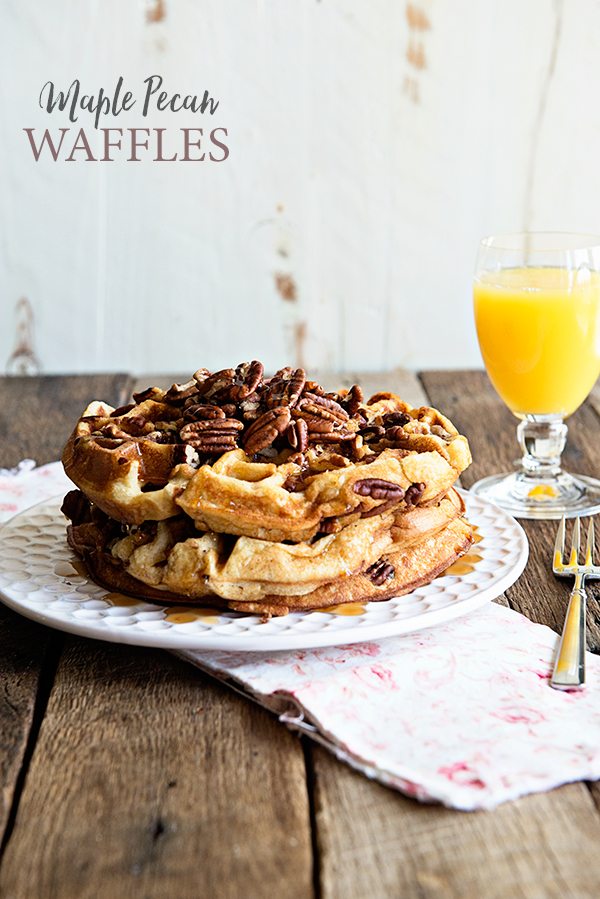 Brunch…it's one of my absolute favorite meals. I wonder if that's why brunch is such a popular thing to do on Mother's Day? Is it because brunch gives mom enough time to sleep in while their family makes a brunch time feast? That's not the way it is around here, but maybe my kids are just Mother's Day slackers.
I'm kidding. My kids do a great job with Mother's Day, but a fancy brunch feast isn't usually a part of their plans (unless you count toast and grapes with peanut butter on them fancy). If I want brunch on Mother's Day, the options are to either head to the nearest restaurant, or make it myself. It's a good thing I love to cook, because making my own Mother's Day brunch doesn't seem like such a chore. In fact, cooking up a big, mid-morning meal for my family is one of my favorite things to do, Mother's Day or not!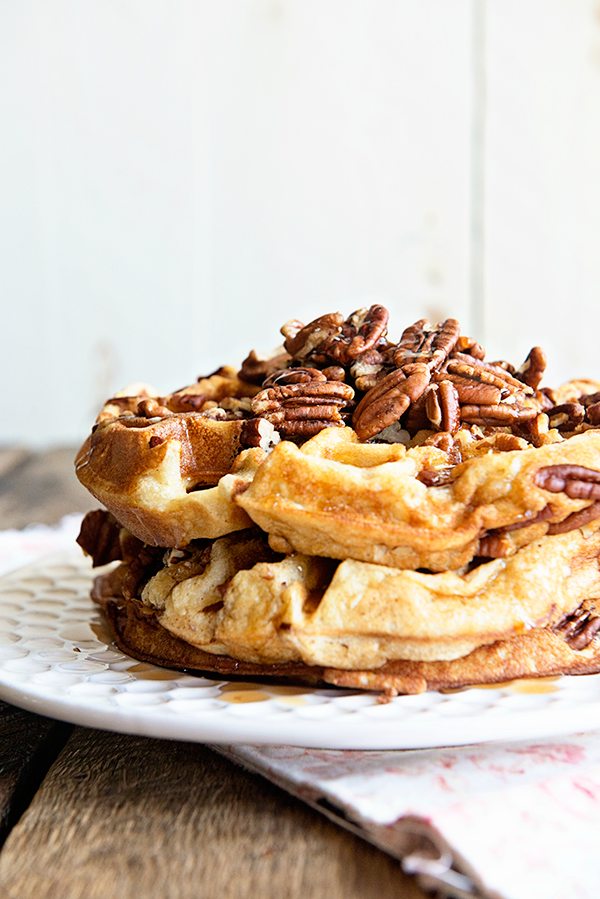 Friends, these Maple Pecan Waffles are just the addition to Mother's Day Brunch you need. They are light, fluffy, sweet and nutty…they are my brother's favorite waffles amped up for a special occasion.
What makes these waffles extra special is the addition of toasted Fisher Nuts pecan halves – and the toasting gets done right on the waffle iron, so that makes it extra simple too! If I had to make these waffles for my family for my own mother's day brunch, I wouldn't be sad. In fact, since I know that the end result to my labors is a fluffy and delicious waffle, full of sweet and nutty flavors, I'd be up and ready to make them in a heartbeat. Happy Mother's Day to me, indeed!
If you want to toast additional pecans for garnish, this toasted pecans recipe will do the trick!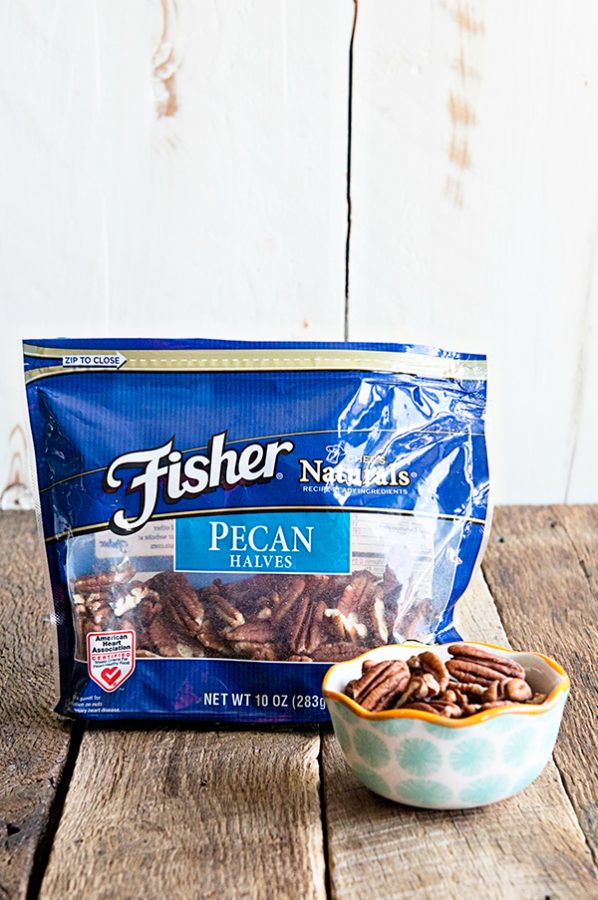 I choose to work with Fisher nuts because it is one of the only brands of recipe nuts entirely without preservatives. If you are inspired by this Maple Pecan Waffles recipe and want to search for other recipes featuring Fisher Nuts preservative free baking nuts, head to their website which is full of great recipes for Mother's Day or any other day of the year.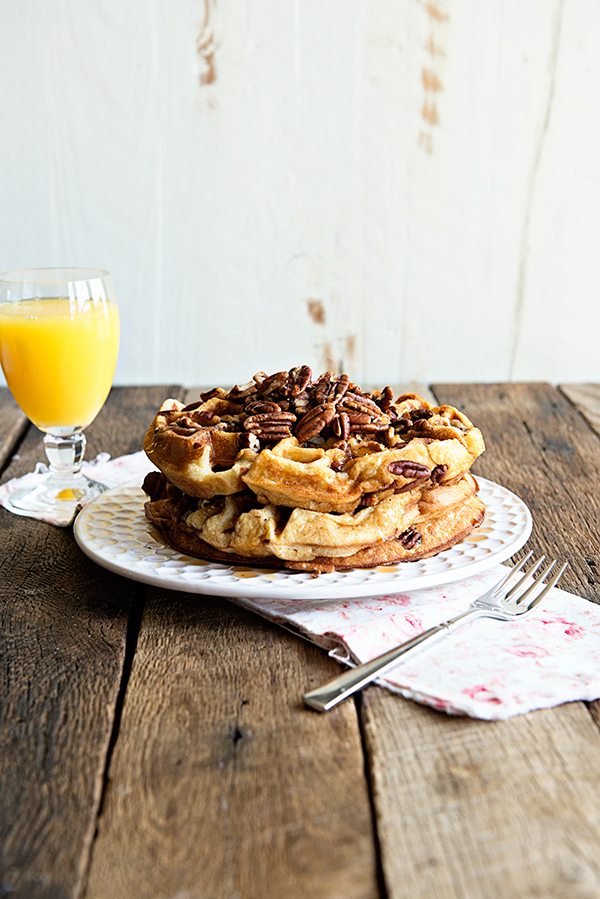 Maple Pecan Waffles Recipe
A sweet and nutty waffle recipe. A perfect addition to your brunch time feast!
Ingredients
2

stiff

beaten egg whites

4

Tablespoons

sugar

1 3/4

cup

all purpose flour

3

teaspoons

baking powder

1

teaspoon

salt

2

beaten egg yolks

1 1/4

cup

milk

1/4

cup

pure maple syrup

1/2

cup

vegetable oil

3

Tablespoons

butter

divided

2

cups

Fisher Nuts Pecan Halves

coarsely chopped

Additional Fisher Nuts Pecan Halves and maple syrup for topping
Instructions
Beat egg whites until stiff. Beat in sugar and set aside.

Combine together flour, baking powder and salt.

In a separate bowl, combine egg yolks, milk, oil and maple syrup. Beat in dry ingredients. Add oil and beat until well blended.

Fold in the egg whites. Do not over mix, but make certain the egg whites are evenly distributed in the batter.

Preheat your waffle iron.

For each waffle, melt a small pad of butter onto the waffle iron. Add 1/4 cup pecans (or a generous handful) to the waffle iron. Close and allow pecans to toast for 2 minutes. Open the lid and add the amount of waffle batter your waffle iron recommends (typically 1/4 cup - 1/2 cup batter). Close and allow to cook until done, approximately 4 minutes. (Time may vary depending on your waffle iron.)

Carefully remove the cooked waffle, and place on a pan, pecan side up, to warm in the oven until all of the waffles are cooked.

Place leftover Fisher Nuts Pecan Halves for garnish onto the waffle iron with melted butter. Toast for 2 minutes.

Top cooked waffles with extra toasted pecans and maple syrup.
This is a sponsored conversation written by me on behalf of Fisher. The opinions and text are all mine.