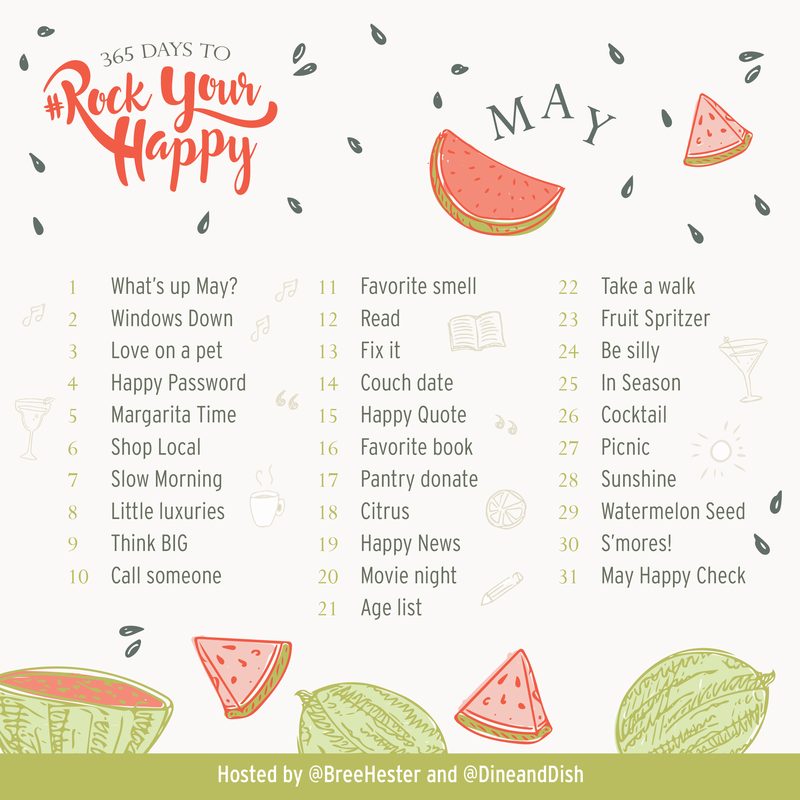 May 1st – What's up, May?
Happy Tip (HT) – Spend today reflecting on how you'll make this the best May yet. Goal setting and vision boarding, are great ways to make some plans for the month!
May 2nd – Take a drive with your windows down, radio up!
(HT) Let this song inspire your drive!
May 3rd – Love on a pet…yours, a neighbors or even one at a pet store!
(HT) Can pets make you happier? Having a pet certainly has lots of happy benefits!
May 4th – Happy Password. Change your password to something positive and happy!
(HT) All of my passwords have something to do with happy times. It's certainly more fun than typing in $139#AC8b2.

May5th – Margarita Time
(HT) Enjoy some happy times on the patio with a margarita mocktail or cocktail. Both of these recipes are awesome. 
May 6th – Shop Local
(HT) Skip the big box stores and visit some of the small town businesses in your town today! Etsy has a great Shop Local store finder.
May 7th – Slow Morning
(HT) Take it easy and enjoy a nice, slow morning. There are a lot of benefits to enjoying a slow morning every once in awhile!
May 8th – Little luxuries. What are some little things that bring you joy that don't cost a lot of money.
Happy Tip (HT) – I love colorful pens, it makes me happy to write lists in happy and bright colors. Fresh flowers and candles also are little luxuries that bring me joy.
May 9th – Think BIG! What big dream have you dreaming about? Write it down.
(HT) Read this and go an extra step and write down things you can do right now to help you achieve that dream.
May 10th – Call someone. Pick up the phone and have a real conversation.
(HT) Need some inspiration? Watch this.
May 11th – Favorite smell – what's your favorite smell? Can you bring it into your home?
May 12th – Read. Grad a beach read, magazine, anything and take some time to just read today.
(HT) A few current reads that we enjoyed:
Bree's current reads – At Home in the World. Maine. 
Kristen's current reads – This Is How It Is, A List of Cages
May 13th – Fix it. Is there something that needs to be fixed and you just haven't done it? FIX it!
(HT) Reward yourself for a job well done. Maybe a mani or a nice bottle of wine?
May 14th – Couch date. Cuddle up with a blanket and Netflix
(HT) My favorite blanket is similar to this one. It is light and breathable and super easy to wash.
May 15th – Happy Quote. Find a quote that makes you happy. Think of it as your happiness mantra!
Happy Tip (HT) – This quote guides me every single day!
May 16th – Share a book. Share your favorite book with someone who you think will enjoy it.
(HT) This book changed my life. I always keep multiple copies on hand to give to people!
May 17th – Pantry Donate. Find items in your pantry to donate to someone in need.You'll help someone else and straighten up your pantry at the same time!
(HT) Here's a great list of most needed food items to get you started.
May 18th – Citrus – d a lemonade, add some lemon to your water, eat a lemon bar.
May 19th – Happy news. Read only happy news today!
(HT) This is my favorite source for happy news.

May 20th – Movie Night. Put on an old favorite or enjoy a new one.
(HT) Have you seen these happy, feel good movies?
May 21st – Age List. Make a list of things you want to do before you turn a certain age.
(HT) Check out this list for inspiration!
May 22nd – Take a walk somewhere new. Explore a new trail, park, or area of your town.
Happy Tip (HT) – We like to walk while listening to a good book. We are both fans of this service. Whispersync is the best thing that ever happened to me.

May 23rd – Cool off and make yourself a fruit spritzer!
(HT) – Here are some ideas to get you started. Pineapple and mint is my fave combo.
May 24th – Be silly!
(HT) Have a kitchen dance party, have a joke-a-thon with your kids, eat ice cream for dinner. Anything fun and out of the ordinary.
May 25th – In Season. Cook with something in season.
May 26th – It's Friday of a holiday weekend! (It's Memorial Day weekend in the ??.) Have a cocktail or mocktail to celebrate!
(HT) The first beach weekend of the summer must have these.

May 27th – Picnic! Plan a picnic to share outside, or one to have on your carpet. Kids LOVE a picnic!
(HT) Here is some inspiration for your picnic recipes. 
May 28th– Get some Vitamin D. Sit in the sunshine and soak up some rays.
(HT) I have had my eye on these beach towels. I might need to splurge and grab one.
May 29th – Watermelon Seed – a fun way to be silly and have some summer fun is to have a watermelon seed spitting contest!
Happy Tip (HT) – Watermelon seed spitting is serious stuff in Texas. Check out how to spit watermelon seeds from real pros!

May 30th – Make s'mores!
(HT) – Even if you don't have a fire, you can still make s'mores! Here's a great recipe to get you started.
May 31st – May Happy Check – reflect on what made you happy this month!
Kristen – we had the busiest but best last day of school, ever! I love full days with friends and fun!
Bree – We made it through the move and are out of our house. We worked so hard and it went off without a hitch. Thanks to great movers and my husband was a rock star.
Feel free to follow us on Instagram (We will post a picture or share about it in an Instastory every day) and use the hashtag #rockyourhappy2017. You can find Bree at @breehester and Kristen at @dineanddish(make sure to tag us both in your shares).
Don't use social media? No worries! Just know that we are supporting you and encouraging you from afar. You can also hit reply to this email and let us know how it's going. We'd love to hear from you.
It's never too late to join in the 365 Days to Rock Your Happy movement. Send the sign up link to a friendand spread the happiness!