A recipe for Meringue Kisses, a lighter alternative to those high calorie sweets and treats! Plus the Dine & Dish weekly menu plan.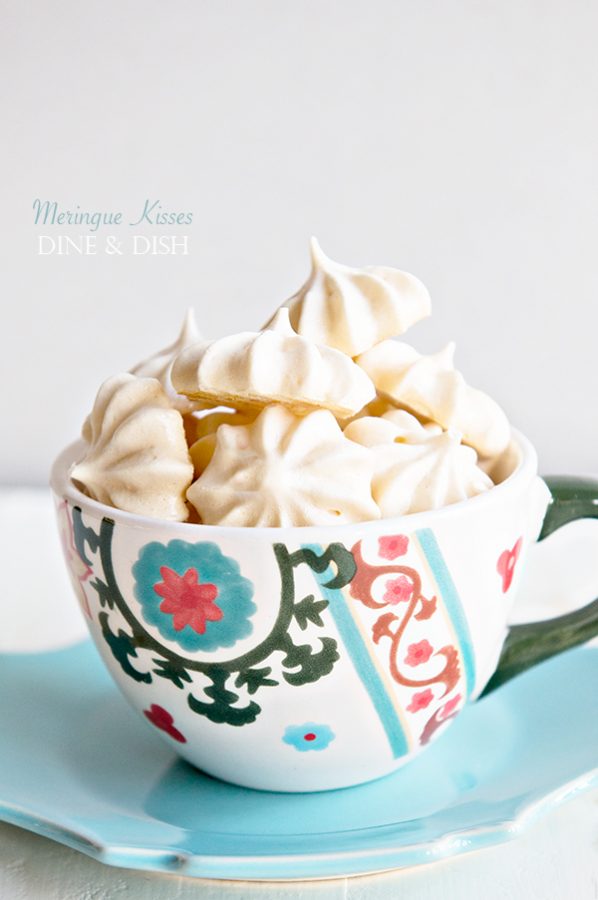 I was really proud of myself over the Thanksgiving break because even though I was out of town at my brother's house, I tracked down a Weight Watchers meeting and went to it.
I kind of wish I wouldn't have now because, friends… I was UP 5.6 pounds this week! Yes. My very first week I was down 5.6 pounds, then down an additional 1.6 pounds week 2 and on week 3 (the meeting after Thanksgiving) I was up 5.6 pounds. It was kind of crazy that I was up the exact same amount I was so excited about losing that first week. Ugh. This is going to be such a long, hard journey, isn't it?
I know exactly what I did wrong. I only went to the gym 2 days last week and I didn't track a single bite I put into my mouth. Instead, I ate with wild abandon as one should on Thanksgiving, right? It's too bad my sister-in-law is such a great cook. I'm going to blame all 5.6 pounds on her 🙂
The great news is it's a new day and a new week. I went to the gym as soon as we got back into town and plan on tracking like crazy all week. Those two elements are key for me… I can't be mindless about what I put in my mouth and I must find some way to move my body each day. So today, on this start of the Christmas season, I am very thankful for the ability to hit a reset button and get back on track.
If you suffer from "I can't be around sweets without eating said sweets" syndrome, I have a great Meringue Kisses recipe for you! Meringue Kisses are like eating sweet little bites of candy land air. They are made from egg whites, sugar, vanilla and cream of tarter. They are one of my favorite indulgences, even though eating a few of them is actually not too bad.
Meringue Kisses are not nearly as calorie laden as a cookie or slice of pie! They are also really easy to make, despite the long cooking time. I wanted to share this recipe with you today because I know that it is the season of sweets and parties… if you take these Meringue Kisses as your contribution, you'll have something sweet to snack on without the guilt! Enjoy!
(PS – I shared a chocolate dipped version of the Meringues over on the Shari's Berries blog! Make sure to check that out too!)
The recipe is below, but first I wanted to share with you what is on our menu for the week!

That's it for our menu for the week! I'd love to know what you'll be cooking this week! Leave a link to your recipes in the comments section below!
Meringue Kisses
A simple and light dessert recipe, meringue kisses are an indulgent treat without the guilt!
Total Time
2
hours
10
minutes
Ingredients
3

egg whites

¼

teaspoon

cream of tartar

4

tablespoons

sugar

½

teaspoon

vanilla

1

dash salt
Instructions
Beat egg whites and cream of tarter on high in the bowl of an electric mixer until foamy. Beat in sugar, 1 tablespoon at a time; continue beating until stiff and glossy and stiff peaks form. Do not underbeat.

Beat in vanilla and salt.

Preheat oven to 200°.

Spoon meringue into a pastry bag fitted with a star tip and pipe 1-inch rounds onto a parchment-lined cookie sheet. Bake for 2 hours.

Once cooked, remove from cookie sheet and set on parchment paper until cool