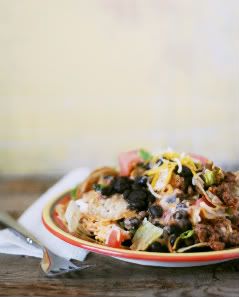 I have decided to make Giveaways on my blog a regular thing. I have scooped up some really great "foodie" items, so stay tuned for more! Until the next giveaway, head over to THIS post to enter to win the Honey I'm Home apron from the Simply Aprons etsy store. Deadline to enter is 11pm CST on Friday, May 9th!

I know I have said it before, but I have a wonderful husband. He is kind, generous, caring… if I want something, he usually gets it for me. Kind gestures are plenty. When it is chilly outside, he will bring me my robe and towel… straight out of the warm dryer so I can step into it after my shower. If I have one of my typical fountain drink cravings (has to be from certain gas stations, certain ice, certain cups…), he kindly humors me and picks me up a soda from one of the few places that meet my very picky standards. He does the laundry, helps clean up after dinner, is a wonderful dad, and is an all around great guy.
So each and every week my husband does kind things for me, and how do I return the favor? By continuing to have some version of tacos on our menu. Great for me! I love tacos! Hubby? Not so much. Since the beginning of our marriage, hubby has made it very clear his detest for tacos. He doesn't like raw tomatoes, he hates just about any kind of bean, sour cream and guacamole. He is one of the few people in the world who doesn't go crazy for Mexican food or even Tex-Mex. I, however, love all things Tex-Mex and Mexican and so do my kids. This is why on a weekly basis, some form of taco type dish hits our dinner table. You really can't find anything easier that is as filling as tacos.
Every week, hubby sits down to dinner with a sigh and struggles through yet another taco meal. What can I say? He is so much nicer to me than I am to him. As the youngest of five, I have a bit of a selfish streak and I don't believe I should eliminate making what I like for dinner just because he doesn't like it.
Three Step Taco Salad (Cooking Light Magazine, July 2003)
If you are on the "I like tacos" side like me, then let me share this quick and easy (plus light!) taco salad recipe from a back issue of Cooking Light magazine. If you don't like tacos, tough! You can just sit there and pout while the rest of us enjoy.
Ingredients
1

pound

ground sirloin

1

1.25-ounce package taco seasoning

3/4

cup

water

2/3

cup

fat-free sour cream

2/3

cup

bottled salsa

8

cups

shredded iceberg lettuce

4

cups

4 ounces bite-sized baked tortilla chips

2

cups

chopped fresh tomatoes

drained

1

cup

4 ounces shredded reduced-fat sharp cheddar cheese, divided

1

15-ounce can kidney or black beans, rinsed and drained

1/2

cup

sliced ripe black olives

I omit
Instructions
Cook the beef in large skillet over medium-high heat until browned, stirring to crumble. Stir in taco seasoning and water. Reduce heat, and simmer 5 minutes, stirring occasionally.Combine sour cream and salsa in a small bowl.

Combine the beef mixture, iceberg lettuce, tortilla chips, tomatoes, 1/2 cup cheese, and beans in a large bowl. Drizzle the sour cream mixture over the salad, and toss gently. Sprinkle with 1/2 cup cheese and black olives. Serve immediately.
Notes
Yield: 10 servings (serving size: 2 cups)