National Caramel Day is April 5th. Join Werther's Original as we solve the "Great Caramel Debate" and enter for the chance to win a supply of Werther's Original candy!
Friends, during my more than 10 years of blogging, it is this moment that were my Grandpa still alive he'd say I hit the big time! I've partnered with Werther's Original to help solve the "Great Caramel Debate". National Caramel Day is April 5th and we want to know…is it "Kar-muhl or "Ker-uh-muhl" to you?
Before we get into the debate, let me tell you a little story about my Grandpa Hudiburg. He had the most amazing farmhouse and a constant stash of rare Werther's Original candy hidden in a very special place in his house. He once shared his secret place with me – inside his big butlers pantry off his kitchen. As a young girl, as soon as we'd get to Grandpa's house I'd sneak away from the rest of my family, head into the pantry, climb up on the step stool, then the countertop and reach into a glass bowl to grab a  Werther's Original candy.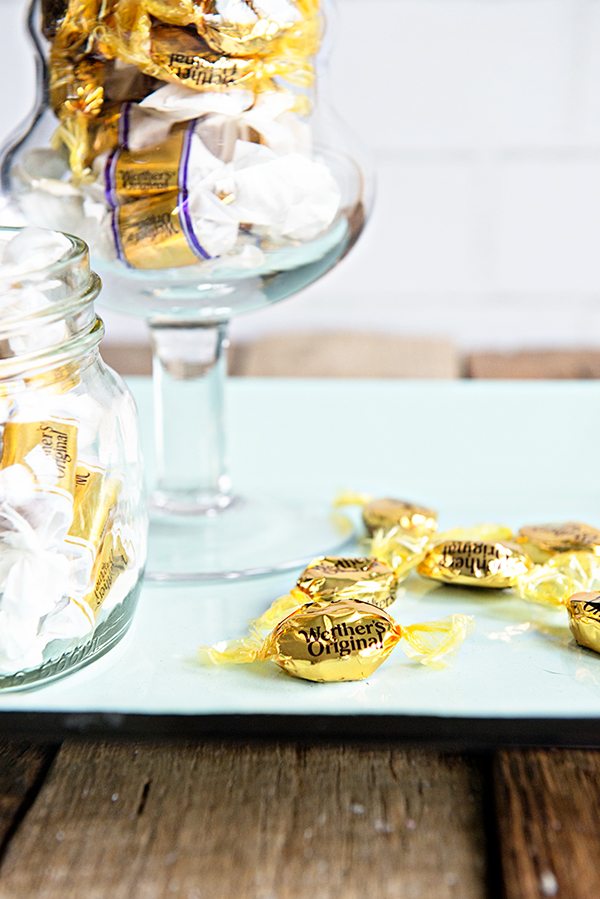 Of course, I thought my grandpa favorited me because he shared his special hiding spot. Little did I know, my siblings and all my cousins were privy to the hiding spot as well. We just all assumed the others didn't know! To this day I can't have a Werther's Original without thinking of my Grandpa Hudiburg.
Naturally, as a lover of Werther's Original, I couldn't let National Caramel Day go by without taking part in the "Great Caramel Debate". Werther's Original is asking Americans whether they pronounce the sweet treat Ker-uh-muhl or Kar-muhl to end the debate once and for all!
When the debate is finalized, the town of Carmel, Indiana will celebrate by changing their name to Caramel for the National Caramel Day celebration on April 5th. If you are lucky enough to live in or near Carmel, Indiana, you can join in on the National Caramel Day fun. Events will include fun and games, caramel treats and plenty of prizes, including a one-year supply of Werther's Original plus a Carmel, Indiana prize package for the person who guesses how many caramels are in a giant bowl on display. I'm thinking April 5th might need to be a road trip day to Caramel, Indiana!
Werther's Original Giveaway
I decided it wasn't fair for Carmel, Indiana to have all the caramel fun! I'm going to give one lucky Dine & Dish reader 2 34-ounce bags of Werther's Original Hard Candy. All you have to do to enter is leave a comment here on Dine & Dish telling me if you pronounce Caramel Kar-muhl or Ker-uh-muhl . In additional, let me know where you're from because I'm curious if it could be narrowed down by where we all are geographically and how we pronounce caramel. Leave your comment on this post by midnight on Friday, April 7th. Winner will be chosen at random and notified via a valid email address the next day.
For those who are curious, for me it's Kar-muhl all the way but I think that's a midwest thing. Ker-uh-muhl seems like a fancy way to say it. Either way these sweet treats are pronounced, there is no debate needed around the fact that Werther's Original are amazing and delicious!
You can now find Werther's Original at retailers nationwide in several varieties, from hard, chewy, soft and filled caramels, to sugar-free caramels and even caramel popcorn. Make sure to follow Werther's Original on Facebook and follow the #GreatCaramelDebate hashtag on social media to stay in tune with the results!
Happy celebrating!
Disclosure: Although the giveaway is provided by me, this post is a sponsored post written on behalf of Werther's Original. All opinions expressed are my own. Thanks for reading and supporting the great clients that help make Dine & Dish possible!