My friend Angie came over yesterday to make our annual cookie plates. Several people who make cookie and goodie trays for friends and neighbors during the holiday's spread it out over the course of several days. Not Angie and I. We decided this year that we would knock it all out in one afternoon. Now, I've come to the conclusion that we are crazy. When we have participated in this tradition in the past, we didn't have this many kids. Yesterday it was Angie, myself, my 3 children, and her 3 children. Picture this… 6 kids under the age of 4 and the mom's attempting to actually get stuff done.
We made a double batch of chocolate peanut butter star cookies, santa's surprise cookies, haystacks, gingerbread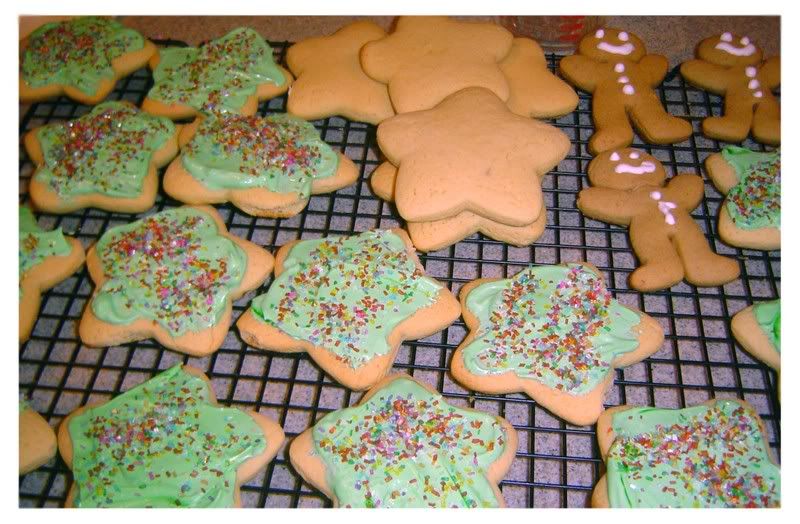 men and cut out sugar cookies with royal icing. We had planned on decorating our cut out cookies, but in the end decided just to frost and sprinkle. All of the goodies turned out beautifully, but Angie and I were completely spent by the time we were done. Between baking, caring for all 6 of the kids, nursing a huge headache from our party the evening before and cleaning up, we were quickly running out of holiday cheer.
Here's our plan for next year… the dad's are going to take the kids to one house while Angie and I spend the day doing our baking at the other house. We've also decided to add some margarita's or hot chocolate and Bailey's into the tradition. That should keep the holiday cheer churning right along.
One week ago today I dished about the Coolest Cupcake Courier
In our Family Blog I dished about Angels Among Us