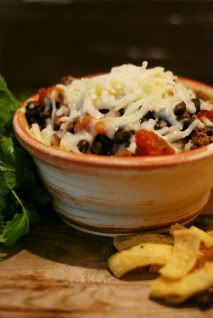 The weather here in Kansas City is finally gorgeous. We have been having sunny, mid 70 degree days. Those of you who have been with me for awhile know how thrilled this makes me. I have made no secret of my detest for winter, so finally having days that are as close to perfect as I think we get in Kansas just makes life all the better!
Yesterday we spent the entire day..from sun up to sun down, outside. The kids played and played and played. We all got our first sunburns of the season (apparently a requirement with fair haired, fair skinned kiddos) and came inside at the end of the day absolutely exhausted.
So, on days like this, what does everybody crave for dinner? What is the official meal of carefree spring days? How about a big, steaming bowl of hot chili? No?? Yeah… chili in 70 degree weather is just about as much of a perfect match as Star Jones and Al Reynolds… which is not a match at all.
Being the rule breakers that we are, our family did enjoy big steaming bowls of chili for dinner. The reason being I have had this recipe from the March 2008 issue of Everyday with Rachael Ray bookmarked for quite some time and I couldn't stand the thought of waiting until winter comes along again to give it a try.  It won the magazine chili cookoff and for very good reasons. This chili is hearty, robust and soooooo good. I think it just might be our new go to beef chili recipe.
Tex-Mex Corn Chip Chili (March 2008 issue of Rachael Ray Magazine)
If you are happily kissing winter goodbye, but want to savor one or two more comforting recipes from the winter months, I say go for it. It just gives you that much more to look forward to trying again when the colder months return.
Ingredients
2

tablespoons

extra-virgin olive oil

1

lb

lean ground beef

1/2

sweet onion

finely chopped

1

garlic clove

finely chopped

1

tablespoon

chili powder

1

teaspoon

ground cumin

1

15 ounce can black beans

1

15 ounce can pinto beans

1

10 ounce can tomatoes and green chilies

salt and pepper

to taste

1/2

cup

chopped fresh cilantro

12

ounces

monterey jack pepper cheese

shredded

1

10 ounce bag corn chips, such as Fritos
Instructions
In a Dutch oven, heat the olive oil over medium-high heat. Add the beef and cook for 7 minutes. Add the onion, garlic, chili powder and cumin and cook over medium-low heat for 5 minutes. Add the beans, with their liquid, and the tomatoes; bring to a simmer. Cook, stirring occasionally, until thick, about 15 minutes. Season with salt and pepper.

Stir in the cilantro, then top with the cheese, cover and let stand until the cheese melts, 5 to 10 minutes. Place a handful of corn chips in each of 4 bowls. Top with the chili and serve.
Recipe Notes
45 min | 10 min prep | SERVES 6