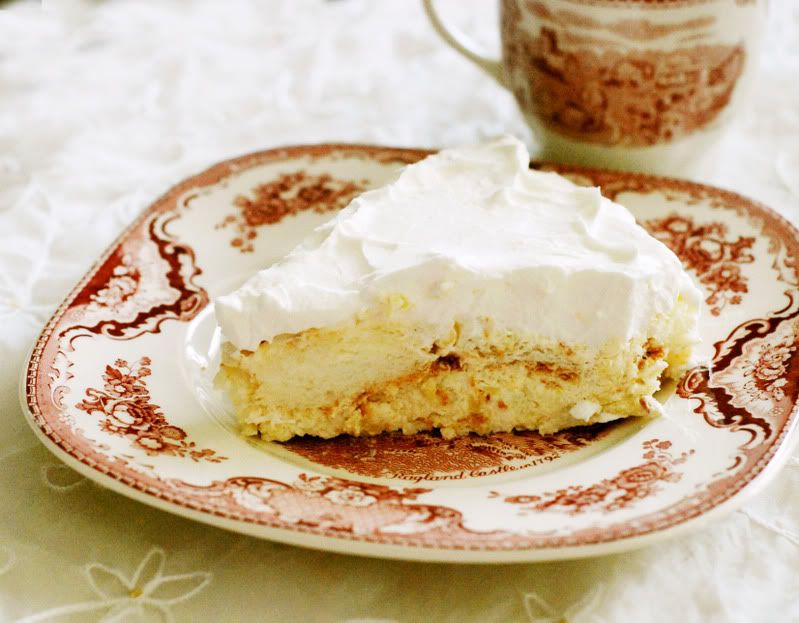 I had torn up my "Final Notice" subscription renewal form from Gourmet magazine. I had convinced myself that I no longer needed to see the magazine monthly and that not renewing my subscription would be one small step I could take towards budgeting in the new year. The truth is, I haven't been overly crazy about the past few issues of Gourmet. They left me uninspired and uninterested. It was disappointing because in the past, Gourmet had been one of my favorite cooking magazines.
I was ready to say goodbye to Gourmet…this was until the January 2008 issue showed up in my mailbox. What was to be my final issue of Gourmet completely made me change my mind about not renewing my subscription. The January 2008 issue is all about "What is Southern?" and it is jammed pack full of recipes that I have earmarked to try. From the Brandied-Peach Pork Chops and the Potato Casserole to the Buttermilk Cookies and the Mile High Chocolate Cake… this issue of Gourmet magazine brought me back to the reasons I subscribe. Great recipes that produce amazing results.
So far, I have given two of the recipes a try. The recipe for the Caramel Cake was incredibly simple to make and it was definitely company worthy.  The other recipe that I tried, the Savannah Cream Cake, was beyond compare to anything else I have ever made. It is a rich and delicious dessert with a unique flavor that keeps you coming back to sneak another bite.
If you gave up on Gourmet before this January issue came out, you will be sorry. Head to the newstands today and pick up a copy…budgeting can wait 'til next year.
SAVANNAH CREAM CAKE (from the January 2008 issue of Gourmet magazine)
Perfect dessert for a summer night outside or a winter party.
Ingredients
INGREDIENTS:
1/2

C.

plus 1 TBS. cake flour

not self-rising

1/4

tsp.

grated nutmeg

3/4

C.

sugar

divided

6

large egg whites

1/2

tsp.

cream of tartar

1/4

tsp.

salt

1/2

tsp.

pure vanilla extract
FOR SHERRY CUSTARD
1 1/2

tsp.

unflavored gelatin

from a 1/4 oz. envelope.

1/4

C.

plus 2TBS. water

divided

2

large egg yolks

1/4

C.

cream sherry

1/4

plus 2TBS. sugar

divided

1

C.

heavy cream

2

tsp.

pure vanilla extract

FROSTING

1

C.

chilled heavy cream

2

TBS.

sugar
EQUIPMENT
a 10 x 4 1/2 inch

16 cup tube pan( preferably with a removable bottom)

a 9 inch springform pan
Instructions
Pre heat oven to 350 with rack in middle. Sift together flour, nutmeg, and 1/4C. sugar 3 times. Beat egg whites in a large bowl with an electric mixer until frothy, then add cream of tartar and salt and continue beating until whites barely hold soft peaks. Beat in remaining 1/2C. sugar, 2TBS. at a time. Add vanilla and beat until whites just hold soft peaks.

Sift one fourth of flour mixture over whites and fold in gently but thoroughly, then sift and fold in in remaining flour mixture, all at once, in same manner.

Spoon into ungreased tube pan and smooth top ( pan will not be full ) then rap pan on counter twice to eliminate any air bubbles. Bake until springy to the touch and a wooden pick comes out clean, about 30 minutes.

If pan has feet, invert it on a work surface; otherwise, invert it over a long necked bottle. Cool cake completely, about 30 minutes.

Run a thin knife in a sawing motion around edges of pan and tube to loosen cake. Cut cake with a serrated knife into 1-inch cubes.
MAKE SHERRY CUSTARD
Butter bottom and sides of springform pan, then line bottom with parchment paper.

Sprinkle gelatin over 1/4C. water in a small bowl and let soften, about 1 minute

Beat yolks with an electric mixer until very pale. With mixer at low speed, add sherry, 1/4C. sugar, and remaining 2TBS. water. Cook mixture in a small heavy sauce pan over medium-low heat, whisking constantly, until very thick, 3 to 5 minutes.

Whisk in gelatin mixture until gelatin has dissolved. Quick chill by putting sauce pan in an ice bath. Cool mixture to room temperature, stirring occasionally, then remove pan from ice bath.

Beat cream, vanilla, and remaining 2TBS. sugar in a large bowl with cleaned beaters until mixture just holds soft peaks.

Fold in sherry mixture gently but thoroughly, then fold in cake cubes.

Transfer to springform pan and smooth top. Chill, covered with plastic wrap until set ( at least 4 hours. )

Run a thin knife around cake and remove side of pan.
MAKE FROSTING
Beat cream with sugar using an electric mixer until it just holds stiff peaks. Frost cake